Meet Las Vegas hockey dog Bark-Andre Furry
Updated May 9, 2018 - 8:54 pm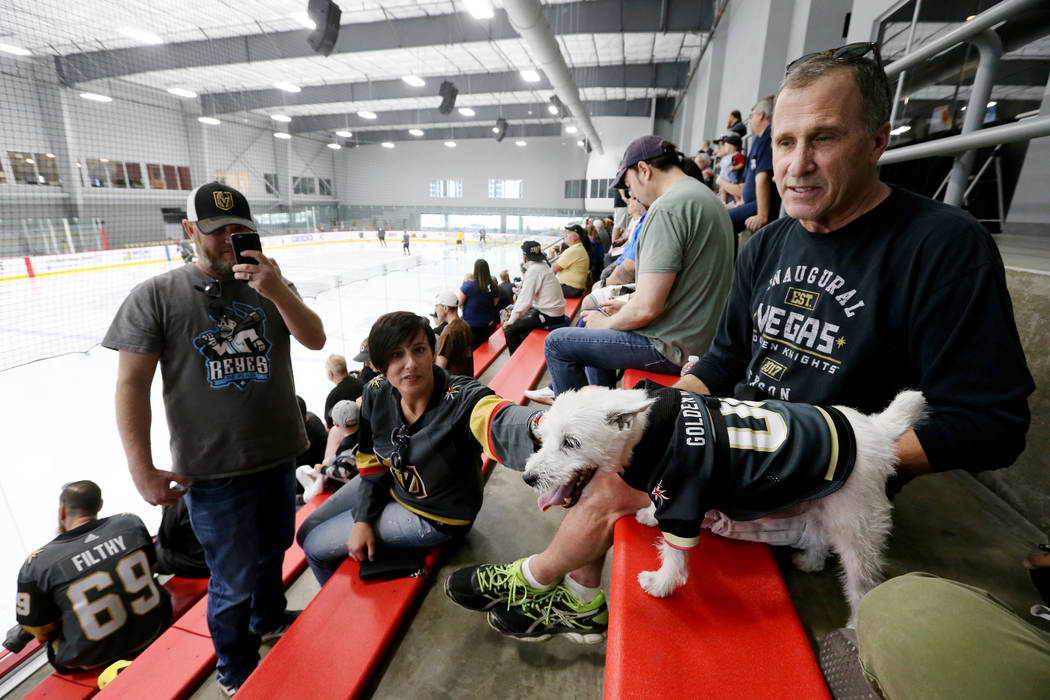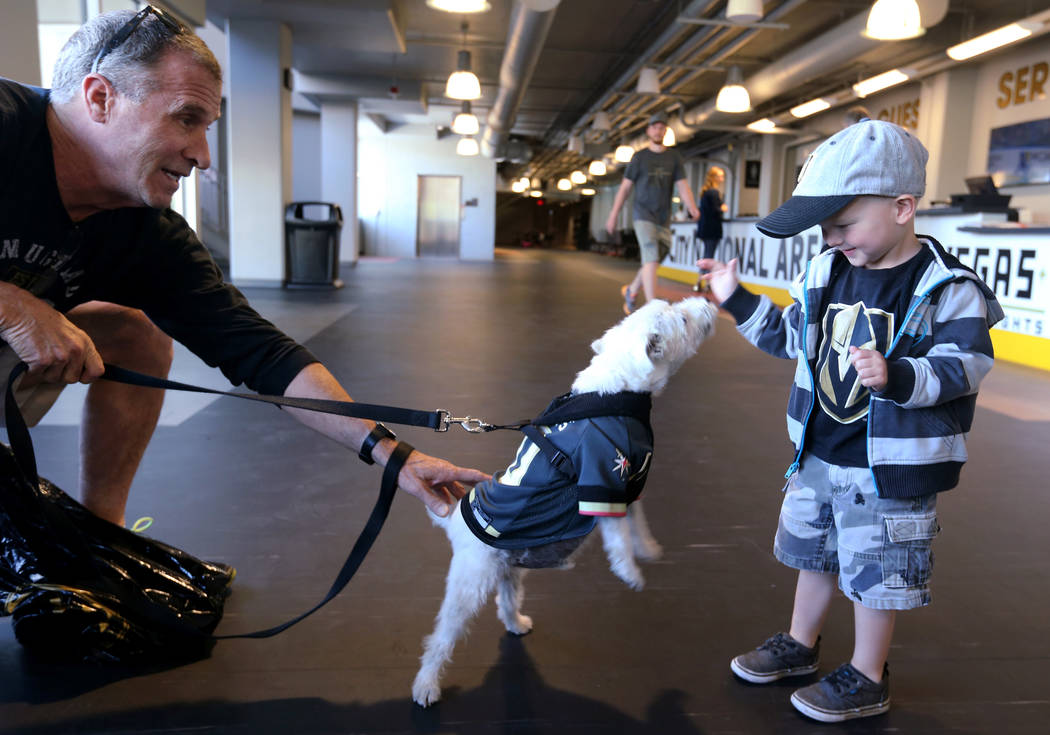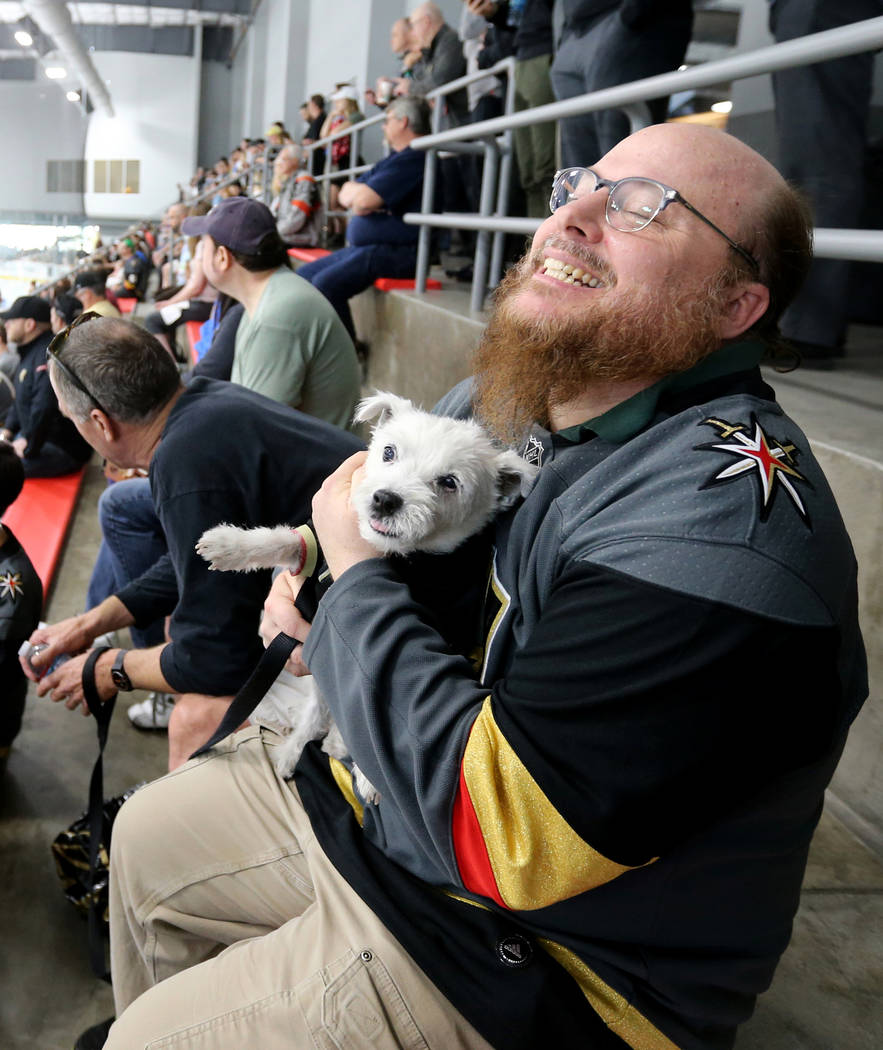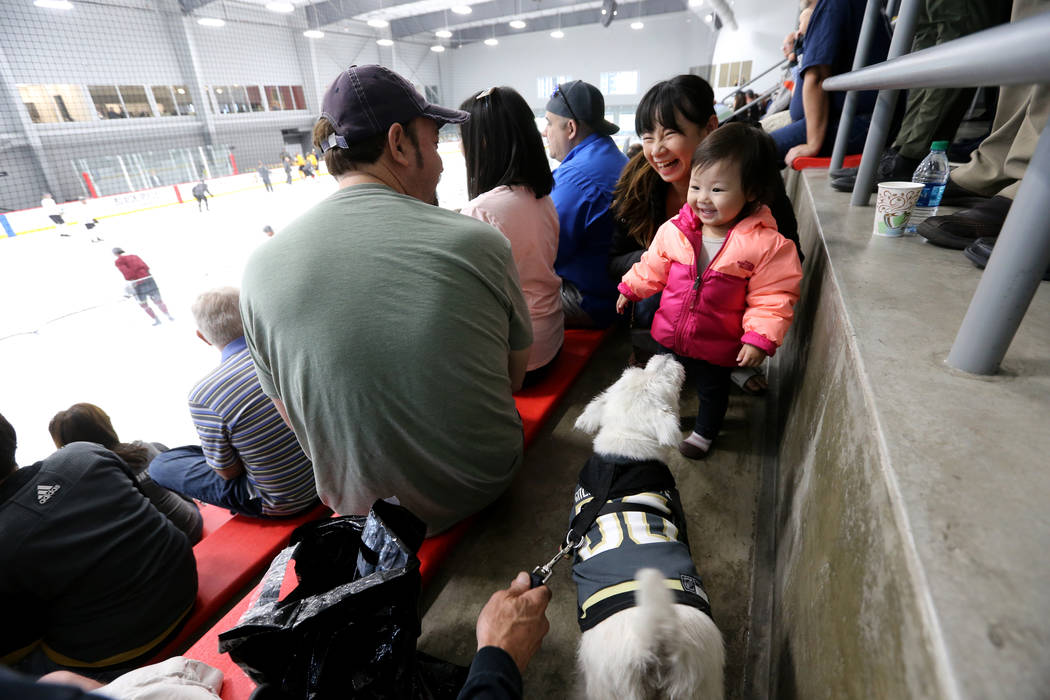 This is not another story about an expansion hockey team overcoming seemingly insurmountable odds while capturing the heart of a city.
This story is about a dog.
At home, Rick Williams' 10-year-old Jack Russell terrier goes by Fenway. But when his dog's shivery little legs shuffle into the Golden Knights' practice spot at City National Arena, Fenway becomes Bark-Andre Furry.
The pet's public persona, a nod to the Knights' star goalie, Marc-Andre Fleury, started as a joke among friends after the NHL expansion draft last summer. Now Williams' joke is growing into a social media sensation.
"As soon as he walked up, I said, 'Hey, I know that dog!' " said Darla Schneider, a Twitter follower who met Bark at the arena Wednesday. Schneider is one of the dog's more than 1,000 followers on the social networking site.
And that list is growing hourly. On Instagram, a shoutout from the NHL's official account this week helped propel Bark's account there to about 2,000 followers — each triggering a notification on Williams' phone.
"My phone sounds like a blender sometimes," the owner said.
He has even received requests from people on Instagram to buy Bark's infant-sized custom jersey.
Williams has been taking Bark to the team's practices since October, but since the Golden Knights clinched a playoff spot, the pair rarely miss an opportunity to go to City National Arena. When they walk into the chilly building, heads turn and smiles flash.
"He knows this place like the back of his hand," Williams said before correcting himself. "Paw, I guess."
His friend Christopher Green, a fellow Knights fan, said Bark has become one of the more easily recognizable landmarks for people attending practice.
"Where are you sitting?" Green said. "Oh, I'm sitting near Bark-Andre Furry."
Bark is usually a welcome sight, but depending on who is working security, he might not be allowed in the team's store. And in one instance in December, an arena worker politely told Williams that he would have to leave practice if his dog did not stop barking at the players on the ice.
Williams said Bark had a good reason for making all that noise.
"It was after we had a two-game losing streak, so he was a little mad," Williams joked.
Wherever Bark walks and wags in the arena, people stop to gawk. Children pause to pet him, and passers-by snap pictures. Sometimes Bark wanders as he explores the stands and meets new people. Williams checks in with them to make sure his dog isn't bothering anyone.
No one ever seems to mind.
Contact Blake Apgar at bapgar@reviewjournal.com or 702-387-5298. Follow @blakeapgar on Twitter.
No face time with Fleury
Bark-Andre Furry has been retweeted a couple of times by the Vegas Golden Knights, but the puck-loving pooch hasnever met his famous namesake, Marc-Andre Fleury. "Not yet," the dog's owner said Wednesday.