NHL commissioner Gary Bettman says Olympic deal is possible
November 26, 2016 - 3:56 pm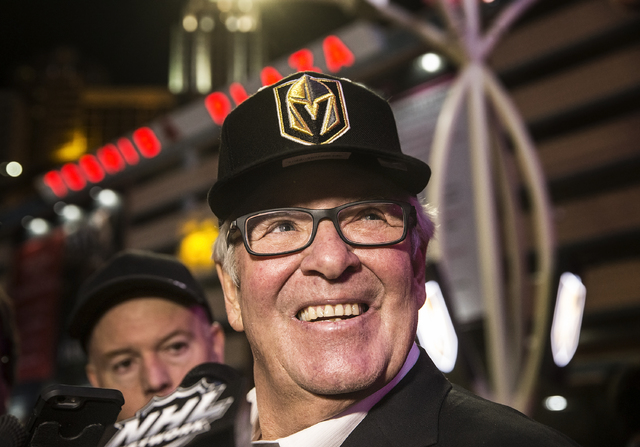 Before being booed Tuesday by the fans of the newly minted Vegas Golden Knights, NHL commissioner Gary Bettman talked about the upcoming Winter Olympics and gave local fans a reason to cheer him.
A decision has to come soon as to whether the league will allow its players to go halfway around the world to Pyeongchang, South Korea in February 2018. If that happens, the Knights' season and that of the other 30 NHL teams, will be interrupted for two weeks as the league takes an Olympic break.
If you're a Knights fan, do you really want your inaugural season interrupted? More important, do you want to risk having one of the key Knights players get injured in the Olympics and being lost for the season?
"Right now, there isn't a lot of enthusiasm among the owners to go (to the Olympics)," Bettman said at the team's temporary office in Summerlin. "There's no question it's disruptive to all of the franchises. You're looking at playing a compressed schedule, which increases the risk of someone getting injured. And traditionally, the NHL has never made money from participating in the Olympics, so from a business proposition, it doesn't make sense."
Still, there are many players who want to play for their country. Washington's Alex Ovechkin, says he will play for Russia in 2018. And while Bettman appreciates Ovechkin's loyalty to his country, he also knows it is Ted Leonsis who pays Ovechkin's salary, not Vladimir Putin.
There have been reports of the NHL offering the Players Association a three-year extension to the current Collecive Bargaining Agreement in exchange for the players to go to Korea. Bettman said there have been discussions to that effect but no offer has officially been extended. That will take place when the Board of Governors meet in Florida Dec. 6 to 8.
"We haven't even presented it to our owners yet," Bettman said. "But the most important decision is what the framework will be for labor peace."
'ROUND THE KNIGHTS' TABLE
Golden Knights majority owner Bill Foley said he is not seeking to bring on any minority investors at this time, refuting an ESPN.com story earlier in the week that the team was about to have Rob Gronkowski, Jose Bautista, Alexei Yashin and Carol Alt as minority owners.
"Not true," Foley said. "Someone approached me, I won't say who, about investing in the team. I told that person right now we're not looking to add investors right now.
"What I think happened was that person knows the people who were mentioned in the ESPN article. But I can tell you that we're not bringing in anyone else. Even if we did, that person would have to go through a long vetting process, and that's not happening."
Foley, who paid a record $500 million for the team, makes his second payment to the league in early January. The final installment will be made in March.
"Money's not an issue; we have money," Foley said. "But the fact is, we're fine and we're not bringing anyone else on at this time."
Foley did confirm another ESPN.com report that said the team needed to get the OK from Clarkson College and the University of Central Florida to use the Golden Knights nickname that both schools also use.
"Actually, we didn't have to do anything," Foley said. "The NHL handled it for us. They had their lawyers talk to Clarkson and Central Florida, and both schools were great about it. They didn't ask for any money or anything in return."
Speaking of money, Foley said the merchandise sales Tuesday night were around $80,000 and he said sales have been brisk since.
"We're thrilled with the response," he said. "We think we have a great-looking logo and colors, and wait until we get our jerseys. They'll fly off the rack."
ETC. …
Saturday was a day to celebrate and remember for the NHL. On Nov. 26, 1917, the league was formed with four teams — two from Montreal (Canadiens and Maroons) along with Toronto and Ottawa following the suspension of operations by the National Hockey Association of Canada (NHA). The first NHL games were played on Dec. 19, 1917. … It was 25 years ago Saturday that Bob Johnson died after after a battle with brain cancer. Johnson, who had coached the Pittsburgh Penguins to the Stanley Cup in 1991 and guided the University of Wisconsin to three NCAA championships. "Badger Bob" had the catchphrase "It's a great day for hockey!" … Nashville and Columbus are hoping November never ends. Going into Saturday, both the Predators and the Blue Jackets were 8-2-2 for the month.
Steve Carp's NHL notebook appears every Sunday. Contact him at scarp@reviewjournal.com or 702-387-2913. Follow @stevecarprj on Twitter.