NHL insiders say Las Vegas could field competitive team soon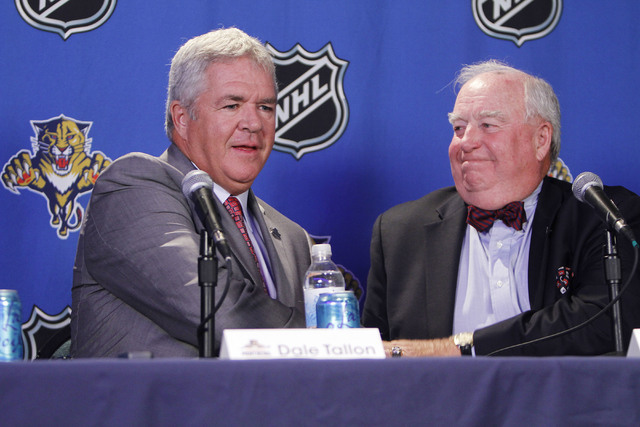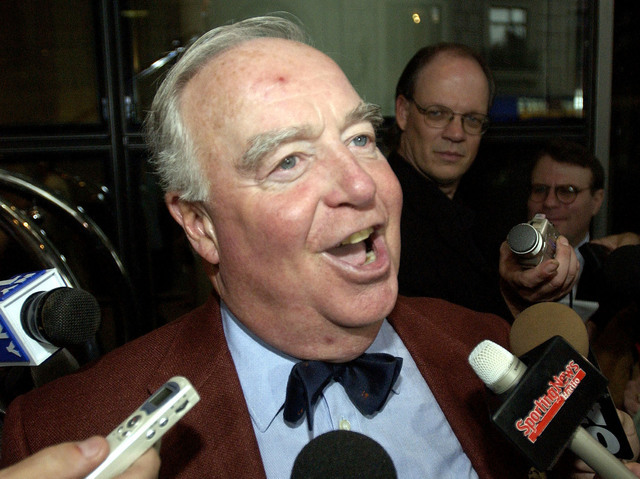 They call him "The Architect," and with good reason.
When it came to building a hockey team, Bill Torrey knew what he was doing.
Torrey, the man behind the New York Islanders' dynasty in the 1980s when they won four consecutive Stanley Cups, said whoever team owner Bill Foley picks to run his NHL franchise in Las Vegas will have a big edge over what Torrey had to work with.
"There's more avenues now," said Torrey, 82, now a special adviser for the Florida Panthers. "Free agency is something I didn't have. That's a big card to play."
David Poile agrees. Poile, president of hockey operations and general manager of the Nashville Predators, said with a salary cap that might be around $74 million, the Las Vegas team will have opportunities to sign players he had no chance of acquiring in 1998.
"It might be fairer in that we have a cap system and greater free agency now," Poile said. "In a lot of ways, an expansion team can get competitive sooner than later.
"We didn't get any young players when we started. We had a lot of journeymen who could play in the NHL. But we also had a lot of turnover on our roster. There wasn't as much continuity as you see today."
Phil Esposito didn't have that option, either, when he co-founded the Tampa Bay Lightning in 1992. The Hall of Fame center said he wished he had the same opportunity the Las Vegas team will have when it begins play in the 2017-18 season.
"It's completely different because of the way the game is played now," Esposito, 74, said. "You're going to have guys who will love to live and play in Las Vegas. Plus, the way the game is played now, you're going to want guys who can skate and move, and with hockey an international game, the player pool is so much deeper than when we started in Tampa."
Torrey led the Oakland Seals to the playoffs in their inaugural season in 1968-69, but after Charlie O. Finley bought the team in 1970, Torrey was fired a year later, something that benefited the Islanders. And when the Panthers joined the NHL in 1993, they chose Torrey to build their franchise.
"I think it always comes down to watching a player and seeing if he fits what your organization wants," Torrey said. "There's analytics now and stats for everything. But, for me, it comes down to whether a guy can really play as to whether or not we're interested in him."
Esposito said garnering interest in a Las Vegas NHL team will be easier than in the Tampa franchise's infancy.
"The game has so much exposure now," he said. "You can follow it on your phone. When we started the Lightning, I would go to a Chamber of Commerce luncheon and give tickets away. We just wanted to get them into the building. Once we did that, we had them, because once they saw an NHL game in person, they loved it and were coming back. We'd tell them, 'Don't forget to tell a friend,' and the next game, sure enough, they'd bring a friend."
Poile said: "Hockey is a game that sells itself. It's about getting the fans out there. We are a nontraditional hockey market here in Nashville, but we were able to sell the game to people and get them to see it in person."
Esposito said having ties to the community will be almost as important as winning for Las Vegas to be successful.
"Every player we drafted we had go out in the community and sell the Lightning and the NHL," he said. "That's the big thing for the Vegas team — making sure they connect with the community.
"The one big thing Vegas has starting out is they've had hockey. They had an IHL team (Thunder) and an ECHL team (Wranglers). People there know about hockey, so you may not have to educate as many of them. Our first year, we printed pamphlets up and distributed them to people explaining what offsides and icing were."
Foley's most important hires will be his president and general manager, Torrey and Esposito said.
"You're laying the foundation for what you want your organization to be," Torrey said. "So it's important you bring in people who have a shared vision and commitment to the franchise."
Esposito said: "Will it take time for them to be competitive? Of course. But if they do it right, there's no question it will work. But that means hiring the right hockey people and let them do their job.
"I don't know Mr. Foley. But he seems to be a smart guy. I'm sure he's going to find the right people and allow them to run the team."
Contact Steve Carp at scarp@reviewjournal.com or 702-387-2913. Follow on Twitter: @stevecarprj
NHL in Vegas
Complete coverage of hockey in Las Vegas