Vegas Golden Knights' uniforms stay true to owner's colors
Updated June 20, 2017 - 8:45 pm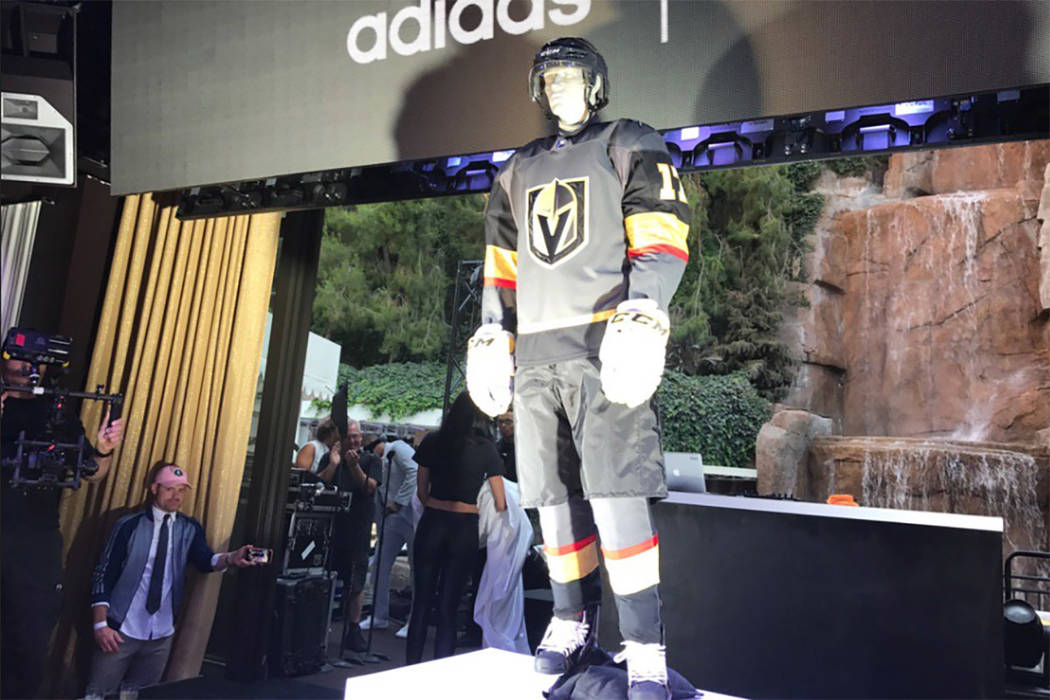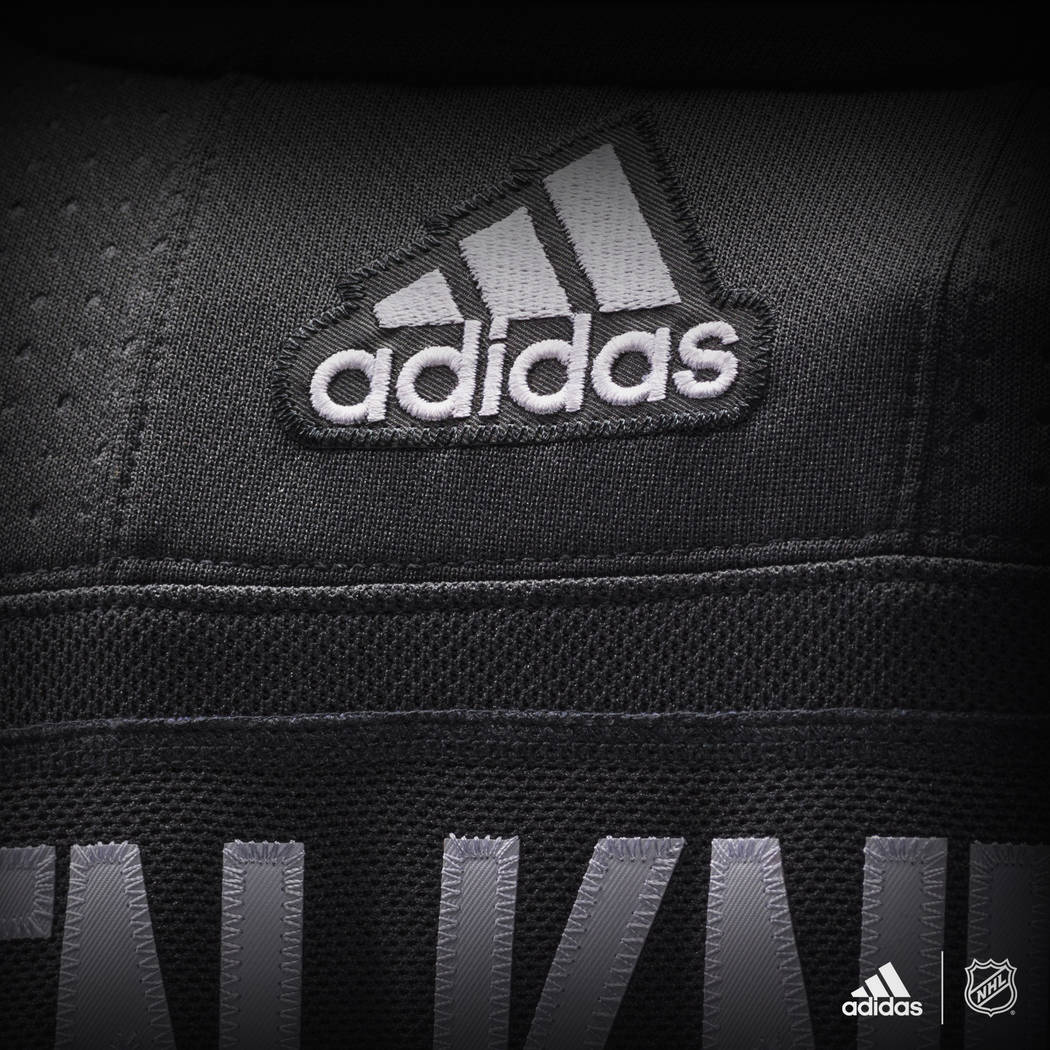 Everyone knew what the crest looked like.
Everyone was familiar with the colors — steel gray, black, gold and red.
But it wasn't until Tuesday that fans found out what happens when you put them all together.
What you got was the Golden Knights' uniforms for their inaugural NHL season. The jerseys — or sweaters as some hockey traditionalists prefer to call them — were unveiled by the NHL and adidas at a special media event at Wynn Las Vegas. Fans also got a first look during an event held at the "Welcome to Fabulous Las Vegas" sign on Las Vegas Boulevard.
The ensemble came with a surprising accessory: White gloves with gold trim. No team in the NHL wears white gloves. On the road, the Knights' color scheme calls for white jerseys with silver, gold and red sleeves.
The Knights' unveiling was included among changes for the 30 other team uniforms as adidas, which took over from Reebok as the NHL's official sportswear supplier in May, added its own unique touches.
Both jerseys that we will wear in our inaugural season. #VGKFirstJersey pic.twitter.com/NYj3zDQmdZ

— Vegas Golden Knights (@GoldenKnights) June 21, 2017
A limited number of home and away authentic jerseys, priced at $200 apiece, are being made available through the team's store at T-Mobile Arena. Fans can pre-order the jerseys in person at the store, dubbed "The Armory." Expected delivery is in late September. Replica jerseys will be available at a later date.
"The goal was to create this logo and uniform based on strength and power," majority owner Bill Foley said Tuesday. "It represents going forward, never giving up and it represents Las Vegas and Nevada in a positive way. I thought we did a really good job."
There it is. pic.twitter.com/ZSxjSTYIsK

— Steve Carp (@stevecarprj) June 21, 2017
General manager George McPhee endorsed the look.
"We've talked a number of times about the importance of your culture and everything else, and sometimes that gets to be cliché, people really don't understand what it is," McPhee said. "But your culture really is important in performance and in winning and our colors stand for something."
Team president Kerry Bubolz believes the uniform will be a big hit with fans, and not just in Las Vegas.
"It's got a real vibrant, intimidating feel to it," he said of the gray and black home jersey. "A lot of work went into the design and I can see fans everywhere wearing a Golden Knights sweater."
Well #GoldenKnights & Hockey fans, what do u make of the jersey? pic.twitter.com/zQvem6nJd9

— Heidi Fang (@HeidiFang) June 21, 2017
Foley never wavered
Foley took an active role in the design and color scheme of the team uniforms. A West Point graduate, he wanted black, gold and gray in the color scheme, the same colors Army's athletic teams sport.
"Bill Foley is a West Point guy, sort of using those colors," McPhee said. "You know his history at West Point. You know about the classmates he had that he lost serving this country. So, those colors mean a lot to us, and will mean a lot to our players. And we're really proud of the logo. It's clean, it's symmetrical, it's kind of bold, and again it stands for something.
"Bill has mentioned a number of times what the Knights stood for: protecting their realm, never retreating, and always attacking. That was one of the things that we had to accomplish when we were putting this franchise together."
At the time he was awarded his franchise — June 22, 2016 — the team didn't have its nickname, logo or colors, so Foley had nothing to sell to his fan base.
Summer turned to fall and the team's name and logo was ultimately revealed on Nov. 22, but there were legal issues. Reebok was on its way out so it couldn't manufacture a Golden Knights jersey while adidas, the new supplier, wasn't ready to begin production and had to wait until after the 2016-17 season.
It resulted in the loss of several million dollars in revenue as new team jerseys tend to be at or near the top of most fans' must-have list. But Foley believes that in time the loss will be recouped. He also expects world-wide sales from fans in Europe and Asia.
"I'm not worried about it," he said, "We're going to be just fine."
McPhee said there wasn't much time to pull everything together, but he believed in the end the team got it right.
"We did this in a couple of months, I think, and it turned out really nicely," he said. "It's one of the many things that we're proud of on this journey."
More Golden Knights: Follow all of our Golden Knights coverage online at reviewjournal.com/GoldenKnights and @HockeyinVegas on Twitter.
Contact Steve Carp at scarp@reviewjournal.com or 702-387-2913. Follow @stevecarprj on Twitter.
Golden Knights jersey FAQs
Q.How soon will jerseys be available for purchase?
A. Pre-orders are currently being taken at the team's store at T-Mobile Arena.
Q: How much will they cost?
A: $200 for a blank jersey, $265 for a customized jersey. These are the authentic jerseys, same as the players will wear.
Q: That's pricey. Isn't there a replica jersey available for purchase?
A: Not yet. But the team plans to offer a replica jersey at a reduced cost at some point.
Q: Can I get my jersey customized with the name and number of my favorite player?
A. Yes. But probably not until October when the roster is finalized.
Q: Will there be a jersey designed for women and kids?
A: Not immediately. There is expected to be a women's jersey and kids' sizes available.
Q: Which jersey will the team wear at home and which will be the road uniform?
A: The gray and black jersey will be the Golden Knights' home uniform, with the white jersey serving as the road uniform.
Q: Why the delay?
A: According to adidas, it takes time to make and deliver the jerseys.
Q: I put in my pre-order. When can I expect delivery?
A: The team expects delivery to be made by mid- to late September.
Q: I'm a season-ticket holder and was told I get a free jersey. When can I expect to receive it?
A: The team hopes to have the jerseys delivered to the account holders by late September in time for the regular season home opener Oct. 10.
Steve Carp/Review-Journal