Adin Hill ready for Knights if Laurent Brossoit can't play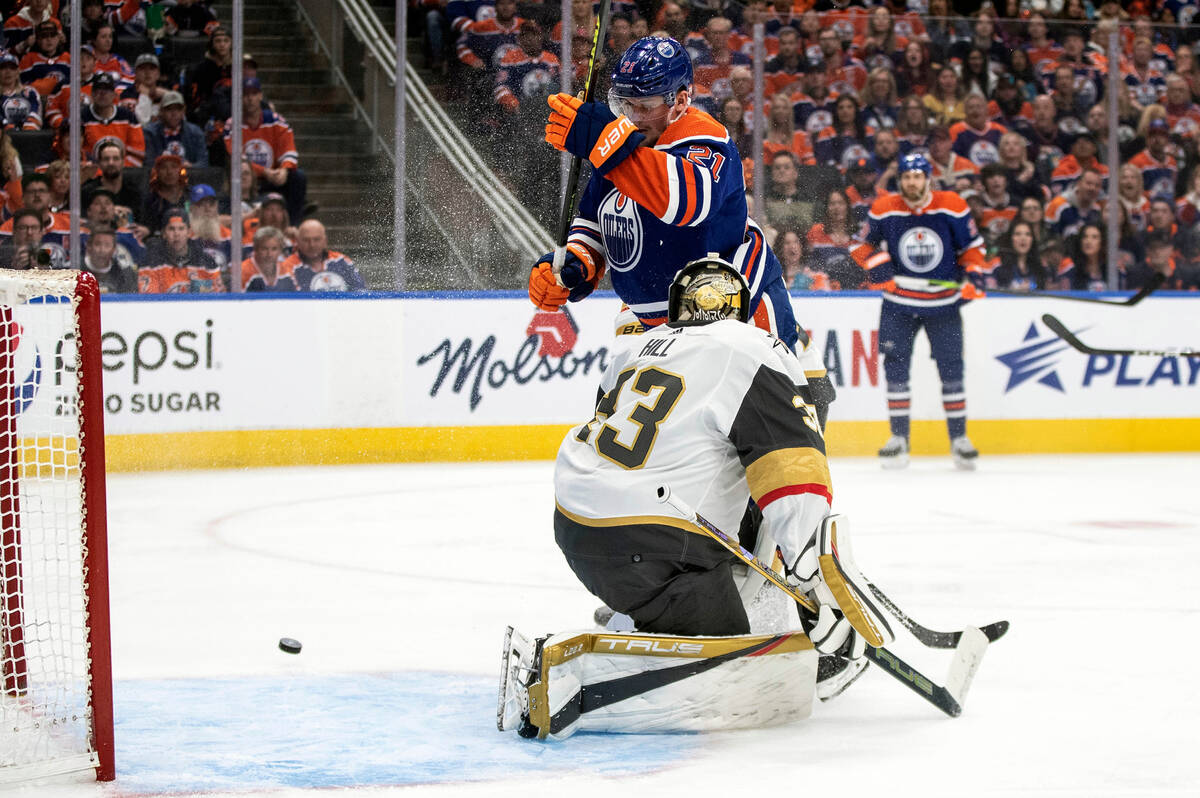 Adin Hill had a secret to staying prepared.
The Golden Knights goaltender received limited game action the past two months because of a lower-body injury, but was ready when called upon Monday in Game 3 of a second-round playoff series against the Edmonton Oilers at Rogers Place. He gave the credit to talkative teammate — and known fierce competitor — Jonathan Marchessault.
"This guy's pretty hard on me in practice," said Hill, drawing a laugh from Marchessault. "I get good work with him."
However it happened, Hill was sharp. He made 25 saves in relief of injured goaltender Laurent Brossoit in 47:48 and didn't allow a goal in a 5-1 win that gave the Knights a 2-1 series lead.
It's up to Hill to stay locked in. Coach Bruce Cassidy said Tuesday that Brossoit's lower-body injury was still being evaluated, meaning Hill could make his first playoff start in Wednesday's Game 4.
"Adin was one of those guys that got injured earlier, was playing well," Cassidy said. "He's healthy again, got a chance last night, responded well. It's not an easy situation. Obviously kept himself ready. That's a credit to him and (goaltending coach) Sean Burke for putting the work in."
Cassidy said "carousel's a good word" for what the Knights have experienced in net this season.
They started a franchise-record five goaltenders. That doesn't include last season's primary starter, Robin Lehner, who missed the entire season with a hip injury that required surgery.
Brossoit was the clear No. 1 by the end of the season despite spending most of the year in the American Hockey League. The 30-year-old rebuilt his game following an offseason hip surgery to fix an issue that had plagued him since junior hockey. The results were spectacular.
Brossoit was 7-0-3 in the regular season with a team-leading 2.17 goals-against average. He is 5-2 in the playoffs against two former teams — Winnipeg and Edmonton.
"You don't want to see anyone go through that," center Jack Eichel said. "We know what LB's been through in terms of rehabbing and getting back to great playing form. It's tough to see him get injured."
Before Brossoit took control, Hill was on track to do the same thing.
He was excellent when thrust into an elevated role after rookie Logan Thompson's lower-body injury Feb. 9. Hill was 6-2 with a .929 save percentage and 2.03 goals-against average after the All-Star break. He was more patient in net, and it allowed the rest of his game to shine.
A lower-body injury cut his roll short March 7. He's barely played since.
Before this series, Hill had made only a 40-minute appearance April 7 on a conditioning loan in Henderson since getting hurt. He didn't get into an NHL crease until he relieved Brossoit in the third period of the Knights' 5-1 Game 2 loss Saturday.
It was a four-save cameo that took on added importance when Hill was called on again two days later. It helped him knock off some rust before getting thrown into a game still in the balance.
"It was nice to get in there for that third period the other day, kind of get a feel for the game, get up to game speed because you can't simulate that in practice," Hill said.
The Knights will have to wait and see whether the net becomes Hill's again. If Brossoit is unavailable, two-time Stanley Cup winner Jonathan Quick will serve as Hill's backup. Cassidy also said the Knights could call up rookie Jiri Patera to serve as their third-string goaltender.
Thompson, who has played only once since his lower-body injury, still had not resumed skating when the team left for Edmonton.
The Knights can at least take heart knowing that they've succeeded with different goaltenders all season because of their tight defensive structure. They're also not the only team in the series with questions in net.
Oilers rookie Stuart Skinner was pulled for the second time in the playoffs in Game 3 after allowing four goals on 23 shots. His save percentage is .888 in nine postseason starts.
Edmonton's other option is veteran Jack Campbell. The 31-year-old struggled in his first regular season with the Oilers, but has a .918 save percentage in 16 playoff appearances.
Coach Jay Woodcroft declined to name a Game 4 starter Tuesday.
"We'll sleep on our lineup decisions," he said.
Contact Ben Gotz at bgotz@reviewjournal.com. Follow @BenSGotz on Twitter.
Up next
Who: Golden Knights at Oilers
When: 7 p.m. Wednesday
Where: Rogers Place
TV: ESPN
Radio: KKGK (98.9 FM, 1340 AM)
Line: Oilers -180; total 7
Series schedule
Game 1 — Golden Knights 6, Oilers 4
Game 2 — Oilers 5, Golden Knights 1
Game 3 — Golden Knights 5, Oilers 1
Game 4 — 7 p.m. Wednesday, Rogers Place (ESPN)
Game 5 — TBD Friday, T-Mobile Arena (TNT)
Game 6* — TBD Sunday, Rogers Place (TBA)
Game 7* — TBD Tuesday, T-Mobile Arena (TNT)
* If necessary
All games on radio at KKGK (98.9 FM, 1340 AM)