Bam Bam brings 'joy and happiness' to Golden Knights fans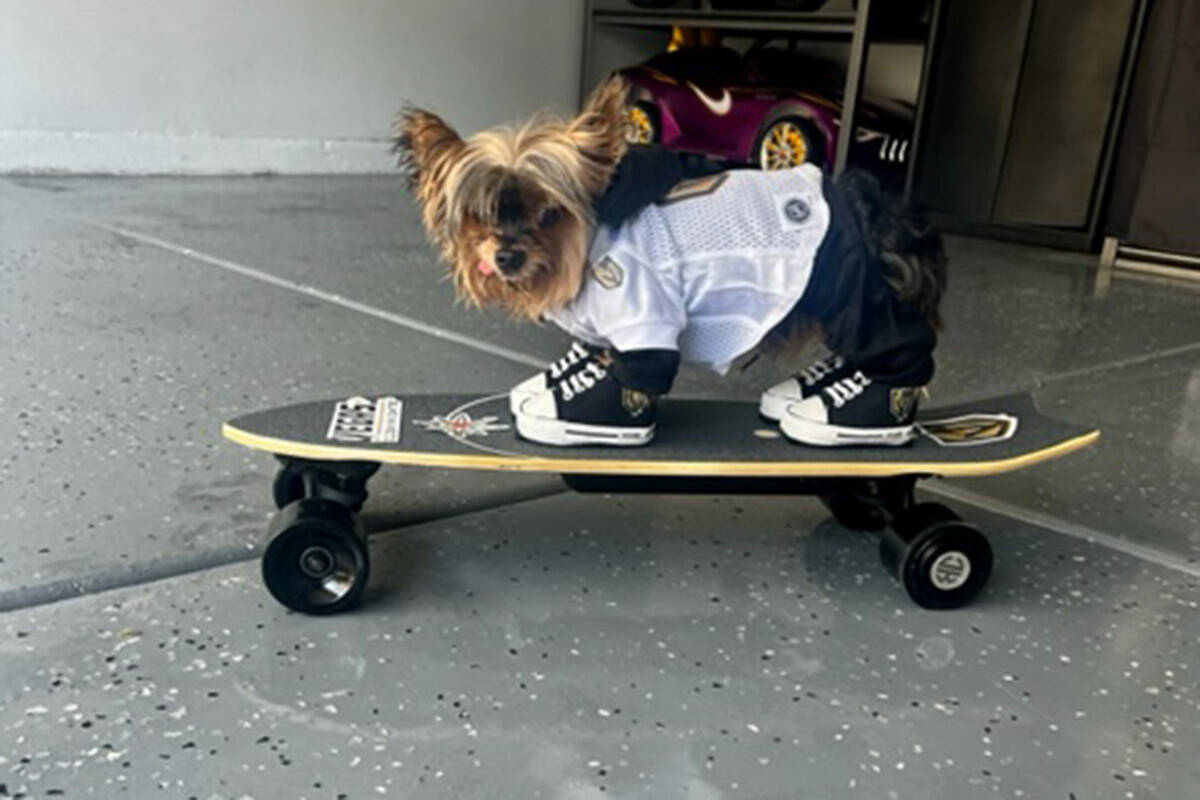 As the Golden Knights continue their fight for the Stanley Cup, one dog is determined to bring happiness and joy to fans of the team and non-fans alike. His name? Bam Bam.
With over 54,000 followers and counting, Bam Bam, a 7-year-old Yorkshire terrier is a popular dog-fluencer who frequents Golden Knights games and watch parties across the valley — all from the comfort of his remote-controlled car.
Diana Aranas, Bam Bam's owner and social media manager, said the Yorkie fell in love with riding around in remote-controlled cars after he climbed into Thomas the Train car at Toys R Us.
"He just popped right up there and put his paws up and was so happy," she said.
Aranas moved with Bam Bam to Las Vegas from San Diego two-and-a-half years ago after watching the 2019 documentary "Valiant" about the Knights' inaugural season following the 1 October shooting.
She said she was inspired by how the Las Vegas community came together and rallied around the team in the city's darkest hour.
"After just hearing the story and reading that, we started watching the Golden Knights and fell in love with them," she said. "I just love how they bring the community together — how the players and everybody just was 'Vegas Strong.'"
Bam Bam's love of remote-controlled cars and his love of barking at sports on TV combined when Aranas began taking him to VGK games in his car decorated with the team's shield icon.
Aranas' niece convinced her to make an Instagram for Bam Bam — which has become her creative outlet outside of her day job as a technical support advisor for Apple — and helped boost Bam Bam's popularity with videos of him riding around in his decked-out cars.
"He's just a little four-pound Yorkie, and he does a lot for being so little, and he brings a lot of people joy for being so little."
Bam Bam now has three remote-controlled cars, including one with a custom Raiders wrap, skateboards and many outfits to support his favorite teams.
What brings Aranas the most joy when taking Bam Bam out in public is the stories people tell her about their pets and how much he brightens people's day when they see him riding around, even if they're not Golden Knights fans.
"Not only does he love it, but he brings so much joy and happiness to everybody," she said.
Aranas said the VGK community has been instrumental in helping her and her family adapt to living in Las Vegas.
"The community together makes it feel like home out here."
Contact Taylor Lane at tlane@reviewjournal.com. Follow @tmflane on Twitter.