Cody Glass week to week with lower-body injury
Updated January 6, 2020 - 5:46 pm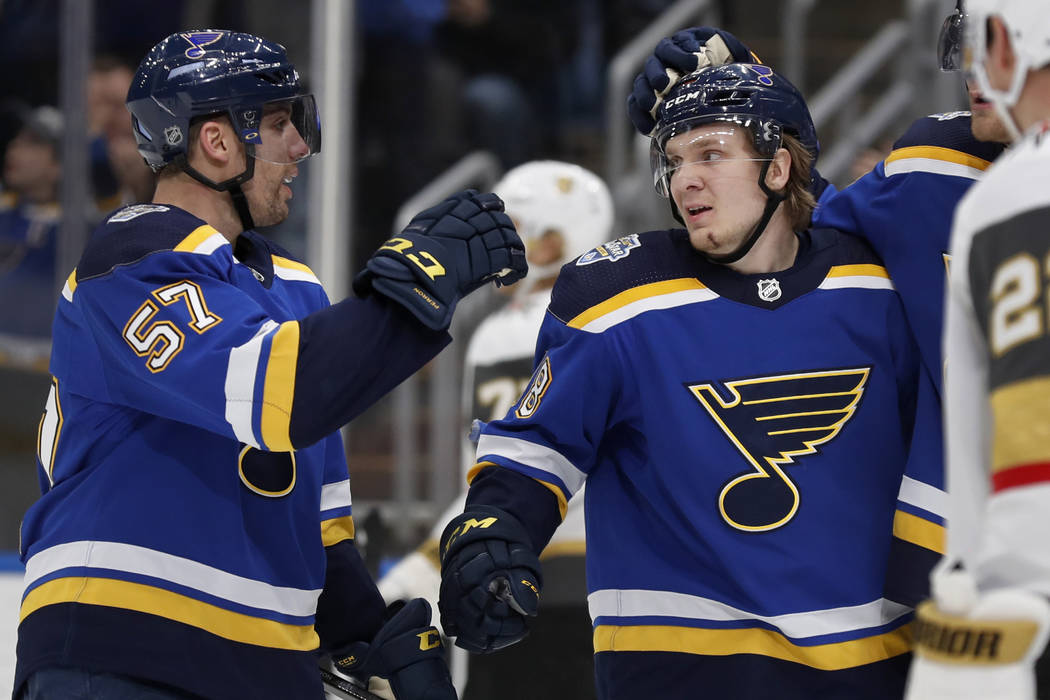 Golden Knights rookie forward Cody Glass will miss time with a lower-body injury suffered during Saturday's 5-4 overtime home win over the St. Louis Blues.
Coach Gerard Gallant didn't provide any timetable for his return beyond saying the injury was not believed to be serious.
Glass is officially listed as week to week due to an injury that occurred when he got tangled up with Blues defenseman Jay Bouwmeester and crashed into the Blues' net in the third period.
The 20-year-old, who has five goals and seven assists in 37 games, did not practice on Monday. Glass missed a significant portion of his final junior season with a left knee injury suffered in January. This injury appeared to affect his right knee.
He's not the only ailing forward for the Knights.
Jonathan Marchessault practiced fully on Monday with what the team has called a minor lower-body injury. He has missed the last two games, but got in a partial practice Friday.
"He had a good full practice, so that's a good sign," Gallant said Monday. "He's day to day still, but real good."
Gallant was waiting on final word from the training staff before finalizing Marchessault's status for Tuesday's 7 p.m. home game against Pittsburgh.
The Knights may also be closer to having Cody Eakin back in the lineup. Eakin, who has been out since Nov. 29 due to an upper-body injury, skated with his teammates without a blue "no contact" jersey for the first time since the injury.
"It was a good day for him today," Gallant said. "He's real close."
Eakin skated as an extra forward with the fourth line for much of practice, but did switch jerseys to skate with the third line for a stint, drawing some excitement from his teammates.
Gallant said Paul Stastny had left the ice for extra stretching and Eakin was simply filling in for the veteran.
'(Perron) being (Perron)'
Ryan Reaves brushed off former teammate David Perron's comments about Reaves' brief tussle with Blues' captain Alex Pietrangelo during Saturday's game at T-Mobile Arena.
Perron, who is in his second year in St. Louis after playing for the Knights in their inaugural season, used an expletive in reference to his thoughts on Reaves' actions during the second period when Reaves and Pietrangelo got tied up in front of St. Louis goaltender Jake Allen.
"Everybody saw what happened," Reaves said Monday. "I didn't even start that. I stopped in front of the net, (Pietrangelo) tried to move me, and he's not going to move me. I don't know why (Perron) is whining. Even their coach said that's hockey. That's what I do. I don't know why a little scrum like that is getting him so whiny after a game, but that's just (Perron) being (Perron)."
Perron tangled with Knights' forward Max Pacioretty late in the game, though he was more holding on while sprawled on the ice than actually fighting.
Penguins fly west
Pittsburgh had a familiar face on board the team plane as it headed for Las Vegas and the start of a three-game Western Conference road trip.
The team's official Twitter account posted a photo of star forward Sidney Crosby getting on the plane with a cryptic eyeball emoji.
Crosby has been sidelined since Nov. 14 after undergoing sports hernia surgery.
It's unclear whether Crosby will play on the trip. The Penguins are already missing Jake Guentzel, Nick Bjugstad, Brian Dumoulin and Justin Schultz.
Pittsburgh called up AHL-All Star Andrew Agozzino on Monday. He leads the Penguins' AHL affiliate in scoring with 31 points in just 35 games.
More Golden Knights: Follow at reviewjournal.com/GoldenKnights and @GoldenEdgeRJ on Twitter.
Contact Adam Hill at ahill@reviewjournal.com. Follow @AdamHillLVRJ on Twitter. Reporter Ben Gotz also contributed to this story.