Golden Knights fans hit City National early for 'Gold Friday' — PHOTOS
Updated November 29, 2019 - 5:39 pm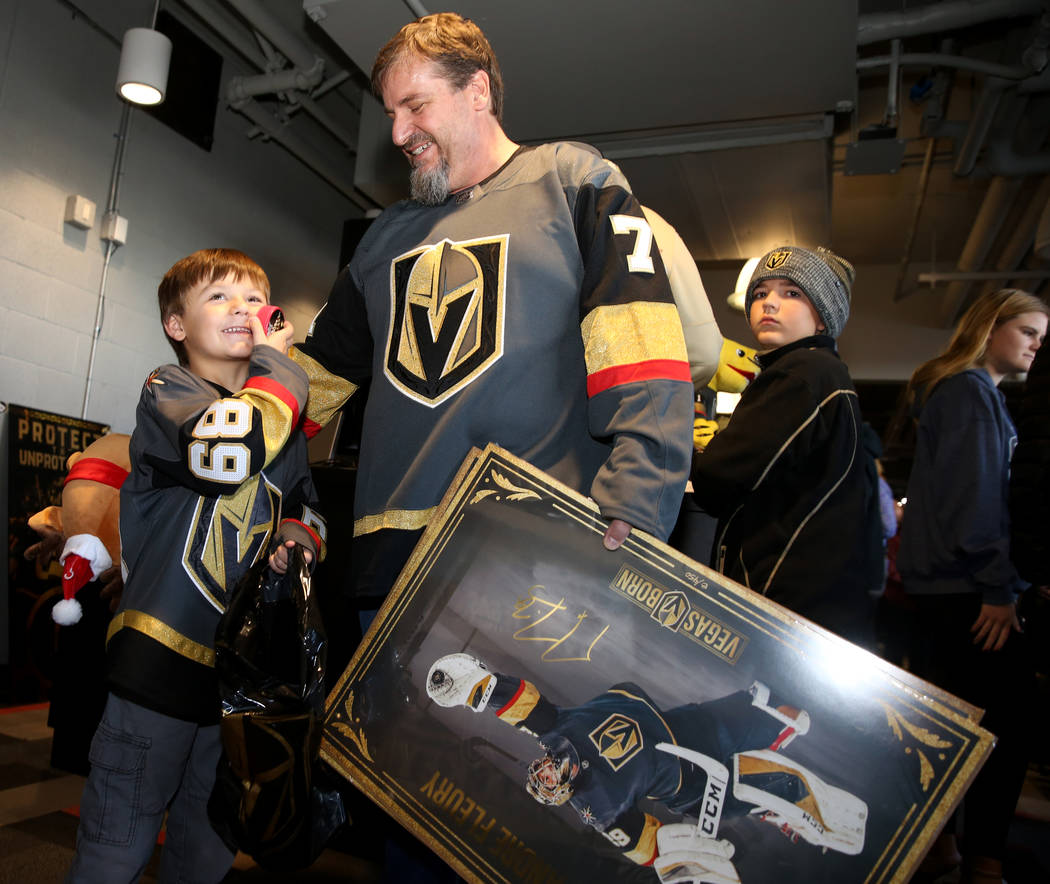 Not a doorbuster deal in sight but that didn't stop the hundreds of Golden Knights fans who flocked to The Arsenal at City National Arena on Black Friday morning.
The most coveted item was a poster of Marc-Andre Fleury's save against the Toronto Maple Leafs last week with only 450 numbered copies selling for $55 each.
"People are going crazy over this poster," Arsenal's Store Manager Teresa Weston said. "I had a guy out here at 3 a.m."
The retail shop opened its doors at 8 a.m. and after a little over two hours the posters were sold out. They've already popped up on eBay with one priced as high as $350.
Weston said most of the merchandise in the store is new so "it's a big deal."
Of the newest items, the favorite picks among shoppers have been pajamas, robes, flashing lanyards, "ugly" holiday sweaters, and Knight's themed children and adult bikes.
"We've probably had at least 1,200 people through here because everyone is with their wife, and I'm not counting kids in that number," Weston said. "We have a big sales goal and I'm gonna make it."
Stephanie Ibasco of Mt. Charleston was just starting her Black Friday shopping at the store.
"We're doing Christmas shopping, but this was our first stop," Ibasco said, adding that their next destination is Bass Pro Shops. "We were (in line) for probably about an hour and 45 minutes."
Her husband, Mike, had just snagged the coveted Fleury poster, adding that they did much of their Christmas shopping online.
"We're season ticket holders so it's one of those things—we stay loyal," he said.
Steve and Marketa Wells as well as their 6-year-old son, Silus, were decked out in Golden Knights jersey. The couple planned to come back to the arena to watch the Golden Knights play the Arizona Coyotes at 3 p.m.
Steve said the pair already finished their Christmas shopping but then laughed and said, "Well, we're done here."
It's actually GOLD Friday at The Arsenal at @CityNatlArena #BlackFriday @GoldenKnights pic.twitter.com/pcWeoOtQVh

— Kevin M. Cannon (@kmcannonphoto) November 29, 2019
Happy Gold Friday to these dedicated shoppers!!! 🤩 pic.twitter.com/4X2aMPaBmY

— Vegas Golden Knights (@GoldenKnights) November 29, 2019
Contact Subrina Hudson at shudson@reviewjournal.com or 702-383-0340. Follow @SubrinaH on Twitter.