Golden Knights looking to buy AHL club and move it to Las Vegas
Updated January 27, 2020 - 5:19 pm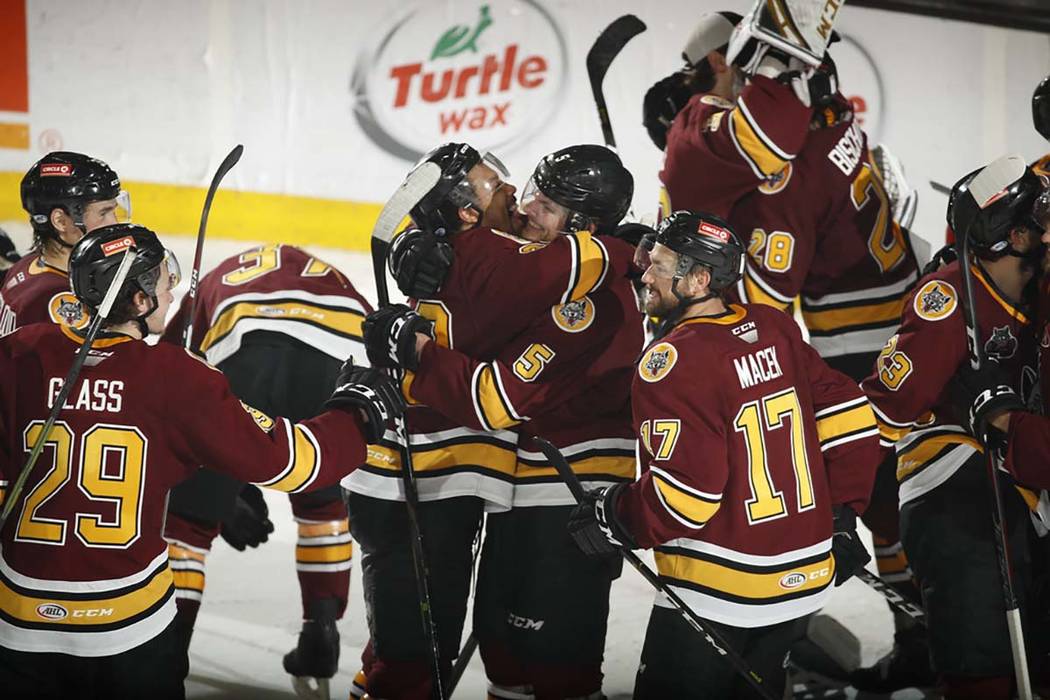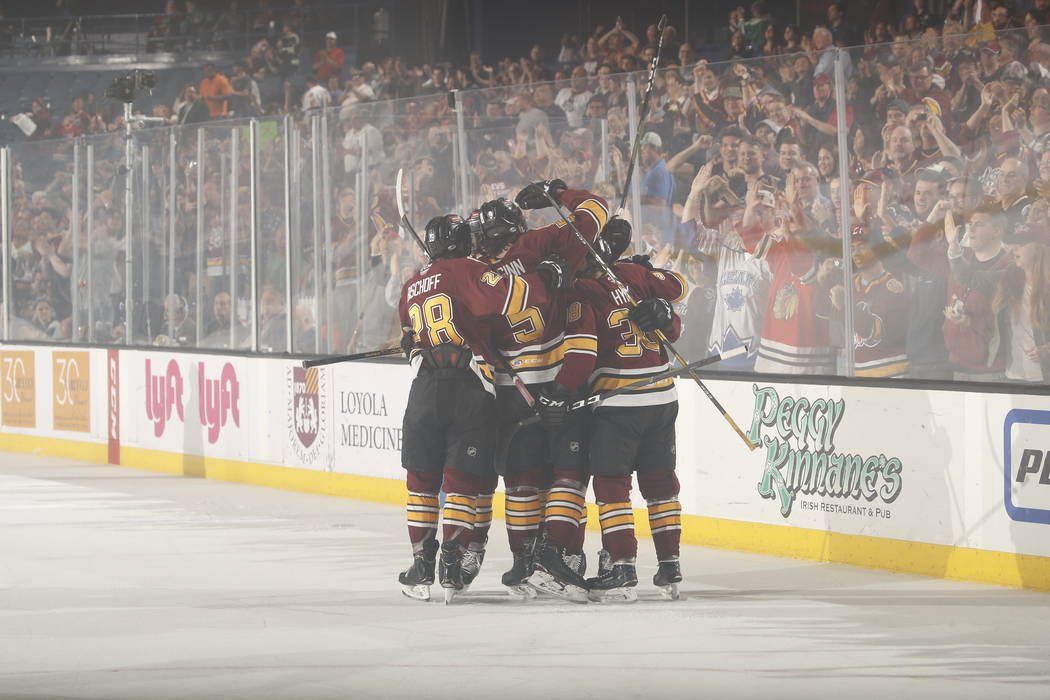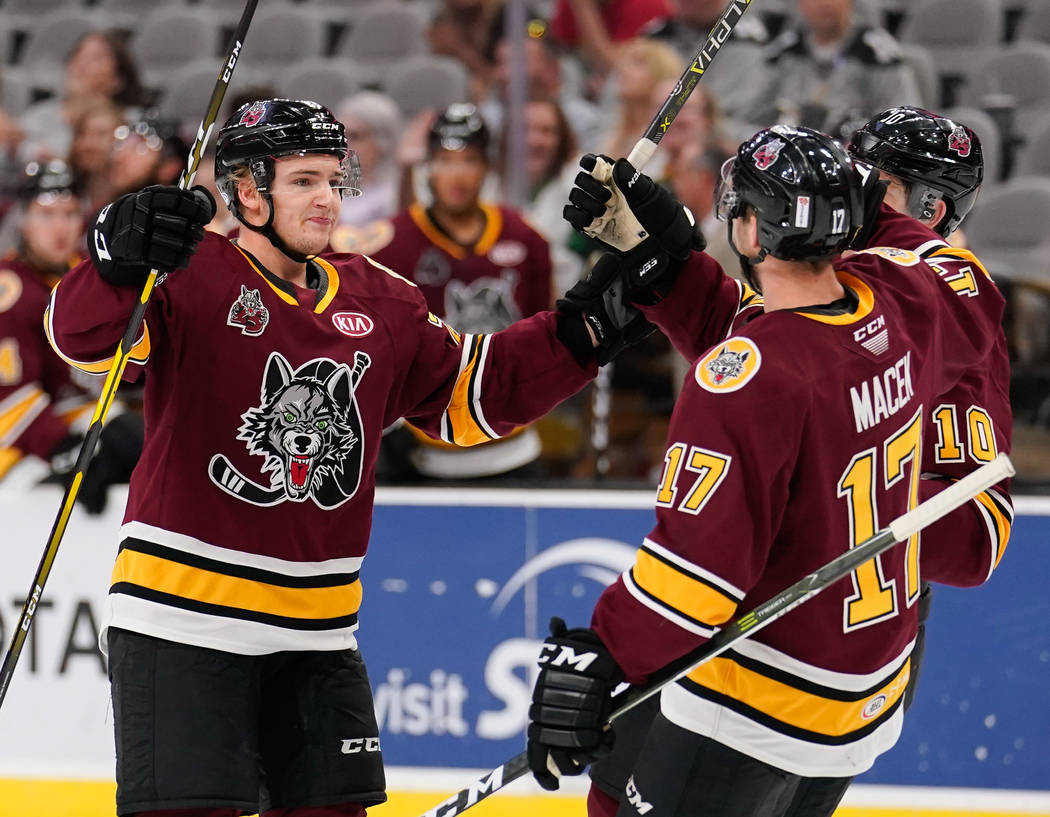 When the Golden Knights need to recall a player from the American Hockey League, the trip from Chicago to Las Vegas is one of the longest in the minor leagues.
That could soon change.
The Knights have expressed interest in purchasing a franchise in the AHL and ultimately moving it to Las Vegas, the league's top official revealed Monday.
David Andrews, president and chief executive officer of the AHL, said in his state of the league address at the AHL All-Star Game in Ontario, California, that the Knights have discussed buying a team with other owners, but no plan was in place.
"We have had discussions with American Hockey League representatives regarding the possibility of securing an AHL club on an ongoing basis since our team's inception," the Golden Knights said in a statement. "While we remain very interested in the opportunity, specific details related to an acquisition or the potential location of the acquired team are yet to be determined."
The Knights are affiliated with the Chicago Wolves of the AHL and signed a five-year agreement through 2021-22. Wolves coach Rocky Thompson is under contract with the Knights, as are nearly all the players.
But the Knights can't just pack up a van and move the franchise to Las Vegas, or another city. The Wolves are independently owned by Chicago businessmen Don Levin and Buddy Meyers and are one of the league's most successful and stable franchises.
The Wolves reached the Calder Cup Final last season and own two AHL championships (2001 and 2008).
"The Chicago Wolves and Vegas Golden Knights continue to be partners with a common goal to win championships," Wolves general manager Wendell Young said in a statement. "If there comes a time when Vegas purchases the rights to another AHL franchise, then the Wolves will find a new NHL partner that also believes in the importance of competing for Calder Cups."
NHL teams are increasingly seeking to exhibit more control over their minor league club and provide players with access to the same training facilities as the parent club. In recent years, several franchises have purchased teams in the AHL and moved them closer to home.
San Jose, Toronto and Winnipeg relocated their minor league teams to the same city — and in the case of San Jose and Winnipeg, the same arena — as the NHL club. Montreal's affiliate is approximately 20 miles away in Laval.
Ontario (California) and San Diego, affiliates owned by the Los Angeles Kings and Anaheim Ducks, respectively, rank in the top four in the AHL in attendance at almost 8,000 fans per game and developed a heated rivalry that mirrors the parent clubs.
In the Eastern Conference, Buffalo, the New York Islanders and New York Rangers all own minor league affiliates within a two-hour drive.
Meanwhile, Chicago is approximately 1,750 miles from Las Vegas, about the same distance as Bakersfield, California, to Edmonton, Alberta. The only AHL affiliate farther from its parent club is Utica, N.Y., which is nearly 3,000 miles from Vancouver, British Columbia.
The Knights are one of 13 NHL franchises, and the only one in the Pacific Division, that does not own its minor league club. NHL Seattle also owns its AHL expansion team in Palm Springs, California, which begins play in 2021-22.
As for potential AHL franchises that the Knights could purchase, there doesn't appear to be a "for sale" sign hanging on any doors at the moment.
Seven of the top 10 AHL teams in attendance are independently owned, while 11 of the 12 teams at the bottom of the attendance figures already are owned by NHL clubs.
Rockford, the Chicago Blackhawks' affiliate since 2007, ranks 26th in attendance averaging 3,688 per game at the 5,895-seat BMO Harris Bank Center. The IceHogs are owned by the city of Rockford, Illinois, and have an affiliate agreement with the Blackhawks through the 2021-22 season.
Four AHL franchises (Cleveland, San Antonio, Manitoba, San Jose) play in arenas that are similar in size to T-Mobile Arena, which seats a little more than 18,000 for Knights games.
Of those, only Cleveland, which leads the AHL in attendance, is drawing more than half of capacity. The Monsters average 8,991 fans at Rocket Mortgage FieldHouse, which has a reduced capacity for hockey of 9,447 but can hold up to 18,926.
San Antonio ranks 12th in average attendance (5,688) at 16,151-seat AT&T Center. The Rampage are owned by Spurs Sports & Entertainment L.L.C., which also owns the NBA franchise.
Locally, Orleans Arena has a listed capacity of 7,773 for hockey and if the team sold out every game, it would currently rank fourth in attendance. The Las Vegas Wranglers of the ECHL, which is one level below the AHL, played at Orleans Arena from 2003 to 2014.
The Wranglers were notified by Boyd Gaming in 2013 that their lease would not be renewed after the 2013-14 season and the team folded. David Strow, vice president of corporate communications at Boyd Gaming, declined to comment on Orleans Arena's interest in housing minor league hockey again.
"I think that at some point there will be an (AHL) team in Vegas, or (the Golden Knights) will own a team," Andrews told reporters in Ontario, California, and added that any move for next season, "would have to happen pretty soon."
Contact David Schoen at dschoen@reviewjournal.com or 702-387-5203. Follow @DavidSchoenLVRJ on Twitter.
Closest AHL affiliates to NHL parent clubs
Manitoba/Winnipeg (0 miles)*
San Jose/San Jose (0 miles)*
Toronto/Toronto (0 miles)*
Laval/Montreal (20 miles)
Ontario/Los Angeles (40 miles)
Providence/Boston (55 miles)
Colorado/Colorado (60 miles)
Lehigh Valley/Philadelphia (60 miles)
Bridgeport/New York Islanders (70 miles)
Rochester/Buffalo (75 miles)
Rockford/Chicago (90 miles)
San Diego/Anaheim (100 miles)
Hartford/New York Rangers (120 miles)
Tucson/Arizona (125 miles)
Hershey/Washington (130 miles)
Belleville/Ottawa (145 miles)
Cleveland/Columbus (145 miles)
Charlotte/Carolina (150 miles)
Grand Rapids/Detroit (160 miles)
Binghampton/New Jersey (170 miles)
Texas/Dallas (200 miles)
Iowa/Minnesota (250 miles)
Wilkes-Barre/Scranton/Pittsburgh (300 miles)
Milwaukee/Nashville (575 miles)
San Antonio/St. Louis (900 miles)
Syracuse/Tampa Bay (1,275 miles)
Stockton/Calgary (1,300 miles)
Springfield/Florida (1,400 miles)
Bakersfield/Edmonton (1,745 miles)
Chicago/Golden Knights (1,750 miles)
Utica/Vancouver (2,950 miles)
* — Play in same arena.
AHL franchises owned by parent club
Bakersfield (Edmonton)
Belleville (Ottawa)
Binghamton (New Jersey)
Bridgeport (New York Islanders)
Hartford (New York Rangers)
Iowa (Minnesota)
Laval (Montreal)
Manitoba (Winnipeg)
Ontario (Los Angeles)
Rochester (Buffalo)
San Diego (Anaheim)
San Jose (San Jose)
Stockton (Calgary)
Texas (Dallas)
Toronto (Toronto)
Tucson (Arizona)
Utica (Vancouver)
Wilkes-Barre/Scranton (Pittsburgh)