Golden Knights rookie could force team into difficult decision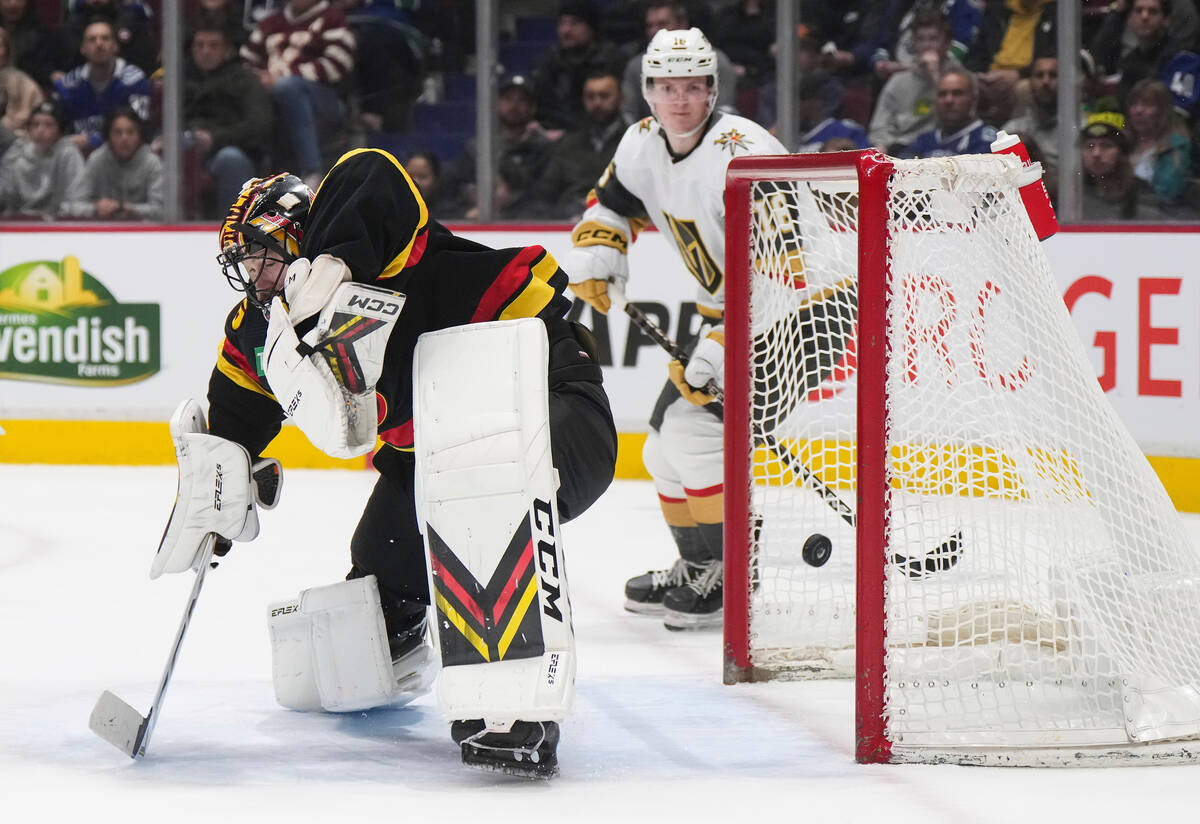 Few superlatives can capture how impressive rookie right wing Pavel Dorofeyev has been since being called up by the Golden Knights.
Center William Karlsson might have found one.
"He's hotter than burnt toast," Karlsson told AT&T SportsNet on Tuesday.
Dorofeyev's scorching stretch more than justifies the elegant analogy. The 22-year-old has four goals and two assists in his past five games. He's playing with confidence, driving to the net and fitting in fine with two of the Knights' top forwards in Karlsson and left wing Reilly Smith.
Dorofeyev is playing so well it raises the question of whether he will keep his lineup spot when the team gets healthier. Center Nicolas Roy and right wing Keegan Kolesar are on the road trip and could return soon. Someone needs to come out when those players are ready to play.
Dorofeyev is doing everything in his power to say it shouldn't be him.
"He's playing to keep his job," coach Bruce Cassidy said Sunday. "It shows out there. He wants the job, and he's not going to let someone take it from him, and that's what you want out of guys that come up a few times."
Dorofeyev, a 2019 third-round pick, is in his fourth NHL stint.
This is by far the most comfortable he's appeared. He made brief cameos on two separate occasions last season and totaled 13 minutes of ice time. He was also called up for three games earlier this season.
He's been given his most extended look during this stretch.
Cassidy put him on the second line with Karlsson and Smith and given Dorofeyev power-play opportunities. It's been a far better spot for him to showcase the skill level that made him the Silver Knights' leading scorer last season, when he had 27 goals and 25 assists in 63 games.
The increased role has also given him the chance to show how much he's developed. He's playing at a faster pace than when he made his American Hockey League debut February 2021 after arriving from Russia. He's also more willing to fight for inside ice in the offensive zone instead of hanging out on the perimeter.
Dorofeyev's first three NHL goals came within 8 feet of the net. The fourth came off a deflection from 14 feet.
"That's been a 2½-year process with Pavel," Silver Knights coach Manny Viveiros said. "Coming over. Learning the culture. Learning the North American style. Learning the language. Learning the pace of play. Learning how fast the game is and stuff like that."
Dorofeyev is also working hard enough away from the puck that he's earned Cassidy's trust defensively. He spent more than two-thirds of his five-on-five ice time in Sunday's win over Columbus playing against the Blue Jackets' top line. His game isn't entirely about his scoring.
It's up to Cassidy to determine if that's enough to keep Dorofeyev around.
Consistency can be difficult for young players to achieve as they adjust to the grind of an NHL schedule. Plenty of skaters are talented enough to go on a scoring binge. Sustaining it is more difficult, as is finding ways to help a team win when the puck doesn't bounce a certain way.
The growth in Dorofeyev's game indicates he might be able to do so. At the least, he's giving his coaching staff a difficult decision when Roy and Kolesar are ready. Roy was a full participant in Tuesday's morning skate, and Kolesar practiced in a red no-contact jersey.
Both have spent most of the season in the Knights' bottom six, which gives Dorofeyev a chance to hang onto his spot on Karlsson's line if he keeps proving he belongs there.
"I'm really happy for him," said Silver Knights defenseman Daniil Miromanov, who has played 14 NHL games this season. "He keeps proving to everybody that he belongs there."
Contact Ben Gotz at bgotz@reviewjournal.com. Follow @BenSGotz on Twitter.
Up next
Who: Golden Knights at Flames
When: 6 p.m. Thursday
Where: Scotiabank Saddledome, Calgary, Alberta
TV: AT&T SportsNet
Radio: KKGK (98.9 FM, 1340 AM)
Line: Flames -135; total 6½