Golden Knights, Smith's team for gas deal
Updated June 16, 2022 - 4:57 pm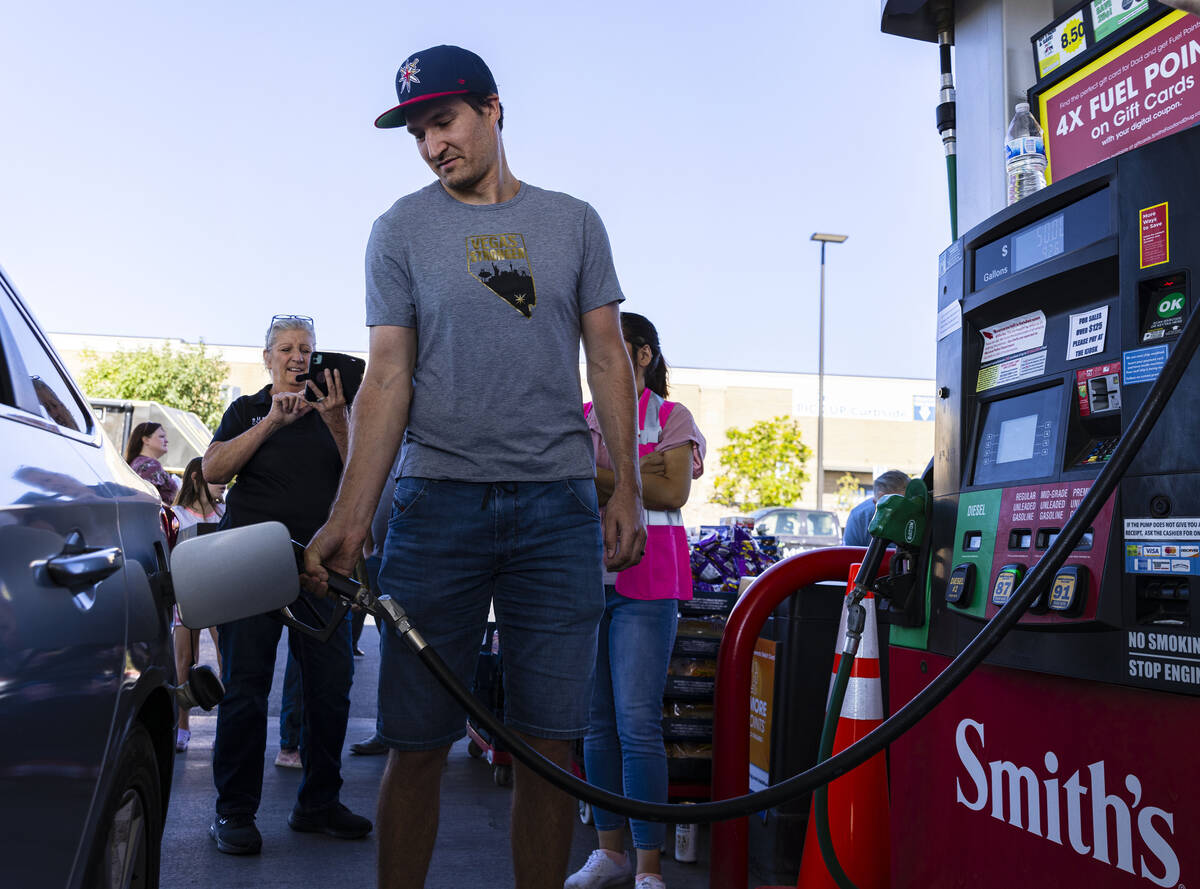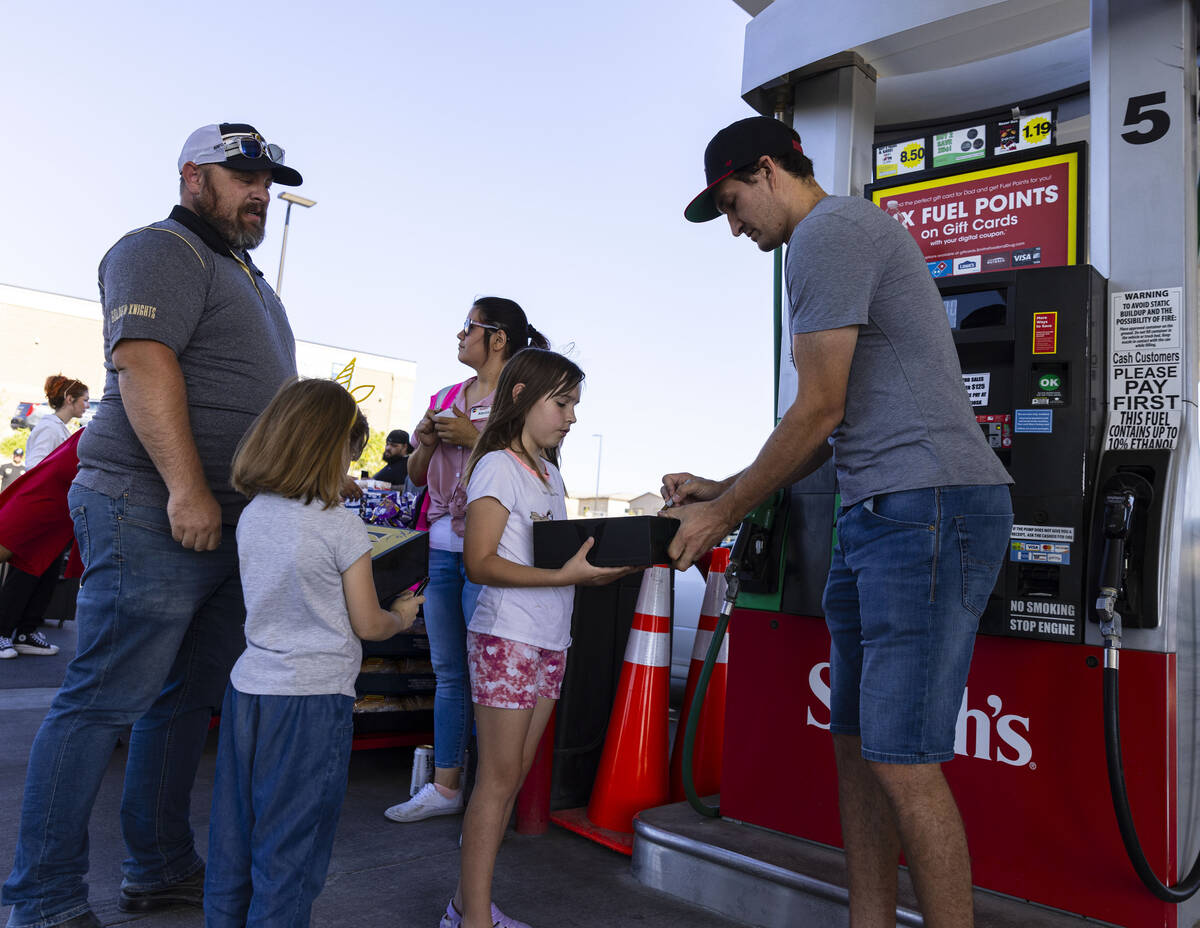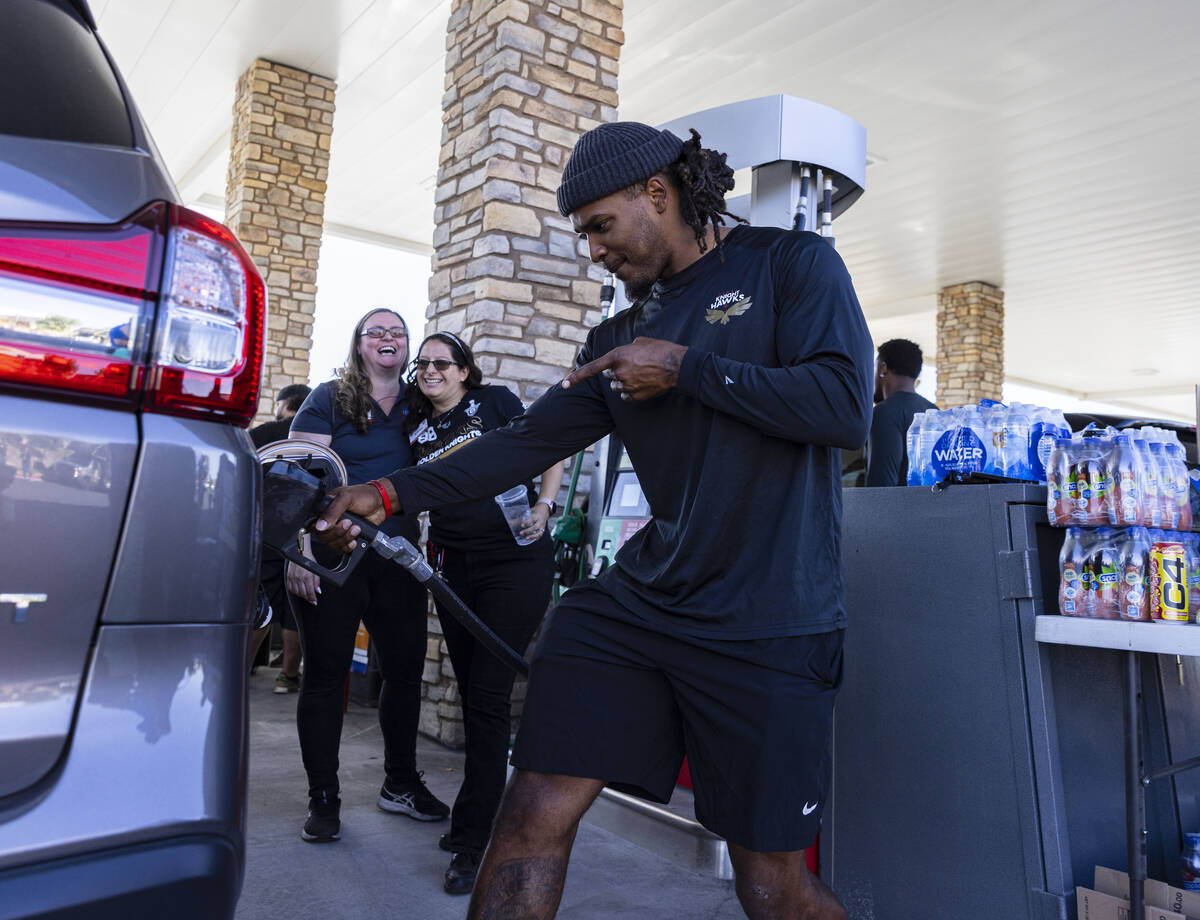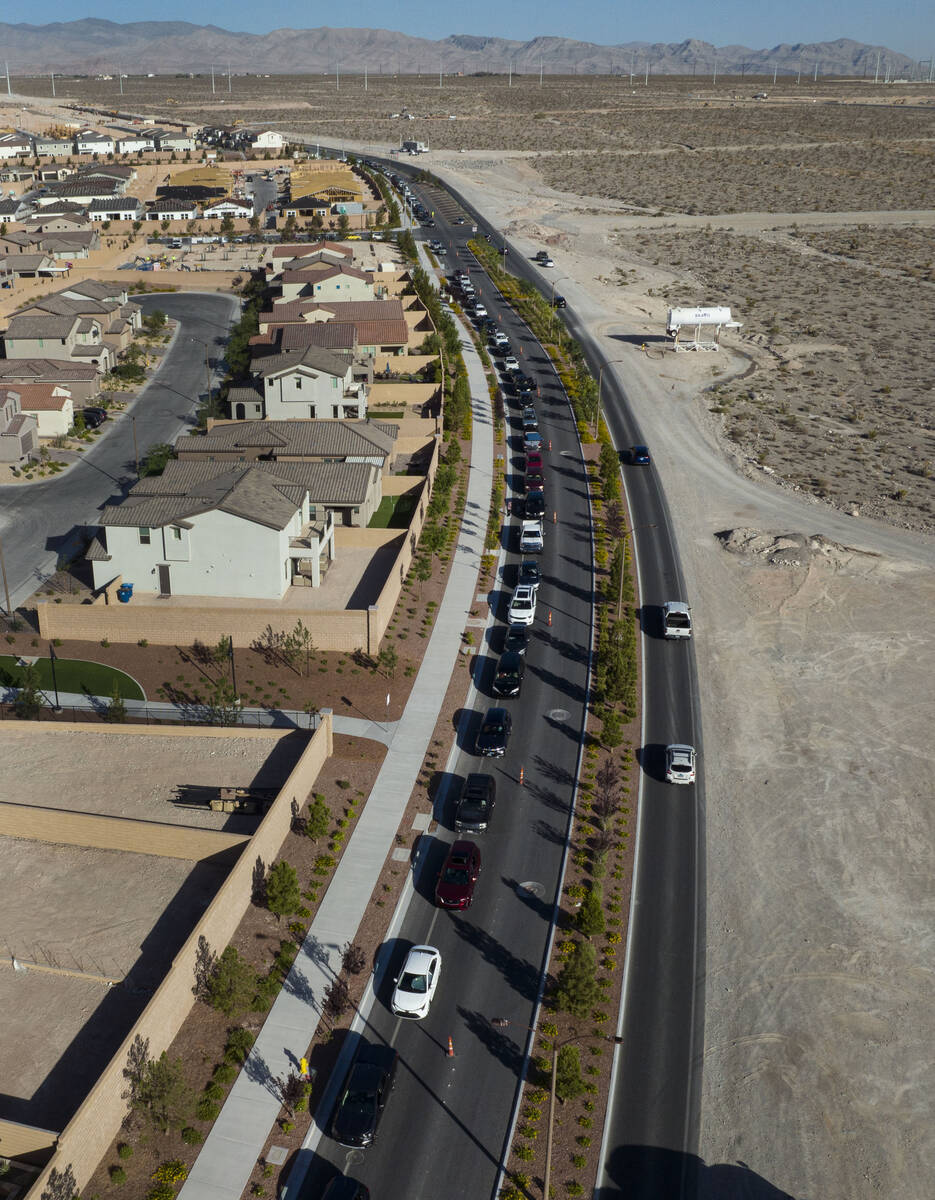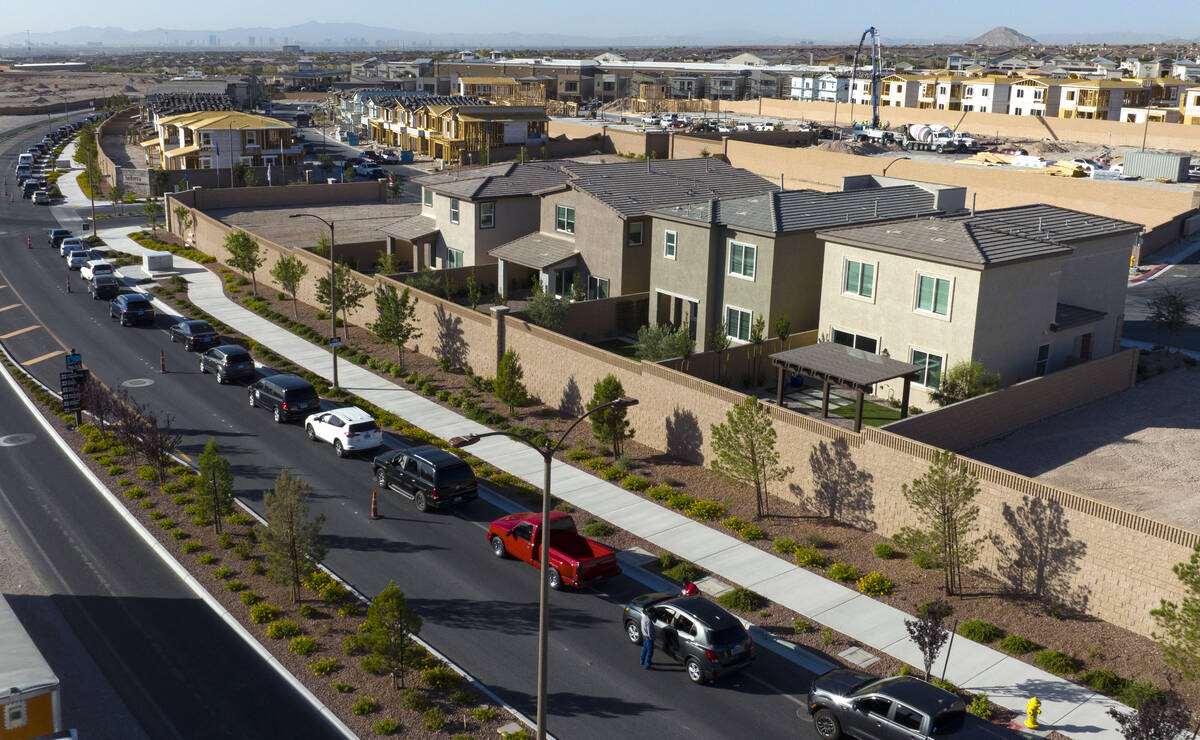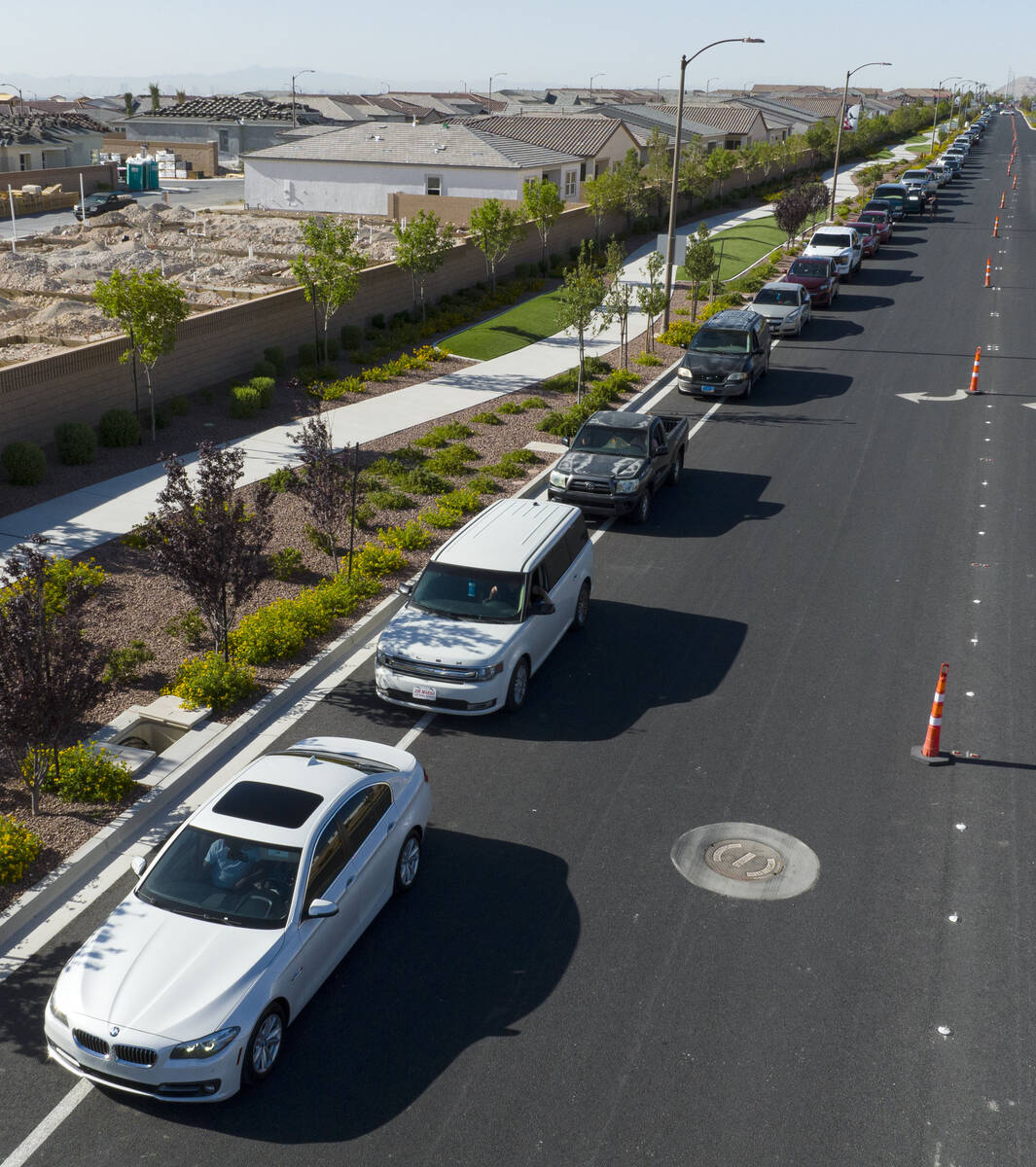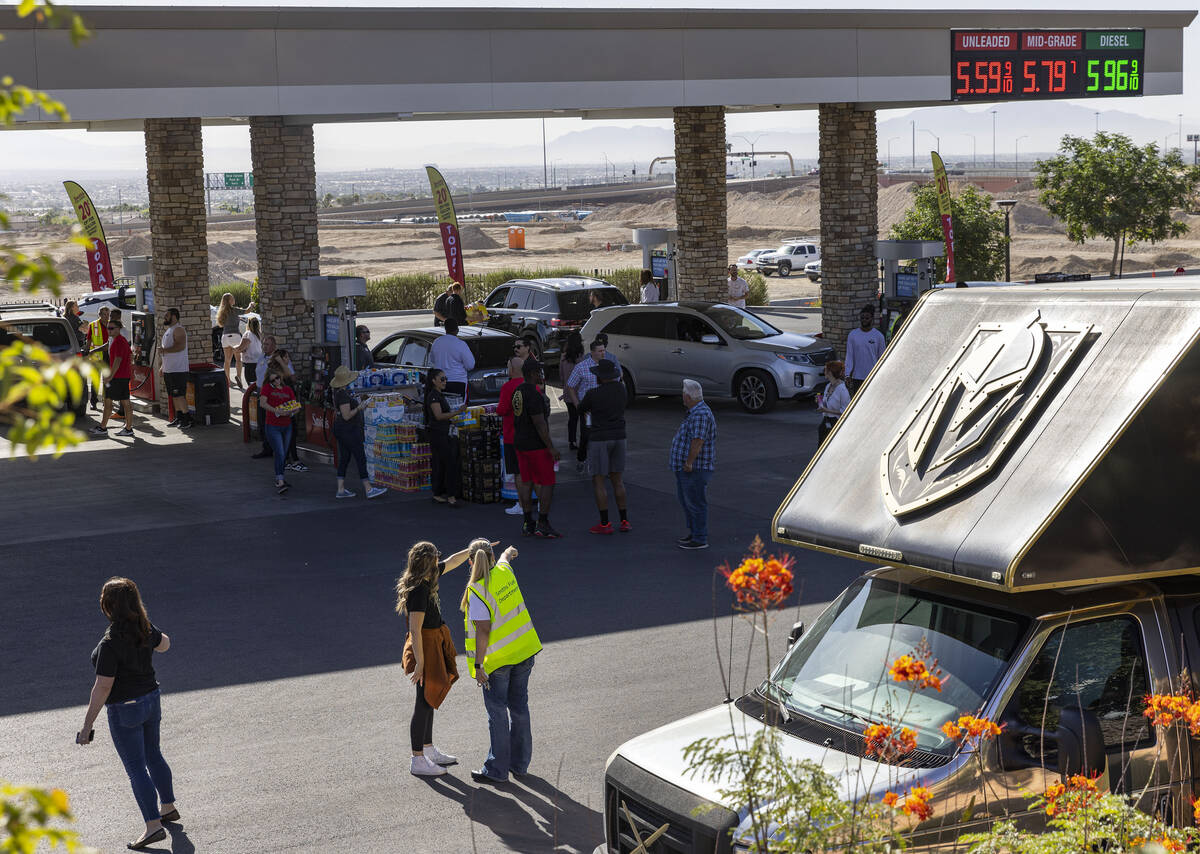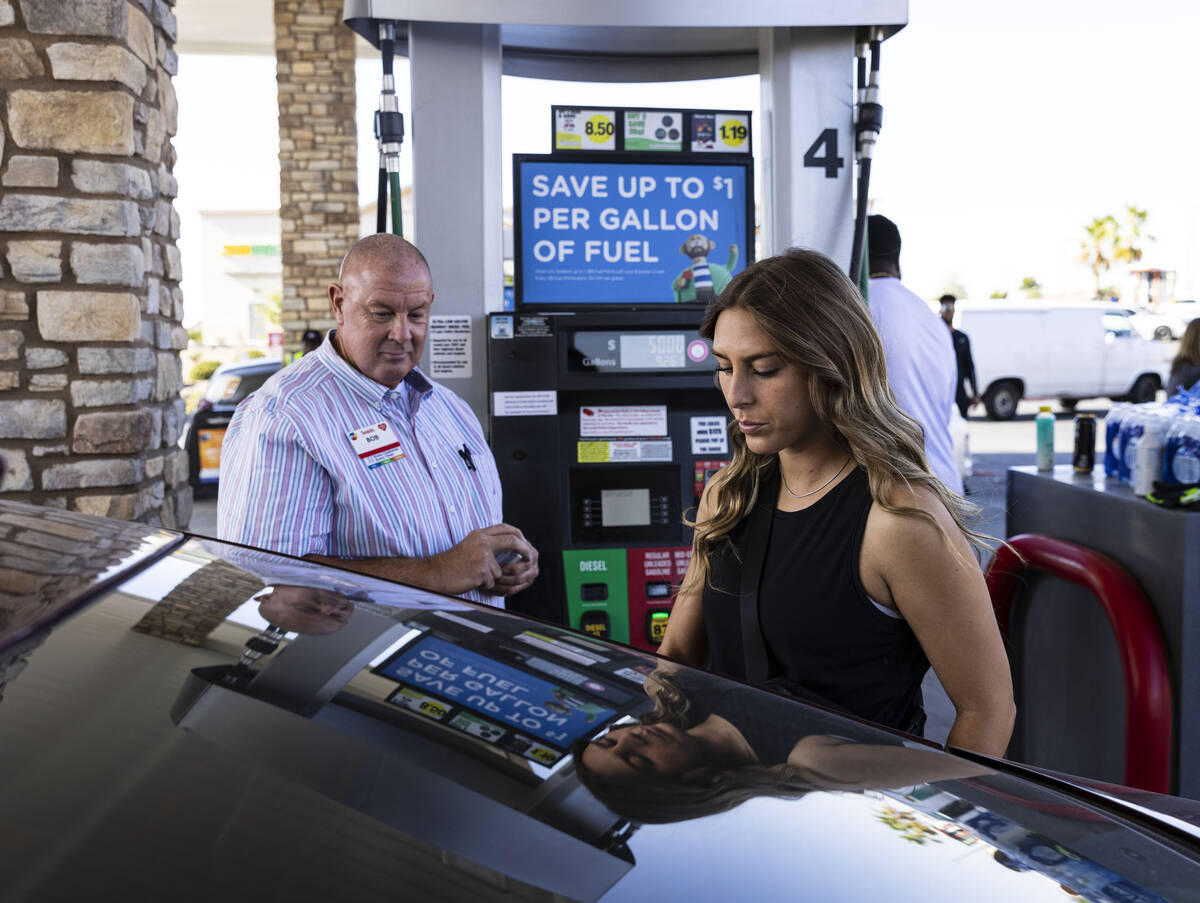 People woke up bright and early Thursday for their shot at being one of 800 customers to receive free gas during the Knight Up, Gas Up event at the Smith's Marketplace at Skye Canyon.
The Vegas Golden Knights Foundation and VGK Alumni Association gave back to the Las Vegas community by giving out $40,000 in gas — $50 per customer —as well as free food and beverages. Gas at the Smith's will remain 20 cents lower all day Thursday and Friday with a Smith's reward card.
For those not partaking in the event, gas at the station cost them $5.59 a gallon without the discount at the Smith's location. Nevada's gas prices are the second highest in the country with the average cost at $5.675 per gallon.
"With the times and inflation and gas prices, it's tough times for everyone right now," said Deryk Engelland, former VGK defenseman and president of the VGK Alumni Association. "People that need a tank of gas or need a little bit of help, it just goes a long way, looking at times right now."
VGK and Smith's have been partners for around four years. Together they also did a Thanksgiving meal giveaway in 2019 at another Smith's location.
'Just an amazing feeling'
And Thursday's gas giveaway wasn't the VGK Foundation's first — in April it gave away $20,000 worth of gas. The success of the prior event inspired the foundation to do something bigger by doubling the amount to be given away this time.
"We wanted to do another one, but get the Alumni Association involved," said Engelland. "You hear a lot of people say, 'It's groceries or gas,' and you got to go with groceries. So to give away $50 of gas until it's gone, it's just an amazing feeling."
The event started at 8 a.m., but hundreds queued up long before that. The line of vehicles stretched for more than a mile and a half before the start.
Loud music and cheerleaders greeted drivers while VGK and Henderson Silver Knights players filled up local tanks. Familiar faces included Engelland, Golden Knights team captain Mark Stone and goal tender Logan Thompson.
Brand ambassadors and volunteers swarmed to the lined-up cars offering chips, loaves of bread, energy drinks and sweet treats.
'It made my day'
Tree Hill had been waiting since 5:30 a.m. for a shot at the free gas. Hill said the event eased a lot of stress, noting the tank normally only gets filled once a week.
"It's pretty generous actually, too because, I mean, we all know what's happening," Hill said. "I really appreciate everybody being a part of this event. It is very festive too, which is great."
At the time of the event, Hill's tank only had a few gallons left in it.
Alfonso Sandoval, born and raised in Las Vegas, was the recipient of the last free-gas pump of the day. He said he felt "awesome" about receiving the gas.
He said his occupation as a Lyft driver takes a toll on his tank. "They only give us 55 cents now for each person that we pick up," Sandoval said about gas reimbursements. "So if we don't, we're driving miles, we don't get any extra money."
Summerlin resident Trenna Adams took part in the event later in the day and filled up her daughter's car as a surprise. Adams said she frequently has to fill up her tank because of her job.
"My job is driving to the airport every day. I drive 60 miles from here, round trip to the airport, so it is really hard because I'm spending money to make money so it's kind of crazy and sad because my car takes premium."
Adams said she loved the event and appreciates the Golden Knights for all they do in the community.
"It made my day," she said.
Emerson Drewes can be reached at edrewes@reviewjournal.com or via Twitter @EmersonDrewes.