Knights goalie perseveres, thrives in 1st stint in playoffs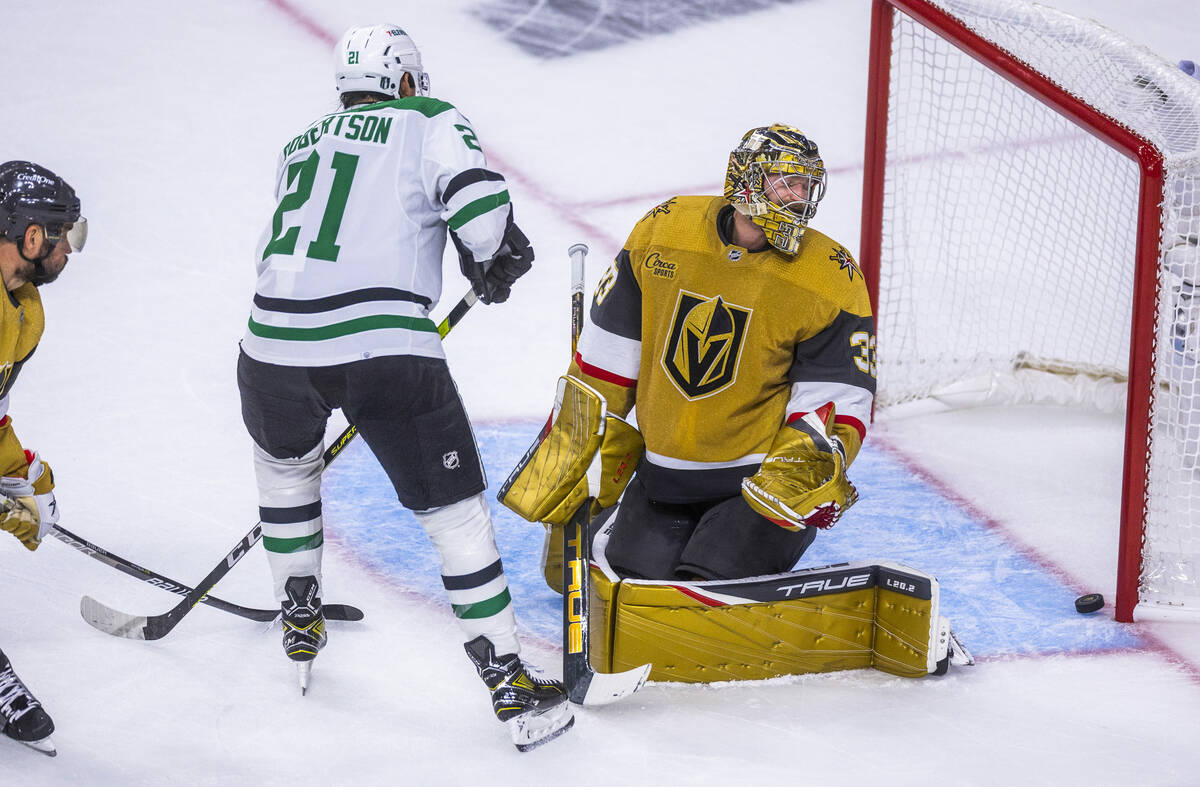 Justin Cardinal spied the smirk under Adin Hill's mask. That's when he knew it was over.
It didn't matter that the Golden Knights goaltender had just given up two goals in two shots to start a possible series-clinching Game 6 against the Edmonton Oilers last Sunday. Cardinal, who has known Hill since the latter was 10 as the head of development for Evolution Goaltending Corp., could tell his protege was about to lock in the second that grin came out.
"I was like, 'He's got this,'" Cardinal said. "They're winning tonight."
A fortune teller couldn't have called it better. Hill stopped the next 38 shots he faced against the NHL's No. 1 offense, and the Knights won 5-2 to advance to the Western Conference Final.
It was a great example of Hill's mental fortitude, a trait he's leaned on throughout his career. The Knights hope it helps him maintain his high level of play in their semifinal series against the Dallas Stars. They lead 1-0 after Hill made 33 saves in Friday's Game 1 at T-Mobile Arena.
"Some guys respond and respond well to the situations that come up in the playoffs," Knights coach Bruce Cassidy said. "Whether you call it pressure, whatever. … Whatever it is, mentally he seems to be just fine with it."
Fantastic growth
Cardinal knew Hill would play in the NHL 13 years ago.
Hill had a game in which he didn't play his best. His father approached Cardinal and asked for an extra on-ice session to fix a few things. That night.
Hill's determination had Cardinal convinced he would be a success. Others were more skeptical. Hill wasn't taken with any of the 231 selections used in the 2011 Western Hockey League draft when he was 14. The reason seems unbelievable now.
He was short. Much too short. Hill, now listed at 6 feet 4 inches, was 5-8 then, Cardinal estimated.
A growth spurt over the summer three years later changed everything. Cardinal kept seeing the differences as he and Hill went on the ice to work almost every day at 9 a.m. and noon.
"When he would come in for his second session, it was almost like he grew that hour," Cardinal said. "It almost happened overnight. He sprouted up very, very fast."
That size, coupled with Hill's natural athleticism, turned into an exciting combination.
He got an WHL opportunity with the Portland Winterhawks despite going undrafted and shined. He led all rookies in wins with 31 in 46 games. His .921 save percentage also made him the first Winterhawk to lead the WHL in the stat since 1997-98.
The results could even be seen off the ice. Hill dunked a basketball on an NBA hoop during his time with the Winterhawks when he attended a Trail Blazers game.
"His size isn't what really makes him good," Cardinal said. "His size is a bonus, and it allows him to play within a system. But he's always been a great athlete. He's always been a good mover in the net."
Fresh opportunity
Hill's height got him picked the second time around.
Arizona grabbed him in the third round of the 2015 NHL draft, not long after current Knights goaltending coach Sean Burke left the Coyotes' organization. An answer he gave afterward speaks to his mindset. Hill was asked about his idol, 2012 Vezina Trophy winner Henrik Lundqvist.
"Any time he has a bad game, he bounces back even stronger," Hill said. "That's a great quality to have as a goalie."
It's a trait Hill is emulating in the playoffs.
His NHL career hasn't been all smooth sailing. Hill, acquired from the San Jose Sharks for a fourth-round pick in August, had an .899 save percentage in his first 13 appearances with the Knights and was pulled in the first period of a start against the Anaheim Ducks.
But he's been dialed in since. Hill had a .929 save percentage in nine games after the All-Star break before a lower-body injury ended his regular season March 7. He stayed sharp after his recovery, even though he didn't get into an NHL crease again until Game 2 against the Oilers on May 6.
The following days could have been overwhelming. Hill was forced into the net in Game 3 after Laurent Brossoit suffered a lower-body injury 11:44 in. He could have sank after his first postseason start didn't go well in Game 4.
He didn't. Hill recovered to win Game 5 against Edmonton, then had one of the best performances of his career two days later. His .930 save percentage in the playoffs is third among goalies with at least one start.
"Seeing him working out in the gym, on the ice after his injury, we knew he was going to be ready," center Nicolas Roy said.
Road ahead
Hill's next step is building on his postseason success.
Cassidy said Tuesday that Brossoit is not expected to be available for the conference final. That means the net belongs to Hill as long as he plays well.
He's done that and more. He views the key to his success down the stretch as being patient and not overreacting. Staying on his feet as long as possible and letting the play come to him.
"He's got a great demeanor," defenseman Brayden McNabb said. "He's laid back. To see him play well just gives the group a great confidence for sure."
It's a belief Hill has earned through adversity.
He wasn't handed the starter's net, just like he wasn't handed a spot in junior hockey. What he's continued to do is work hard, wait and stay prepared.
It paid off when he reached the NHL. It's helping him thrive again with the Knights in his first Stanley Cup playoffs run.
"You grow up, you get used to it and you have to be ready," Hill said. "It's just making sure when you're not playing that you're ready to go in and working hard every day in practice knowing you're ready for the opportunity."
Contact Ben Gotz at bgotz@reviewjournal.com. Follow @BenSGotz on Twitter.
Up next
Who: Stars at Golden Knights
What: Western Conference Final
When: Noon Sunday
Where: T-Mobile Arena
TV: KTNV-13
Radio: KKGK (98.9 FM, 1340 AM)
Line: Knights -130; total 5½
Series schedule
Game 1 — Golden Knights 4, Stars 3 (OT)
Game 2 — Noon Sunday, T-Mobile Arena (KTNV-13)
Game 3 — 5 p.m. Tuesday, American Airlines Center (ESPN)
Game 4 — 5 p.m. Thursday, American Airlines Center (ESPN)
Game 5* — 5 p.m. Saturday, T-Mobile Arena (KTNV-13)
Game 6* — 5 p.m. May 29, American Airlines Center (ESPN)
Game 7* — 6 p.m. May 31, T-Mobile Arena (ESPN)
* If necessary
All games will be broadcast on KKGK (98.9 FM, 1340 AM)