Robin Lehner to miss rest of season, undergo surgery
Updated April 25, 2022 - 5:45 pm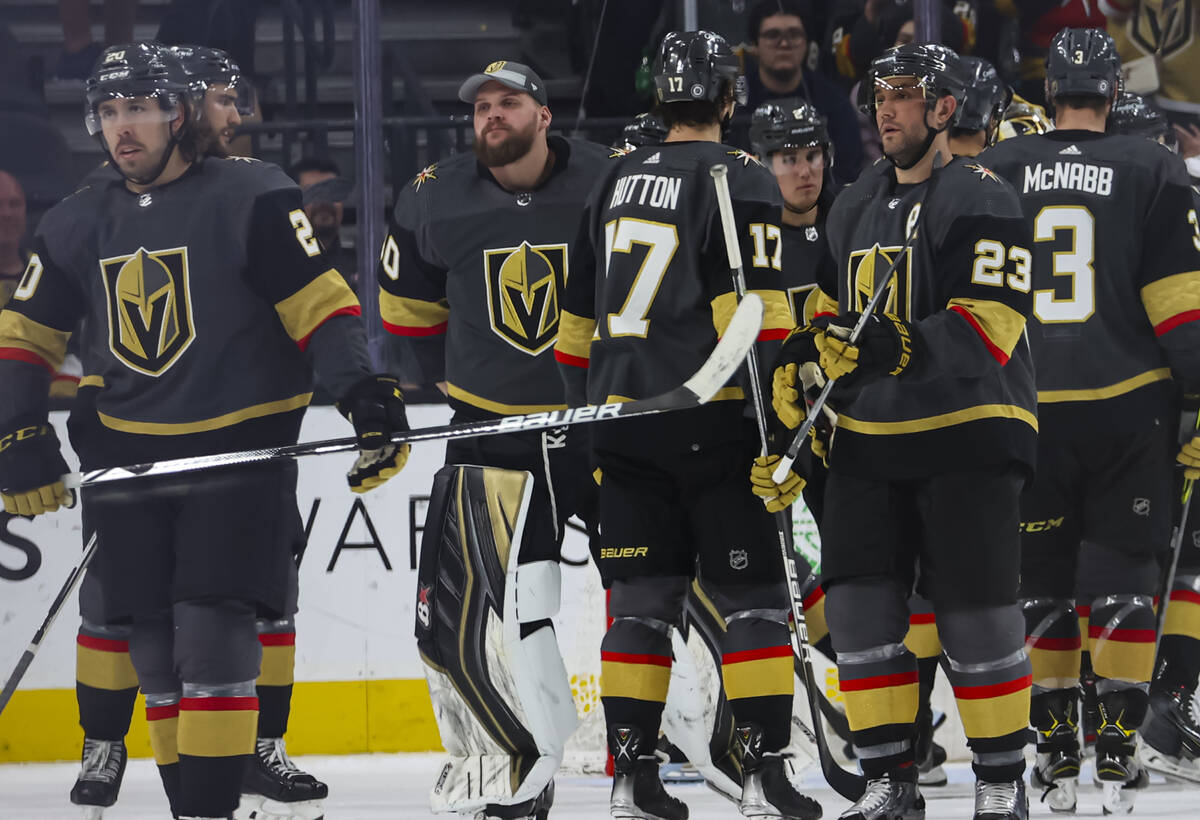 Robin Lehner's season is over.
The Golden Knights announced Monday the goaltender will undergo shoulder surgery and miss the final three games of the season.
"Robin has done his best to battle through this injury he sustained Feb. 9, and we were hopeful that rest and rehab would allow him to complete the season," the organization said in a statement. "At times rest and rehab were effective, but ultimately Robin, in consultation with team medical staff, determined that this is the best course of action."
ESPN and The Athletic reported Friday that Lehner was set to have season-ending surgery for a lower-body injury, but the Knights vehemently refuted those reports. Coach Pete DeBoer and general manager Kelly McCrimmon said Friday there was nothing physically to limit Lehner from playing.
McCrimmon declined to comment Monday.
Despite carrying an injury that requires surgery, Lehner had to serve as the backup for Sunday's 5-4 shootout loss to San Jose. According to CapFriendly.com and PuckPedia.com, the Knights did not have enough salary cap space to recall a goaltender from Henderson after activating forward William Carrier from long-term injured reserve, but now qualify for a goalie emergency exception call-up.
Jiri Patera was brought up Monday from the Silver Knights to serve as the backup to Logan Thompson.
The Knights' playoff hopes are hanging by a thread entering Tuesday's must-win game at Dallas. A regulation loss could eliminate them from the playoff race after opening the season as one of the favorites to win the Stanley Cup.
Lehner battled injuries since the middle of December when he was sidelined for five games with a lower-body injury. The team said Lehner sustained an upper-body injury Feb. 9 in a loss at Calgary, and he missed five games.
At the time, Daily Faceoff reported that Lehner had a torn labrum in one of his shoulders and would require surgery. Lehner denied needing surgery after a win over San Jose on March 1.
But the injury bug bit Lehner again March 8 when he was hurt in a 2-1 loss at Philadelphia. The Knights sent Lehner back to Las Vegas for further evaluation on what reportedly was a lower-body injury.
When Lehner returned April 3, the injuries robbed him of his effectiveness. In six starts, he went 2-2-1 with a 3.20 goals-against average and .892 save percentage.
Still, DeBoer continued to start Lehner in key games with the Knights' playoff chances hanging in the balance despite the lingering injuries.
"We pay him to start games like this," DeBoer said last week.
Lehner allowed two goals in the third period of a costly 3-2 loss to New Jersey on April 18, including a misplay when he couldn't glove a fluttering shot. Afterward, DeBoer was critical of Lehner's performance and said he was outplayed by journeyman Andrew Hammond.
The Knights went back to Lehner on Wednesday against Washington, but he was pulled after stopping 12 of 13 shots in the first period.
"He's healthy, he's fresh. He's got a lot of energy, and we need him at this point," DeBoer said after the game.
Thompson started Sunday's shootout loss to San Jose, and DeBoer insisted the decision was performance based rather than because Lehner was injured. The Knights play three games in the next four nights and will lean on Thompson the rest of the way.
Lehner finished 23-17-2 with a 2.83 goals-against average and .907 save percentage, both worse than his career average.
Contact David Schoen at dschoen@reviewjournal.com or 702-387-5203. Follow @DavidSchoenLVRJ on Twitter.