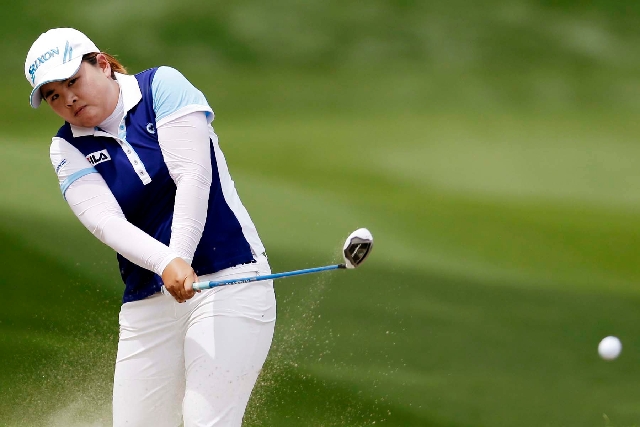 RANCHO MIRAGE, Calif. — Any drama left Sunday at Mission Hills was gone a few minutes after the final group teed off.
Robbing the Kraft Nabisco Championship of another exciting finish, Inbee Park doubled her lead to six strokes over playing partner Lizette Salas on the par-4 opening hole and ran away with her second major title.
Park made a 20-foot birdie putt, showing off a putting touch unmatched in women's golf, and Salas had a messy double bogey for a three-stroke swing.
"That made my day much easier, that's for sure," said the 24-year-old Park, a two-time Nevada state champion while at Bishop Gorman High School.
The 2008 U.S. Women's Open winner at Interlachen, Park closed with a 3-under 69 to finish at 15-under 273, four strokes ahead of fellow South Korean So Yeon Ryu.
"It had been a while since I won a major. It feels very special," said Park, the third straight South Korean major winner and the eighth in a row from Asia.
Park celebrated the victory with the traditional leap into Poppie's Pond.
"It was great," Park said. "That's the pond I've always wanted to jump in, and I finally jumped in. It was a little bit chilly, though."
She also jumped from fourth to second in the world, behind Stacy Lewis, with her fifth LPGA Tour title and ninth worldwide win.
"I only have one more spot to go," Park said.
She filled a water bottle in the pond.
"That was for my dad," Park said. "When I see him next week in Hawaii, I'm going to pour it over him. Yeah, that's what he wanted."
Park, who won the LPGA money title in 2012, has four victories in her last 16 events.
"I've seen Inbee do this before," said Lewis, who tied for 32nd. "I played with her (when she won) at Evian last year when she had, I think, 22 or 23 putts in the final round. When she rolls it, you can't beat her. She's the best putter on tour."
The 22-year-old Ryu, playing five groups ahead of Park, shot a bogey-free 65 — the best round of the week. Ryu is close friends with Park, and they played a practice round together before the tournament.
"She looks like she played another golf course," said Ryu, the 2011 U.S. Women's Open champion. "This golf course is really hard."