No tickets for Tiger Woods, Phil Mickelson Las Vegas match
October 10, 2018 - 11:15 am
Updated October 10, 2018 - 1:47 pm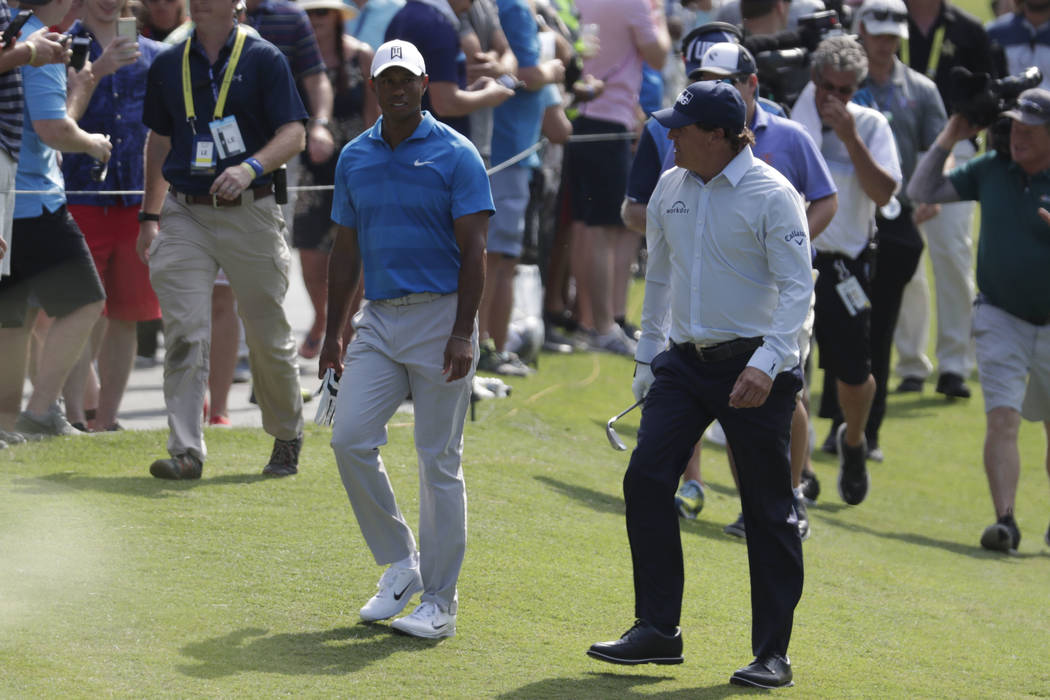 "The Match," a $9 million winner-take-all, pay-per-view event between Tiger Woods and Phil Mickelson at Shadow Creek on Nov. 23, will not have any tickets available to the public.
Multiple sources who are familiar with the planning said a small gathering of sponsors and VIPs will be given access to Shadow Creek, which is owned by MGM Resorts International.
The event is believed to be the first televised pay-per-view golf event. Broadcast rights are held by WarnerMedia.
Also, no parts of the match will be played under the lights as was under speculation following Mickelson's comments about the event being held in prime time.
"It's an opportunity for us to bring golf to the masses in prime time during a period where we don't have much going on in the world of golf," Mickelson told ESPN.com in August.
Sunset is 4:28 p.m. in Las Vegas on the day of The Match — the Friday after Thanksgiving — meaning the event could end as late as 7 or 8 p.m. on the east coast. Event organizers have made no official announcements about event timing or pay-per-view pricing.
While fans won't have the opportunity to attend in person, WarnerMedia said in a statement it plans to offer "unprecedented access up to and during the competition" via its wide-ranging platforms including live pay-per-view coverage distributed through Turner's B/R Live sports streaming service, ATT's DIRECTV, ATT U-verse, and other on-demand platforms.
HBO Sports "24/7" reality franchise will chronicle Mickelson and Woods leading up to the match and Bleacher Report's "House of Highlights" will offer comprehensive highlights and behind-the-scenes content. Turner's TNT network will also televise programming with select content from the event in the weeks following the live competition.
Woods made the Match official Aug. 22 when he tweeted a graphic showing he and Mickelson plus the words, "It's on!"
It's on @PhilMickelson #TigerVSPhil pic.twitter.com/PZivYPOEf5

— Tiger Woods (@TigerWoods) August 22, 2018
Mickelson replied with a tweet, writing, "I bet you think this is the easiest $9 million you will ever make."
Since then, Woods won the season-ending Tour Championship, his 80th PGA Tour victory, and then both played for the United States during the Ryder Cup, going a combined 0-6 for the losing American team. Last week, Mickelson finished tied for 17th at the Safeway Open in Napa, California, ending a streak of poor play.
Given Woods' momentum and Mickelson's recent struggles, Westgate Superbook golf odds expert Jeff Sherman has increased Woods to a -220 favorite.
Last week, the first official hype video was released with the two golf superstars playfully talking smack.
"I will win," Woods said. "This is something that people will remember. We are going to beat each other's brains in."
Mickelson countered with, "Tiger and I both desperately want to win."
Freelance writer Brian Hurlburt covers golf for the Review-Journal. He can be reached at bhurlburt5@gmail.com or on Twitter @LVGolfInsider.
The Match
Who: Tiger Woods vs. Phil Mickelson.
What: A winner-take-all, pay-per-view event.
When: Friday, Nov. 23.
Where: Shadow Creek Golf Course, North Las Vegas (6,910 yards, par 72).
Purse: $9 million.