Gorman stays hot in victory over Sierra Vista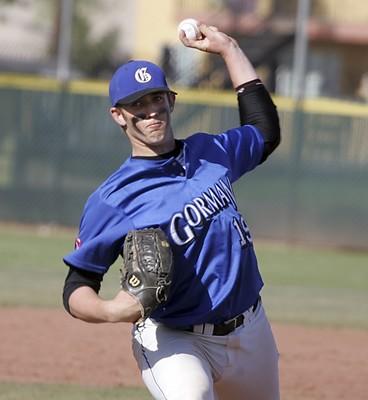 After winning the Bishop Gorman/Calvary Chapel Easter Classic on Saturday, Gorman coach Chris Sheff was concerned about a letdown early this week.
He shouldn't have worried.
The Gaels (17-2-1) scored 25 runs Monday in a victory over Spring Valley and had plenty of offense left Tuesday, beating Sierra Vista 10-6 at Hadland Park.
John Rickard led the offensive charge, blasting two home runs and driving in three runs. Rickard has three homers in two days against a pair of Southwest Division foes.
"Our biggest concern was coming off a pretty big tournament and playing in some big games, how would we be emotionally coming back from that tournament," Sheff said. "They responded in both games this week in league, and now we can go in and play in our next tournament knowing we're in first place."
Gorman did its damage against Sierra Vista ace Justin Baca, who has signed with UNLV. Baca wasn't sharp Tuesday, walking in two runs in the second and another in the fifth before leaving with the bases loaded. He went four innings, allowing all 10 runs on 10 hits. He walked seven.
"He didn't have his best stuff today," Sheff said. "But we've faced a lot of good arms this year, and it's always nice to see somebody's No. 1. Today, we just got to him a little bit, and he didn't have his best stuff and we came out on top."
Scott Dysinger, Taylor Cole, Devin Flynn, Neil Lawhorn and Rickard each finished with two hits for Gorman.
Lance Ray went 2-for-4 with a double, a home run and four RBIs to lead the Lions (16-4).
• Del Sol 5, Green Valley 3 — At Green Valley, Tyler Giunta's two-out single in the sixth inning brought home two runs to give the Dragons the lead for good against the Gators.
Green Valley led 3-2 entering the sixth. Cameron Tutwiler pitched a four-hitter to get the win.
• Arbor View 7, Cheyenne 0 — At Arbor View, Brandeis Truman pitched a four-hitter with four strikeouts, and Robbie Garvey went 2-for-3 with a double and two RBIs to lead the Aggies over the Desert Shields.
Oscar Hudson was 2-for-2 with a double and two runs scored for Arbor View.
• Silverado 10, Liberty 2 — At Silverado, Chase Bradford struck out nine batters and walked none over six innings as the Skyhawks cruised past the Patriots.
Kevin Rath was 3-for-4 with a double, a home run, three runs scored and two RBIs for Silverado.
• Eldorado 5, Rancho 4 — At Rivera Park, Manny Estrada struck out the final two hitters to end a late rally as the Sundevils held off the Rams.
Nigel King went 2-for-4 with a run scored for Eldorado, which led 5-1 entering the seventh.
• Centennial 19, Mojave 2 — At Mojave, Colton McFarland pitched a three-hitter with seven strikeouts as the Bulldogs beat the Rattlers in five innings.
Matt Triana went 4-for-4 with two doubles, three RBIs and three runs scored for Centennial.
• Coronado 14, Vo-Tech 4 — At Coronado, Brandon Evans went 3-for-4 with a triple and three runs scored as the Cougars beat the Roadrunners in five innings.
Andrew Gans added a double and three RBIs, and Josh Bryan homered for Coronado. Dane Watson added two hits, two runs and two RBIs for the Cougars.
• Palo Verde 11, Shadow Ridge 9 — At Shadow Ridge, Jake Capurro doubled twice and drove in five runs as the Panthers beat the Mustangs.
Andrew Ludwig went 2-for-3 with three RBIs for Palo Verde.
• Basic 11, Foothill 1 — At Basic, Brett Wellman threw a two-hitter and went 3-for-4 with a homer, three RBIs and two runs scored to lead the Wolves past the Falcons in five innings.
Nick Feher homered and doubled for Basic.
• Durango 15, Northridge (Colo.) 6 — At Durango, John Kapu was 3-for-3 with three runs to lead the Trailblazers.
Justin Loya added three RBIs for Durango.
• Boulder City 12-12, Pahrump Valley 1-1 — At Pahrump, the Eagles swept a doubleheader from the Trojans.
Brett Moravec hit a three-run homer in the first game, and Zack Bartholomew cracked a three-run homer in the second game for Boulder City.
Preps Central