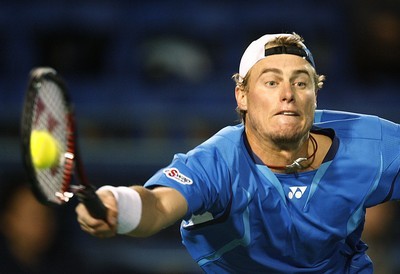 After sending another shot beyond the baseline, Lleyton Hewitt turned his tennis racket to mush, pounding it into the blue court at the Darling Tennis Center in a tantrum his 2-year-old daughter, Mia, would be proud of.
It was that kind of night for the defending Tennis Channel Open champion. He was careless, sloppy and unable to display his usual patience Wednesday in a second-round match with Julien Benneteau.
In the end, it all caught up with Hewitt, who will not be around to defend his title after the second-seeded Australian was eliminated by Benneteau 6-3, 7-5 in the biggest upset of the tournament.
"Every match is difficult," said Benneteau, who next will face young American Sam Querrey in Friday's quarterfinals. "But I knew I had a chance to win if I didn't give him too many free points."
Benneteau, ranked 61st and unseeded in this event, served well and returned even better. He constantly put pressure on Hewitt, who struggled to figure out the Frenchman.
"I didn't have my rhythm," Hewitt said. "I played patches of good tennis, but I had too many flat spots. He did a good job of moving the ball around, and he made it difficult for me to attack him. He played smart."
That wasn't the case early in the match. Hewitt broke Benneteau's serve in the opening game and was quickly up 2-0 and threatening to break Benneteau again. But Benneteau managed to hang on, and after trailing 3-2, he turned it around.
He got the break back to pull even at 3-3, then broke Hewitt again. Suddenly, it was Hewitt who was struggling with his serve and having trouble keeping the ball in play during rallies.
"It was really frustrating," Hewitt said. "I thought I had a lot of chances, even after he broke me in the first set. I had a couple of opportunities, but I couldn't convert."
It was a confident Benneteau who stood across the net for the second set. He had Hewitt frustrated, leading to the Australian's meltdown as he trailed 2-1 in the set. But Hewitt managed to regroup, and in a wild exchange of breaks, he evened the set at 5-5.
But Benneteau never wilted. He got one last break to go up 6-5, then closed out the match on serve.
"I started to play more aggressively, and he started making mistakes," Benneteau said of Hewitt, who committed 32 unforced errors. "That was the difference. Honestly, I was surprised he made so many mistakes."
Contact reporter Steve Carp at scarp@reviewjournal.com or (702) 387-2913.