Jordan's clutch shots lift Centennial past Gorman
February 21, 2014 - 11:32 pm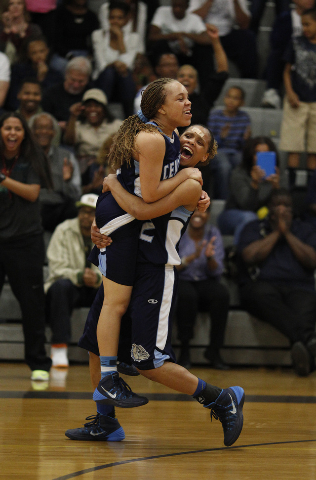 Tramina Jordan waited her entire high school career for a starring role in the Centennial-Bishop Gorman girls basketball rivalry.
When the spotlight finally found the Bulldogs' senior guard in the final minute of Friday's Sunset Region final at Durango, she was more than ready.
Jordan made 7 of 8 free throws in the final 40 seconds to lift Centennial to a 66-59 win over the Gaels. The Bulldogs (24-5) captured their fourth straight region title and advanced to the Division I state tournament, which begins Thursday in Reno.
Centennial won for the seventh time in the 12 consecutive region final meetings between the teams.
"It feels amazing," Jordan said. "Eventually your time will come. My time came. I'm a senior. I had to step it up."
At just 5 feet 4 inches tall, Jordan can easily go unnoticed on the court. But it was impossible to miss her in the closing stretch.
"I had to do it for my team," Jordan said. "We put in work, dedication, sacrifice, everything we've got. I had to do it."
The Bulldogs, who aren't always the most prolific free-throw shooting team, were 16 of 23 from the line, including a 9-for-10 effort by Jordan, who had nine of her 15 points in the fourth quarter.
"Tramina can shoot free throws," Centennial coach Karen Weitz said. "Whenever we have competitive situations in practice, Tramina is always the one who wants to step up and shoot free throws. Tramina is pretty mentally tough."
Centennial struggled to contain Gorman starting posts Raychel Stanley and Maddison Washington, who combined for 10 points during a 12-0 run that gave the Gaels a 37-29 lead midway through the third quarter.
Stanley and Washington both stand 6 feet 2 inches tall. Centennial's tallest player is listed at 5 feet 9 inches.
But the Bulldogs got key contributions from junior twins Ioana and Ivana Ganeva, who came off the bench to combine for 11 points, and from senior twin guards Paige and Simone Barber, who celebrated their 18th birthdays Friday.
Simone Barber scored 11 points and Paige Barber had eight, including a 3-pointer from the right wing that gave the Bulldogs a 48-43 lead with 5:33 to play.
Teirra Hicks also had 11 points for Centennial, which split its two regular-season meetings with Gorman.
Stanley paced Gorman (21-6) with 20 points and 15 rebounds. Megan Jacobs had 18 points, and Washington scored 14 points.
SUNRISE REGION
With his team clinging to three-point lead and less than two minutes remaining, Liberty girls basketball coach Rich Santigate needed someone to take control.
Junior guard Kealy Brown was happy to oblige.
Brown nailed six of her eight free-throw attempts in the final 1:27 to seal the Patriots' 55-49 victory over Foothill in the championship game of the Sunrise Region tournament.
The win lifted Liberty (25-4) into the Division I state tournament.
"Our coaches prepared us to make free throws in tough situations," said Brown, who scored 15 of her 19 points in the second half. "You kind of just zone everything out."
Santigate said he trusted Brown to be his closer.
"We knew (the Falcons) were going to foul," he said, "so we put the ball in Kealy's hands. She's a winning player who can just take over a game."
Liberty appeared to have control early in the fourth quarter when Paris Strawther hit a layup to give her team a 42-33 lead.
But Taylor Turney, who spent the first half in foul trouble, brought the Falcons back with two 3-pointers. Another 3-point shot by teammate Katey Roquemore cut Foothill's deficit to 51-48 with 1:11 to go.
But with time running out, Foothill (23-7) was forced to foul. Brown was sent to the foul line on all four occasions to keep the Falcons from completing their rally.
The Patriots encountered heavy resistance in the early minutes, as Foothill stormed to a 7-1 lead. But Strawther, who finished with 19 points, 10 rebounds and two steals, hit a layup with 5:22 remaining in the first quarter to ignite a 10-0 Liberty run.
Though Turney hit two of her five 3-pointers in the fourth, the Falcons could not stop Brown, who scored nine points in the quarter.
Turney led Foothill with 21 points and six rebounds, and Yeakel finished with 10 points.