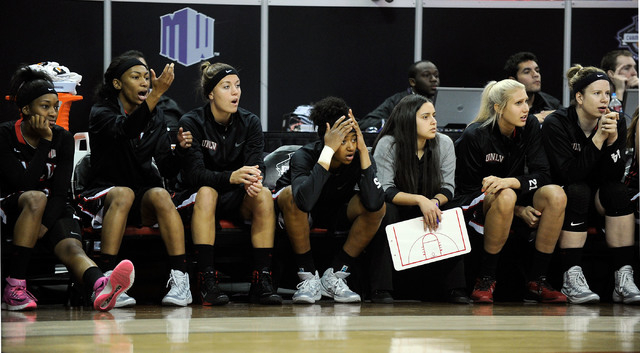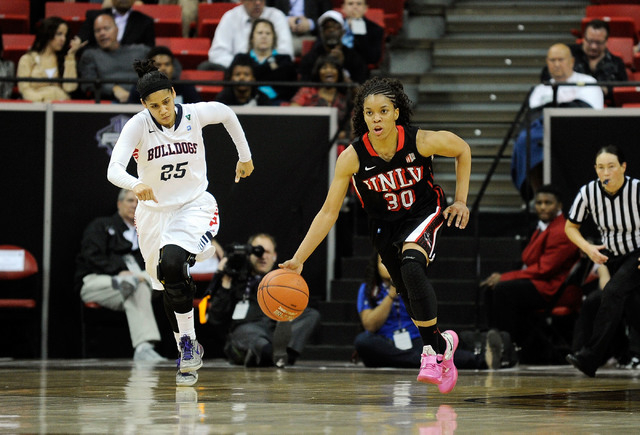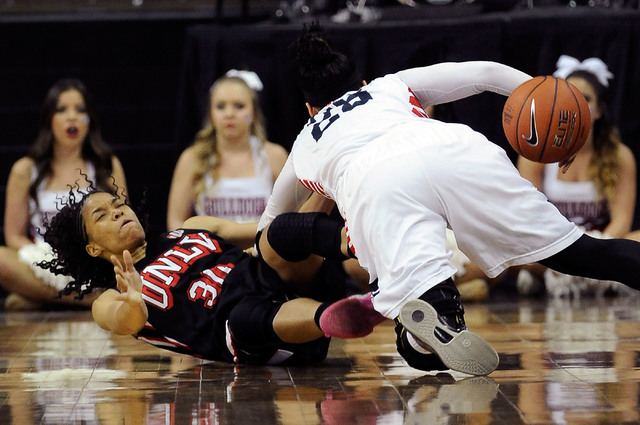 Fresno State rudely sent UNLV into a long offseason, one that will give Lady Rebels coach Kathy Olivier plenty to think about.
She will have to replace her backcourt after losing starting guards Mia Bell and Rmanii Haynes, but many other key pieces return.
Olivier also felt good about the experience that returned this season, but the Lady Rebels underperformed, with Tuesday's 80-65 loss to second-seeded Fresno State in the Mountain West basketball tournament quarterfinals at the Thomas &Mack Center putting the bookend on a 13-19 season.
The Bulldogs (20-10) play No. 3 UNR (17-12) at 2:30 p.m. Friday in the semifinals at the T&M. Top-seeded Colorado State (24-6) meets No. 5 Wyoming (20-10) at noon. The championship game, which awards the conference's automatic berth into the NCAA tournament, is at 7 p.m. Saturday.
Fresno State will try to retain its Mountain West tournament title, and including its days in the Western Athletic Conference, the Bulldogs are coming off three consecutive tourney championships. They also have appeared in the past six NCAA tournaments.
The Bulldogs were dominant from the start against seventh-seeded UNLV, making six of their first 11 3-pointers to build a 34-18 lead. A press brought the Lady Rebels to within 10 at halftime, and they got within nine points three times in the second half, but Fresno State went on a 15-4 run to go up 59-39 and end any doubts.
Five Fresno State players scored in double figures, with Bree Farley scoring a team-high 17 points. The Bulldogs also made 10 of 23 shots from beyond the arc.
"I was surprised to see Fresno be on fire as much as they were for their first tournament (game)," Olivier said. "I thought it would take them a second, but clearly it did not."
Danielle Miller led UNLV with 18 points, and Rejane Verin had 15 points and 13 rebounds.
The final college game for Bell, who went to Durango High School, ended with 11 points and five fouls, sending her to the bench with 1:21 left as Lady Rebels fans stood and applauded.
When asked afterward about what her emotions were like, Bell choked up and struggled to speak.
"I've had five years, so I have a lot of memories, good and not so good," Bell said moments later. "All of them will help me in the future. I'll use my experience this year to help me be successful later in life."
Olivier has some options replacing her outgoing point guard. Briana Charles, who will be a senior, is one possibility. The Lady Rebels also signed Nikki Wheatley from La Verne, Calif. She was ranked by ESPN HoopGurlz as the nation's 24th best at that position.
Whoever steps in will have a difficult task replacing a player who ranks in UNLV's career top 10 in assists, steals and 3-pointers. Bell also showed her toughness in returning from a knee injury that sidelined her last season and a high ankle sprain that caused her to miss four games this season.
"She's just such a good leader," Olivier said. "She works extremely hard at practice. She is the player that's always going to stay after, get extra threes in, get extra shots in.
"She's constantly in the office. She helps us with every recruit that comes on campus. She talks to the parents."
Olivier said Bell told the team to not "be afraid to think big."
The coach thought big going into this season, and she shakes her head when looking at the final record. Six games below .500 and a resounding exit in the quarterfinals wasn't how she envisioned this season playing out.
UNLV returns a big and talented front court, and if a point guard steps up, maybe the Lady Rebels can come back strong.
"I think we'll be all right," Verin said. "Not all right, I think we'll be great."
Olivier, who has three years left on her contract that previous athletic director Jim Livengood awarded her in 2012, has some challenges in the coming months to see that next season doesn't end like this one.
"This year was hard from the get-go," she said.
Contact reporter Mark Anderson at manderson@reviewjournal.com or 702-387-2914. Follow him on Twitter @markanderson65.