Las Vegas girl throws out first pitch at A's-Orioles game — VIDEO
August 18, 2015 - 10:57 am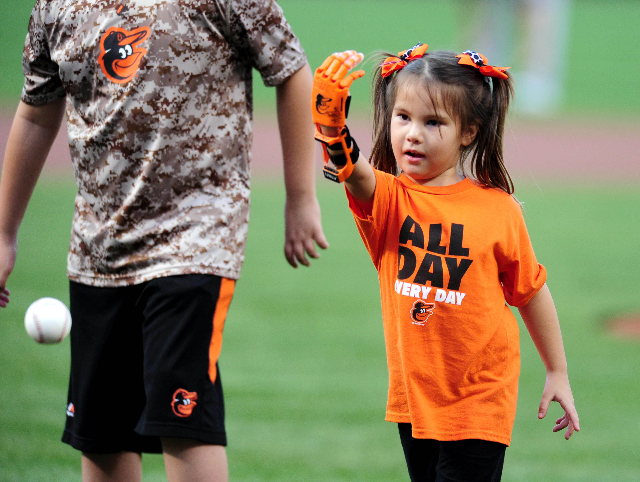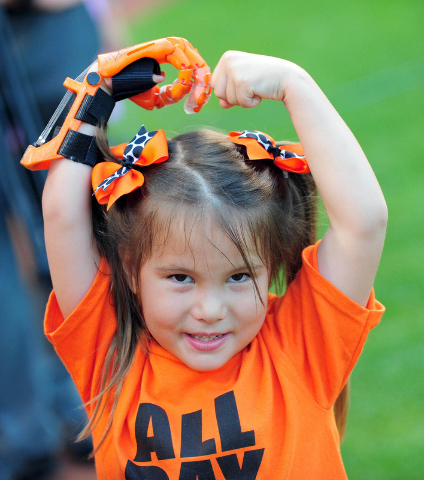 The first pitch at Camden Yards bounced into home plate Monday night. But I have a feeling that Jim Palmer and Dave McNally and Mike Mussina, et al, would have been mightily impressed just the same.
The person who threw out the ceremonial first pitch before the A's-Orioles game was 5-year-old Hailey Dawson of Las Vegas. She was wearing a plastic robotic prosthesis — a "special hand" she calls it — designed by UNLV engineers.
Hailey was born with Poland Syndrome, a rare condition which has curtailed growth of her right hand. She has only a pinky, thumb and palm, which makes it difficult to throw out first pitches, and do other stuff.
The robotic hand — the UNLV tech whizzes call it "Flexy-Hand 2" — enabled Hailey to chuck one up there to Manny Machado on Monday night, Machado being her favorite ballplayer.
Machado and Adam Jones and Chris Davis autographed Hailey's Flexy-Hand, which sort of looks like a bowling glove. This particular one is orange and black and features the Orioles logo. Her mother, Yong, and her baseball-playing brother, Zach, were with her on the field. Her father, Greg, did lots of interviews explaining Hailey's situation and how tough his little girl is.
After she threw the first pitch in there underhanded, Manny Machado fist-bumped and hugged little Hailey. The Orioles mascot pecked her on top of the head with his massive beak.
"What a lovely moment," the baseball announcers said.
In the sixth inning, when the cameras showed Hailey and her dad in the stands, Hailey still was giving high-fives to baseball fans in Baltimore she didn't know.
Las Vegas Review-Journal sports columnist Ron Kantowski can be reached at rkantowski@reviewjournal.com or 702-383-0352. Follow him on Twitter: @ronkantowski