Las Vegas is still not in the running for a Major League Soccer team
April 21, 2016 - 11:17 am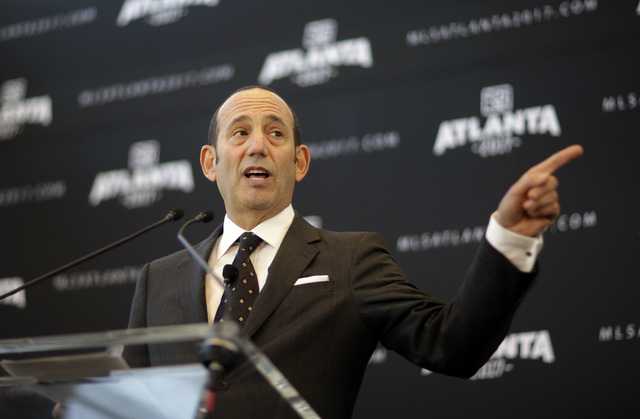 Las Vegas appears to still not be on Major League Soccer's radar for an expansion team. At least for now.
MLS Commissioner Don Garber said Thursday that St. Louis and Sacramento, California, are the leading candidates for the league's next round of expansion past 2018.
"It's fair to say they're front-runners," Garber told a group representing the Associated Press Sports Editors during its annual meetings with league commissioners.
Las Vegas doesn't seem to even be in the running for a team in the latest round of expansion. Garber did say, however, the other contending cities for the four spots are Detroit, San Diego, San Antonio, Austin and Cincinnati.
In December, the 24-team league said it would be expanding to 28 teams.
"There is no shortage of demand for MLS expansion teams and we believe the opportunity exists to grow beyond our current plans," Garber said. "We will evaluate how to grow the league to 28 teams and establish a process and timeline for future expansion."
If Las Vegas will be considered even after that, is still to be determined.
Las Vegas submitted a bid for a MLS franchise for the 2017 or 2018 expansion last year, but the bid was shot down by the league.
"Given the timing of our expansion rollout and the uncertainty as to when we might be able to move forward in Las Vegas, we are no longer considering Las Vegas as an expansion market until after 2018," Garber wrote to Las Vegas Mayor Carolyn Goodman in February 2015.
Las Vegas' bid for a team included a proposal for a $200 million, 24,000-seat subsidized soccer stadium in Symphony Park — a proposal that failed and drew a lot of controversy. The proposal, in partnership with the city, was backed by Findlay Sports & Entertainment-Cordish Cos.
But that wasn't the only party interested in getting a team to Las Vegas last year.
Prospective MLS franchise owner Jason Ader proposed to redevelop Cashman Field, home of the minor-league baseball Las Vegas 51s, into a soccer stadium. That plan, however, would have to be negotiated with the Las Vegas Convention and Visitors Authority, and include getting the 51s into a new stadium.
The league, which started play in 1996, currently has 20 teams. Four more teams are on the runway: Atlanta is due to join in 2017 and a second Los Angeles team the following the year; Minneapolis-St. Paul also has been awarded a team and could open in 2017; and the league hopes David Beckham's tentative Miami franchise could start play in 2018.
The Associated Press contributed to this article.
Contact Kira Terry at kterry@reviewjournal.com. Follow on Twitter: @kiraterry
RELATED
MLS to expand to 28 teams; will Las Vegas bid again?
Las Vegas faces uphill fight to win last MLS franchise
Major League Soccer takes a pass on Las Vegas, ending downtown stadium dreams
Development partners push to get Las Vegas on MLS short list
Group proposes transforming Cashman Field to soccer venue