Lights FC announces TV deal with myLVTV
Updated April 10, 2018 - 7:37 pm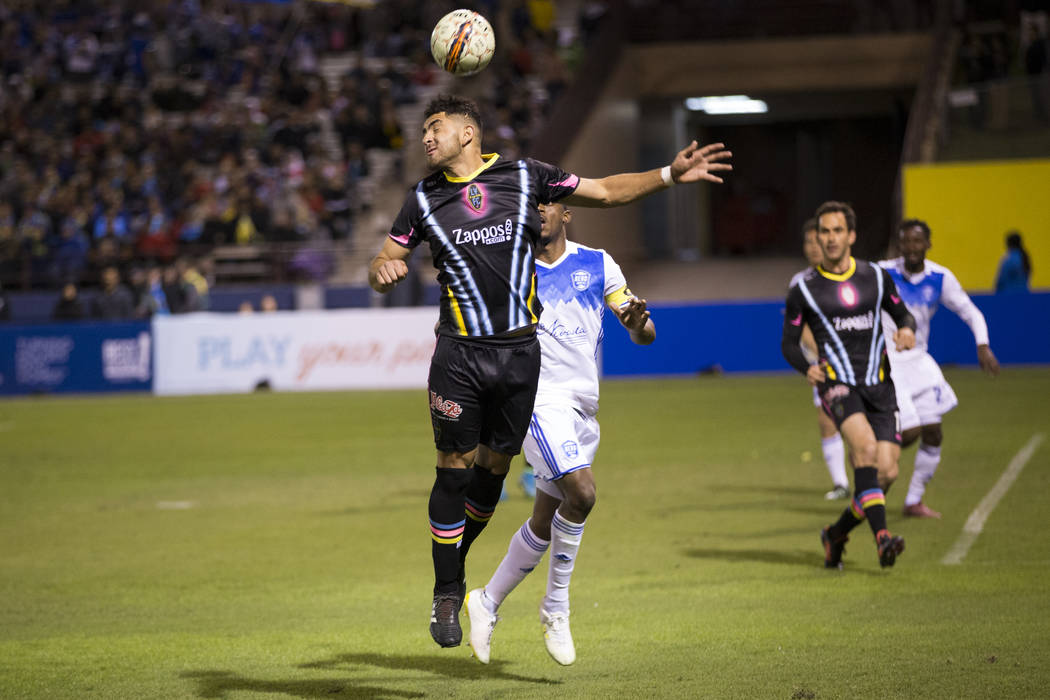 The Lights FC will soon be back on the air.
The club announced a deal with myLVTV on Tuesday, which will allow the club to show 20-plus games locally the rest of the season, starting with its match against Sacramento Republic FC at 8 p.m. Saturday at Cashman Field.
All Lights home matches will be available on the channel, which is available locally over the air (Channel 21), on Cox (12 or 1012 in HD), on Centurylink (21) and on DirecTV (21), as well as select road games.
The full broadcast schedule will be announced at a later date.
"We were always committed to partnering with a station all fans could access locally, and today's announcement with myLVTV further demonstrates our commitment to being for Las Vegas, by Las Vegas and of Las Vegas," Lights owner Brett Lashbrook said in a statement. "We're thrilled to partner with myLVTV, who has shown a sincere interest in not only being a great community partner but growing with Lights FC throughout our inaugural season."
The deal comes just as Lights fans were about to need a subscription to watch the team's remaining 31 regular-season games from home. United Soccer League matches have been streamed on Twitter and YouTube, but starting Thursday, they will only be available on ESPN+, a streaming service that also carries Major League Soccer, English Football League and UEFA Nationals League games.
An ESPN+ subscription costs $4.99 a month, but now it no longer will be necessary to watch most Lights games locally.
The deal comes more than a month after a potential TV deal between the team and the government access channel KCLV-2 fell through because of the objections of Cox Communications. The Lights were able to move on to a new partner and will also sponsor "Thursday Nights Lights" high school football, which airs on myLVTV, as part of the deal.
"We are delighted to be partnering with Las Vegas Lights FC, and at the same time giving the local soccer fans of Las Vegas the opportunity to watch live soccer on television," myLVTV general manager Larry Strumwasser said in a statement.
It also was announced Tuesday that the Lights will have three national games on the ESPN platform as part of the USL Game of the Week schedule.
The team's match at OKC Energy FC on July 11 will be shown on ESPNews, and its home matches against San Antonio FC on April 27 and against Phoenix Rising FC on Oct. 10 will be streamed on ESPN3.
The Lights' three appearances on the game of the week schedule are tied for the fourth-most in the USL. San Antonio FC, FC Cincinnati and Phoenix each will appear four times.
"Locally, nationally and internationally, we have our fans covered to access our live matches and follow Lights FC all season long," Lashbrook said in a statement. "Simply put, we won't require our fans to have a cable subscription to watch us live. All matches will be broadcast over the air or via a streaming service. We are Las Vegas' first pro sports team to do so."
More Lights: Follow all of our Las Vegas Lights FC coverage online at reviewjournal.com/lights and @RJ_Sports on Twitter.
Contact Ben Gotz at bgotz@reviewjournal.com. Follow @BenSGotz on Twitter.