McInerney, Coronado roll to 4A state golf title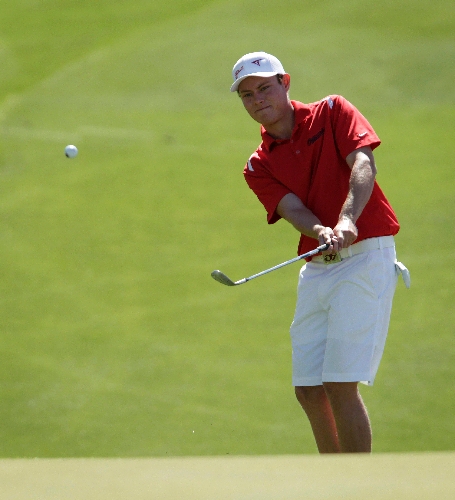 Coronado senior A.J. McInerney didn't set a course or state record on the second day of the Class 4A state golf meet.
He didn't need to.
McInerney carded an even-par 71, Bradley Keyer added a 77 and Matt Welch a 79 as the Cougars cruised to their third straight state championship Wednesday with a two-day total of 761 at TPC Las Vegas.
McInerney, who carded a course-record 62 on Tuesday, finished at 9-under 133, good for an 11-stroke victory over Foothill's Taylor Montgomery.
Kenden Slattery added a 153 for Coronado, and Keyer shot 157. Freshman Andrew Chu finished at 158 and Welch at 160 for the Cougars.
"Winning it individually is great, but winning it with the guys you've spent the last six months with is pretty cool," McInerney said. "I'll remember it for the rest of my life."
Palo Verde finished second with 795, followed by Foothill (817) and Bishop Manogue (826).
McInerney, a UNLV signee, worked around the 6,769-yard course with an eagle, three birdies, three bogeys and a double bogey.
He hit driver off the tee of the 598-yard, par-5 15th hole to set up a 240-yard shot from the middle of the fairway. McInerney then used a strong 5-iron shot to pull the ball 3 feet from the hole and set up his eagle putt.
"The conditions weren't as good today, there's no doubt about it," Coronado coach Joe Sawaia said. "The wind basically blew all day; the greens were baked out, a little bit quicker, some tough locations. Every tee shot out here, you really have to be focused on a target and execute your game plan."
Desert Oasis' Soungjae Baek and Shadow Ridge's Ben Davis each carded the next-lowest round with a 74 on the blustery day.
"You just had to keep putting until that last putt dropped," Keyer said. "You know it can always be worse, so you've got to keep playing until you make the last putt. You can never give up."
The title marks the first three-peat in school history for Coronado and caps a standout career by McInerney, who also won a title in 2010 at TPC Las Vegas.
"I think you can really make an argument that he's one of the best high school players to come out of Nevada," Sawaia said. "It's been an honor to be around him and watch him do his work. He's done as much for Coronado golf as Coronado has done for him.
"Nationally, he puts us on the map. Whenever he travels, he's known as playing for Coronado. It's not just regional or local, but it's across the nation. He represents our school fantastically. He's going to be missed, but UNLV's getting one hell of a golfer and a kid."
McInerney's 62 on the first day broke a course record from the blue tees previously held by PGA Tour player and former UNLV standout Charley Hoffman.
"That's my first course record," McInerney said. "It was a pretty special day yesterday."
Montgomery finished second at 144. Davis was third at 146, followed by Arbor View's Zane Thomas at 147, Silverado's Josh Fisher at 149 and Palo Verde's Dillon Dudley at 150.
Contact reporter Sean Walker at swalker@reviewjournal.com or 702-383-0430.
In-depth high school sports coverage