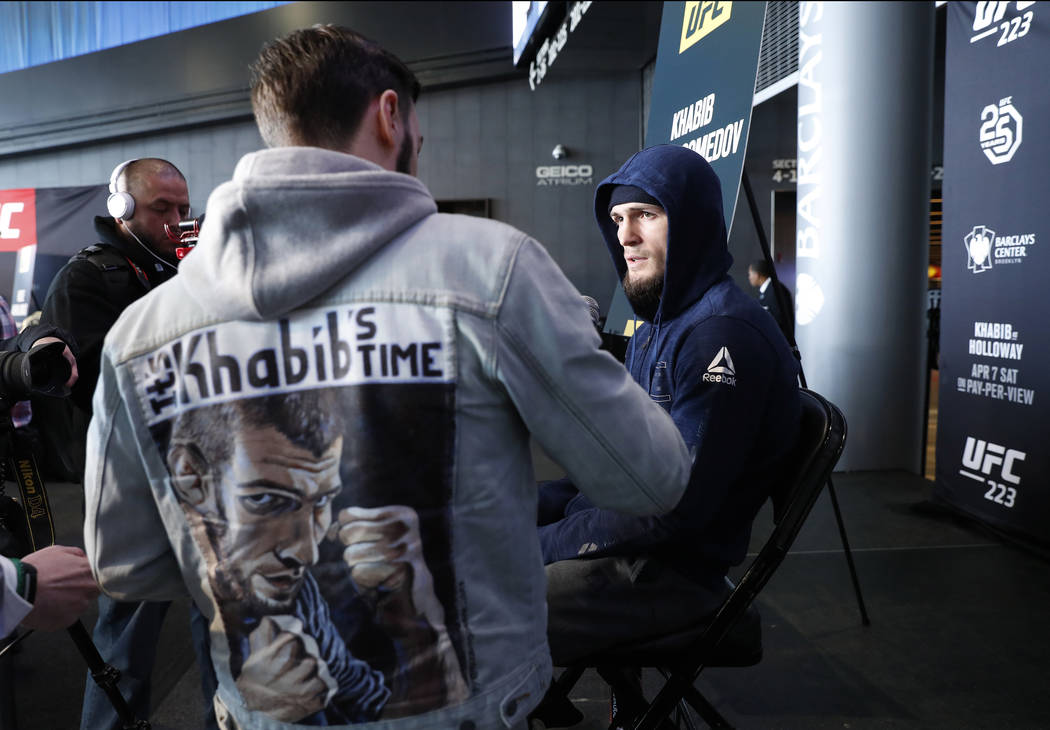 BROOKLYN, N.Y. — It was someone from the New York State Athletic Commission's assignment to weigh Al Iaquinta's underwear on Friday.
The bizarre aside might be about as perfect a microcosm as possible for one of the strangest weigh-in days in UFC history.
After Max Holloway was pulled from UFC 223 Friday morning when he was deemed medically unfit to continue cutting weight, an odd game of musical chairs ensued until Iaquinta found himself in the final seat.
His reward is a lightweight title bout against undefeated star Khabib Nurmagomedov on Saturday at Barclays Center.
"This is what it's all about," said Iaquinta, who was supposed to face Paul Felder. "You get the opportunity, you seize the moment."
He wasn't the first choice.
UFC officials first tabbed former champion Anthony Pettis to replace Holloway. Pettis was supposed to face Michael Chiesa, who was removed from the fight after sustaining facial lacerations in Conor McGregor's bus attack on Thursday.
So Pettis made sense even though he has lost five of his past seven fights, but he reportedly asked for too much money and the commission was concerned whether he could fight five rounds.
Iaquinta and Felder lobbied hard for the fight, and the UFC appeared ready to give it to Felder until the commission decided he wasn't ranked high enough even though he had won three consecutive fights, all by knockout.
Then it was on to Iaquinta, who had tipped the scales at 155.2 pounds in the morning. That's acceptable for a nontitle fight for which there is a 1-pound allowance, but not for a title bout.
At some point during the deliberation process, someone from the commission decided to weight Iaquinta's underwear to show he would have been 155 pounds had he not been wearing them on the scale.
Sanity prevailed, and the calculations never came into play.
But Iaquinta did get the fight against Nurmagomedov even though the commission said it wouldn't recognize it as a title bout.
The UFC has control of its belts, however, and decided it would use the fight to determine who would replace Conor McGregor as lightweight champion.
"The title is on the line," UFC president Dana White said during a news conference Friday. "As far as the commission goes, Khabib is the one that's eligible for the title. But obviously, if 'Ragin' Al wins this fight, he's the champ.
"If you beat the man, you are the man."
Nurmagomedov has certainly fit that bill. He has won all 25 fights in his pro career and pretty much steamrolled all nine of his UFC opponents.
"This week they asked me to fight with five different guys," said Nurmagomedov, who accepted Holloway as a late-notice opponent on Sunday after Tony Ferguson suffered an injury. "I said, 'I'm tired about this. If you can bring King Kong, and he can make 155, let's go.'"
Iaquinta has a chance to pull one of the more shocking upsets in UFC title fight history on the 11-year anniversary of his coach Matt Serra's stunning knockout of Georges St. Pierre to win the welterweight title.
"I still don't know what the hell is going on right now," Iaquinta said. "It's the opportunity of a lifetime right here. Thank you, Khabib, for staying in the fight, and this is the opportunity I'm looking for: Stay ready, seize the moment, and that's what I'm going to do."
The bout headlines a revamped main card that includes a women's strawweight title rematch between champion Rose Namajunas and former champ Joanna Jedrzejczyk. The preliminary card begins at 5 p.m. on FS1, followed by the pay-per-view main card at 7.
More MMA: Follow all of our MMA and UFC coverage online at CoveringTheCage.com and @CoveringTheCage on Twitter.
Contact Adam Hill at ahill@reviewjournal.com or 702-277-8028. Follow @AdamHillLVRJ on Twitter.
UFC 223 main card
The pay-per-view main card begins at 7 p.m.
— Khabib Nurmagomedov vs. Al Iaquinta, for vacant lightweight title
— Rose Namajunas vs. Joanna Jedrzejczyk, for Namajunas' women's strawweight title
— Calvin Kattar vs. Renato Moicano, featherweights
— Zabit Magomedsharipov vs. Kyle Bochniak, featherweights
— Joe Lauzon vs. Chris Gruetzemacher, lightweights