Aldean ignores UFC's White, visits Las Vegas shooting victims at UMC
October 8, 2017 - 10:00 am
Updated October 9, 2017 - 12:06 am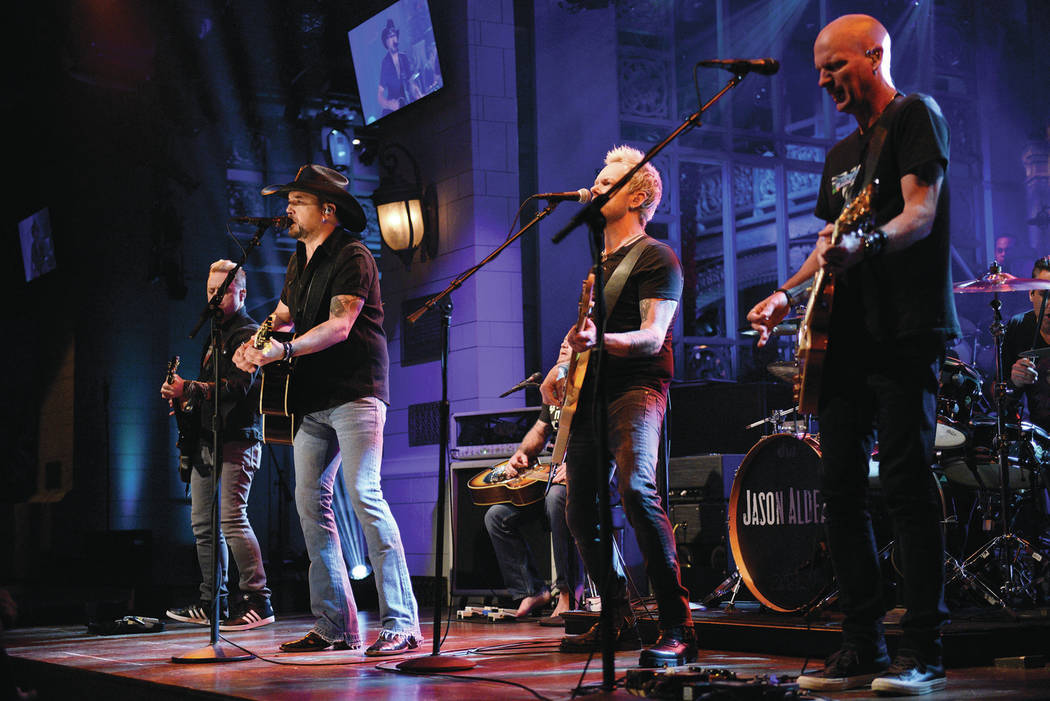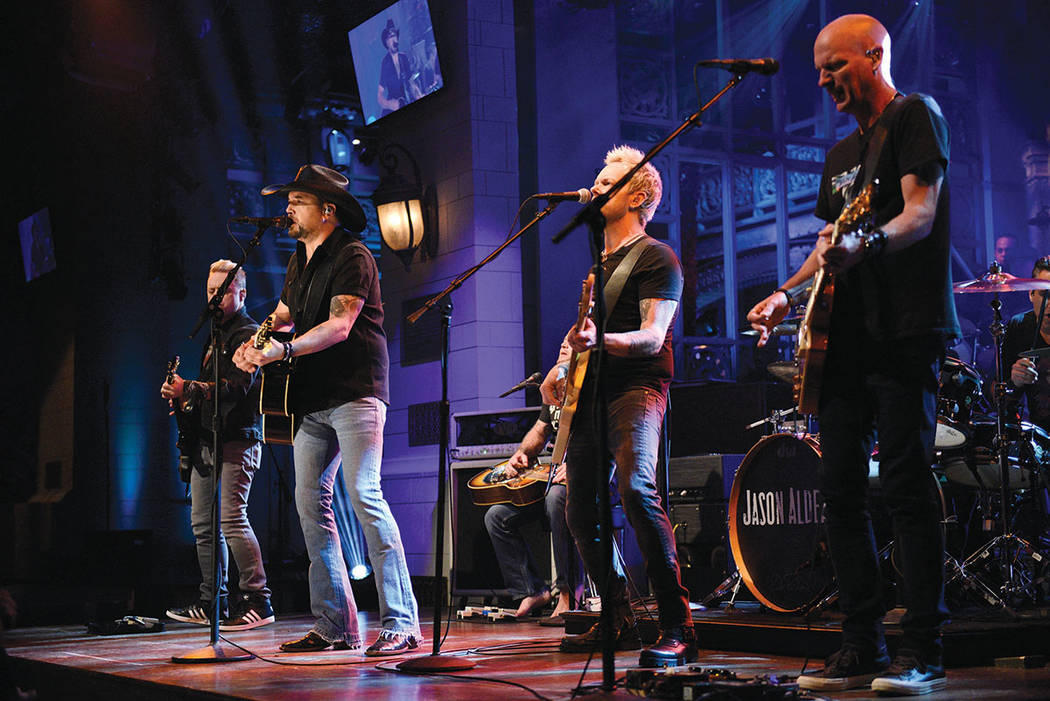 Country music superstar Jason Aldean didn't listen to UFC boss Dana White. And some hospitalized victims of last week's mass shooting in Las Vegas are grateful.
White was furious that Aldean turned down the opportunity to participate in the UFC's ceremony honoring victims and first responders on Saturday night at T-Mobile Arena and instead appeared on "Saturday Night Live."
"(Expletive) you, Jason Aldean," White told the Las Vegas Review-Journal after UFC 216. "And stay out of Vegas, (expletive)."
Aldean was onstage at the Route 91 Harvest festival Oct. 1 on the Strip when Stephen Paddock opened fire from the Mandalay Bay, killing 58 people and injuring almost 500 others.
But Aldean came back to Las Vegas anyway. Instead of going to T-Mobile Arena, on Sunday he went to University Medical Center, which announced the visit in posts on Facebook and Twitter.
The Facebook post stated: "Our extreme gratitude to Country Music Star Jason Aldean for visiting UMC today. Jason spent time with our patients who were critically injured during the Las Vegas shooting. His visit helped heal hearts and cheer those who were wounded in this tragedy. #vegasstrong."
UMC, which has Southern Nevada's only Level I trauma center, received 104 patients in the hours after the shooting, and more victims were later transferred to the hospital from other medical centers that couldn't handle such severe injuries.
Aldean began the SNL episode with a brief statement. "I'm Jason Aldean. This week, we witnessed one of the worst tragedies in American history. Like everyone, I'm struggling to understand what happened that night and how to pick up the pieces and start to heal. So many people are hurting. There are children, parents, brothers, sisters, friends — they're all part of our family. So I want to say to them: We hurt for you, and we hurt with you. … But you can be sure that we're going to walk through these tough times together, every step of the way, because when America is at its best, our bond and our spirit, it's unbreakable."
He and his band then launched into a cover of "I Won't Back Down," which served as a tribute to both the victims of the Las Vegas shooting as well as Tom Petty, who died Oct. 2.
Jason Aldean's wife, Brittany, on Sunday posted to her Instagram account a photo of the couple with Mandalay Bay in the background. The post read: "Feels surreal being back in Vegas today. Visiting some of the strongest people we have ever met… fighting the toughest battle of them all… for their lives. You have helped us try to begin to start the healing process by seeing the strength each one of you have. Thank you for today. We will never forget. #vegasstrong."
White decided early in the week to proceed with Saturday night's UFC 216 event as planned, though MGM Resorts International officials didn't decide to officially go ahead with the event until Wednesday.
"We have to do this," White said of the thought process. "Vegas can't shut down because of this (expletive) coward."
UFC officials started planning a ceremony for the event and began distributing tickets to 1,500 first responders. Several victims also were invited and honored.
"One of the things I was going to do is have Jason Aldean come in," White explained. "These were his fans. People came in from all over the country to see him. People from Canada, everywhere. I saw one person was from Alaska. These people were there to see this (expletive) sing. I called him and said, 'This is what we're doing. We're going to have 1,500 first responders and your fans who were actually shot that night at our show and honor them.'"
White said Aldean's manager explained Aldean had been too affected by the incident and wouldn't be able to perform anytime soon.
"The guy tells me, 'No, he's too (expletive) up. He might never perform live again,'" said White, who learned of Aldean's SNL performance during UFC 216. "What am I going to say? I understand that."
White said he was told Aldean has been bothered by disparaging comments about the fact he just ran off the stage without saying anything. He said the notion is preposterous, and he was told by several concertgoers the fact Aldean ran offstage saved lives, because it alerted people the situation was real and not part of the show.
This wasn't the first time the comedy series has used its "cold open" to musically address an issue. On Sept. 29, 2001, the first episode following the Sept. 11 terror attacks, Paul Simon began by singing "The Boxer" surrounded by first responders and then-Mayor Rudy Giuliani. Kate McKinnon opened the Nov. 12, 2016, episode as her Hillary Clinton character, performing Leonard Cohen's mournful "Hallelujah." Her performance was also a tribute to Cohen, who died Nov. 7.
While Aldean's performance was seen by 6.8 million viewers on television and another 1.7 million on the show's YouTube channel as of Sunday evening, the studio and the live crowd were much smaller than he would have encountered at T-Mobile Arena. Approximately 250 seats are scattered throughout "Saturday Night Live's" Studio 8H, only a couple of dozen of which would have been in Aldean's direct line of sight.
Ben Fowlkes, a columnist for the USA Today-owned MMAJunkie.com, summed up his feelings about the controversy to his 42,000 Twitter followers: "The UFC struck just the right tone with its tributes. Then Dana White had to go and get all Dana White about it."
Still, White believes Aldean did the late-night NBC show to help silence any critics.
"You know why he did 'SNL?' Because he's all bummed out about the people talking (expletive) and what these guys do 'SNL' for is as a platform that when you (expletive) up or you make a mistake, you go on there," White said. "So it was more important to him to go on 'SNL' and improve your image than to come to Las Vegas in front of your fans and the people who helped save lives that night at the concert?
"That (expletive) goes and does 'Saturday Night Live.' It makes me sick."
White said he was also turned down by several other country music acts. Eventually, Everlast agreed to participate in the ceremony.
He performed "America the Beautiful" in the cage as several victims and first responders were honored.
"I called Everlast, and the dude was honored," White said. "He almost started crying."
According to White, It was only the second time the UFC has had a patriotic ceremony to kick off a show. He said the last time was after the Sept. 11 terrorist attack in 2001.
Contact Adam Hill at ahill@reviewjournal.com or 702-277-8028. Follow @adamhilllvrj on Twitter. Review-Journal staff writers Chris Lawrence and Cailyn Brown contributed to this story.