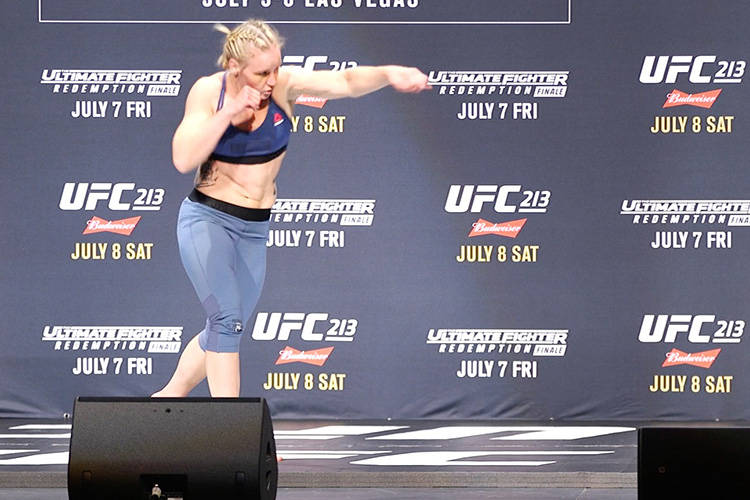 UFC women's bantamweight champion Amanda Nunes thought she was being punished for pulling out of a title defense against Valentina Shevchenko in July when Saturday's rebooking of the fight was not scheduled as the main event of UFC 215.
If the slight was meant as disciplinary action, Nunes was allowed out of the penalty box early.
Flyweight title challenger Ray Borg became ill this week and pulled out of his bout against longtime champ Demetrious Johnson less than 48 hours before they were to headline the card in Edmonton, Alberta.
That leaves Nunes and Shevchenko in the main event, a similar position for them at UFC 213 until Nunes withdrew from the bout hours before it.
"I feel they punished me for sure because I was not able to compete, but at the end of the day I want to fight," Nunes said last week before the lineup change. "The only thing that I want is to step in that cage and get my hand raised. If it's the main event or the first fight of the night, I fight the same. I'm going to keep my belt, walk away, go home, drink some beer and then celebrate with all my friends and my girlfriend."
Nunes said she thinks her mission will be more attainable Saturday than it would have been in July at T-Mobile Arena when she insists she wasn't healthy despite being cleared to fight.
"When I came back home I went to the specialist and I've been good since then," she said. "In fact, it's the best I've felt for a long time. The specialist did a really good job taking care of this, and right now I have all the medication that I need and I'm 100 percent ready for this fight."
Nunes indicated she was suffering from sinusitis and didn't want to fight at less than 100 percent against a tough challenger whom she controlled for two rounds before tiring and holding on for a decision against last year.
"I think I made the right decision," she said. "I've never pulled out of a fight in my career, but now is not the time to waste, you know? I'm going to step in at 100 percent, and I will get the job done."
Shevchenko has gotten over the disappointment and is ready for the rematch.
"Of course I was upset," she said. "But I knew that the day will come. It will be the same fight, the same opponent, and it will be the same preparation."
Nunes wants to be clear she didn't back down from the challenge.
"This is the fight I want," she said. "I want to fight Valentina. I said, 'Please reschedule this fight, and then let's make this happen.' And (the UFC ) listened to me. (People are talking) like I was scared or something like that. No, I'm the one who wanted this fight."
A flyweight contender bout between Henry Cejudo and Wilson Reis was moved to the pay-per-view card, which begins at 7 p.m. Four preliminary fights will air on Fox Sports 1 at 5.
Contact Adam Hill at ahill@reviewjournal.com or 702-277-8028. Follow @adamhilllvrj on Twitter.
Related
Shevchenko says 'It won't be good' for Nunes to pull out of UFC title fight again
Amanda Nunes fights back after UFC 213 withdrawal
Morning phone call shatters Valentina Shevchenko's UFC title dreams
UFC 215
Main card bouts for the 7 p.m. pay-per-view broadcast Saturday at Rogers Place in Edmonton, Alberta:
— Amanda Nunes (14-4) vs. Valentina Shevchenko (14-2), for Nunes' women's bantamweight title
— Neil Magny (19-6) vs. Rafael dos Anjos (26-9), welterweights
— Henry Cejudo (10-2) vs. Wilson Reis (22-7), flyweights
— Ilir Latifi (13-5, 1 no contest) vs. Tyson Pedro (6-0), light heavyweights
— Jeremy Stephens (25-13) vs. Gilbert Melendez (22-6), featherweights