Anthony Pettis hopes to kick losing skid at UFC 197 — VIDEO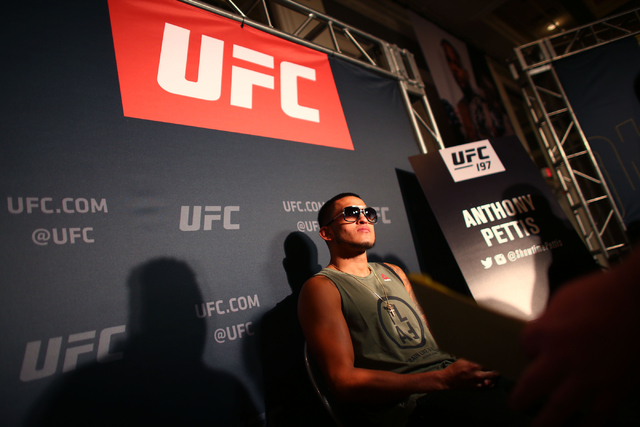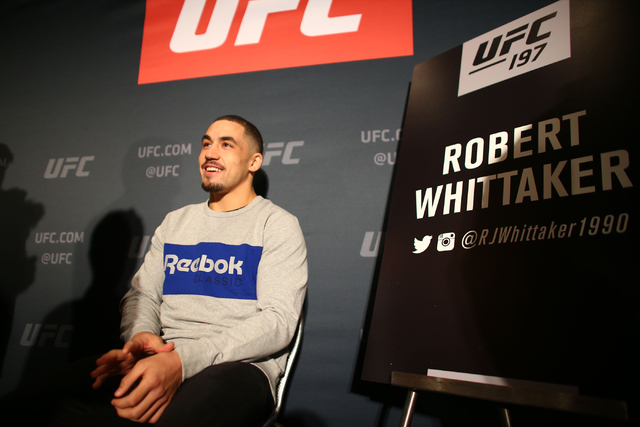 It hasn't been much more than a year since emerging superstar Anthony Pettis sat as the center of attention in a conference room at the MGM Grand as a Wheaties box was unveiled featuring a picture of him with his Ultimate Fighting Championship lightweight belt slung over his shoulder.
The way his career has gone since that December day in 2014 must seem like an eternity to Pettis.
He lost the belt to Rafael dos Anjos in a one-sided unanimous decision in March 2015. Another loss followed when Pettis dropped a split decision to Eddie Alvarez in January.
Now looking to snap the skid, Pettis returned to that same conference room for media day in advance of his UFC 197 main card fight against Edson Barboza on Saturday at the Grand Garden.
The hype around Pettis started to take off when he won the World Extreme Cagefighting lightweight title from Benson Henderson in a bout that included one of the most famous highlights in mixed martial arts history, in which Pettis used the cage as a springboard to land a head kick in the fifth round.
It would become known as the "Showtime Kick," in reference to his nickname, and the pressure mounted in his mind not only to win fights but also to outdo himself every time.
Pettis insists he is relieved to be out of the spotlight.
"I love it," he said. "I feel like when I started the sport, I was always an underdog until I started winning belts and then people were finally favoring me. I feel like I can go out there and just fight now. That's all I have to do. I don't have to go out there and be 'Showtime' and do all this flashy (expletive) or whatever. I can just go out there and beat this dude up and get my hand raised."
The 29-year-old Milwaukee native was sitting in a chair along the wall during the hourlong interviews. The main and co-main event fighters were assigned more elaborate stage setups.
Pettis knows a third consecutive loss could be devastating to his UFC career, but he said that's not on his mind.
"I feel like the pressure is actually a little off me," he said. "Most people think I have more pressure because of the two straight losses, but I get to chill out and be the third fight on the card."
For the third time in his UFC career, Pettis will fight on the same card as his younger brother Sergio.
They spent three weeks away from their Roufusport gym in Milwaukee to train at the famed Jackson-Wink MMA gym in Albuquerque, New Mexico.
Sergio Pettis, 22, said the opportunity to spar with elite fighters proved invaluable. But he added that he already had noticed a different mentality in his brother since the Alvarez loss.
"I feel like it refueled his flame," said Sergio Pettis, who will fight Chris Kelades. "When you get to the heights he was at as far as being a champion and on the Wheaties box and all that, I feel like you get content. He's got two losses in a row, and he's hungry. You can see the flame in his eyes, and I know he's going to go out and perform."
What he won't do is look ahead. Anthony Pettis said he fell into that trap when he was the champion. Even after losing to dos Anjos, he figured he would win his next fight and be back in title contention.
But the Alvarez loss took care of that.
"I stopped thinking about the title," Pettis said. "I feel like it was flogging my mind that last fight. I was trying to line up everything down the road. Even back to the (dos Anjos) fight, I was trying to line up things beyond that guy. I have to stop doing that. I have to just focus on the guy in front of me."
That guy is Barboza, a dangerous kickboxer who has lost two of his past three but has been awarded two straight fight of the night bonuses.
Pettis said the matchup of flashy strikers could produce a fun fight, but his chin will give him an edge.
"I've been hit and taken it pretty well," Pettis said. "He gets him and gets Bambi legs pretty quick, so we'll find out."
The bout is part of a main card that includes two title fights. Demetrious Johnson will defend his flyweight belt against Henry Cejudo, and Ovince Saint Preux will meet former champion Jon Jones for the interim light heavyweight title.
Contact reporter Adam Hill at ahill@reviewjournal.com or 702-224-5509. Follow on Twitter: @adamhilllvrj