Brock Lesnar to fight Mark Hunt at UFC 200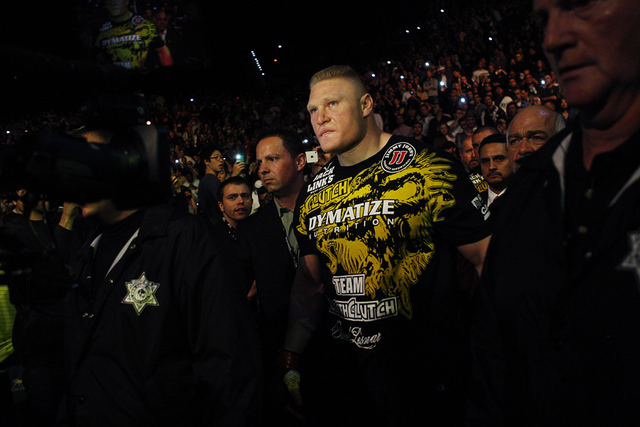 Brock Lesnar accomplished a lot in a short period with the UFC. But he still couldn't shake a feeling that it wasn't enough.
The former heavyweight champion will come out of retirement to face Mark Hunt at UFC 200 on July 9 at T-Mobile Arena.
Lesnar, 38, retired from the UFC in 2011 to return to professional wrestling after losing back-to-back fights by first-round knockout.
"I couldn't live with that decision," he said Monday during an appearance on ESPN. "It was a hard decision to make, and it's haunted me for the last 15 months. I figured I couldn't live like that for the rest of my life. I'm a big believer in living out your dreams and facing your fears. I don't want to be sitting 20 years from now saying, 'You should've done that.'
"The true competitor in me is still alive and well. I have to do this."
Lesnar endured a bout with diverticulitis is early 2011, months before a loss to Alistair Overeem that triggered his departure from the UFC. The illness sapped him of his strength, Lesnar said.
"It haunted me, because at the top of my career, I wasn't at the top of my game," he said. "I felt like I was cheated out of my career in the UFC. In my heart, I never lost to a foe. I lost to diverticulitis. That's what beat me. My performance was due to my illness."
Lesnar went 4-3 in the UFC after winning his mixed martial arts debut on a Dynamite!! USA card in 2007. After dropping his UFC debut to Frank Mir, Lesnar won four consecutive fights. He won the UFC heavyweight belt in 2008 with a win over Randy Couture and successfully defended the belt twice.
Lesnar lost the belt to Cain Velasquez in 2010, and after losing his next fight to Overeem, he left the UFC.
Reports of a return had surfaced at times, but in March he said he was "closing the door" on his MMA career and signed a new deal with World Wrestling Entertainment.
On Monday, Lesnar said the feelings had resurfaced recently and he reached out to UFC president Dana White to gauge his interest in putting him on the UFC 200 card.
As the deal came together, Lesnar says he got permission from WWE chairman and CEO Vince McMahon to fight on the card.
The contract is believed to be for one fight, but Lesnar didn't rule out multiple appearances.
"We'll cross that road when we get there," he said.
While the sense of competition is driving the comeback, Lesnar admits there are other reasons.
"This is in my heart," he said. "It just so happens I'm making a boatload of money."
No financial details of the deal were revealed. White told the Review-Journal he's just glad to have one of the biggest draws in the organization's history back in action.
"I'm super excited to have Brock Lesnar back in the UFC," he said. "I love that Brock comes back and goes right after a guy like Mark Hunt. He said, 'I will fight whoever you guys want. I just want to fight.'
"This is a great fight."
Lesnar said he had no input on the opponent and didn't hesitate when he heard Hunt's name.
"Why not?" Lesnar said of facing one of the UFC's heaviest hitters. "It could be anybody. I didn't care. I've never turned down a fight in the UFC. Even when I was the champ, I never turned down a fight. Dana would call me and say, 'This is who you're going to face,' and I'd say, 'Great."
Hunt, an accomplished kickboxer, is a threat to extend the streak of Lesnar's knockout losses. He has won his past two fights by first-round knockout.
"It doesn't do anything for my ranking, but he's a guy that had three fights and won a UFC title, which is unheard of," Hunt told the Review-Journal on Monday. "I have respect for Brock. I'm looking forward to playing punch-face in the octagon with him come July 9."
Lesnar, a former NCAA champion wrestler, said, "I'm a grappler at heart, and he's a heavy hitter. That's what the people want to see. The UFC (started with the concept of) putting guys with opposing disciplines against each other. If Mark Hunt ends up on the ground, the fight's over.
"I've been working, and obviously I need to work, on my stand-up game, but I'm enthusiastic about doing so."
The card is headlined by a light heavyweight title bout between champion Daniel Cormier and interim and former champ Jon Jones. The event includes two other title fights.
The fight order for the pay-per-view card has not been made official, but sources close to the organization said Lesnar-Hunt would not be the main event.
Lesnar headlined UFC 100 in 2009, retaining the heavyweight title with a second-round knockout of Mir.
Contact reporter Adam Hill at ahill@reviewjournal.com or 702-224-5509. Follow him on Twitter: @adamhilllvrj
RELATED
Conor McGregor missing, and UFC 200 betting action will suffer
Jon Jones ready to step in for UFC 200 in Conor McGregor's absence