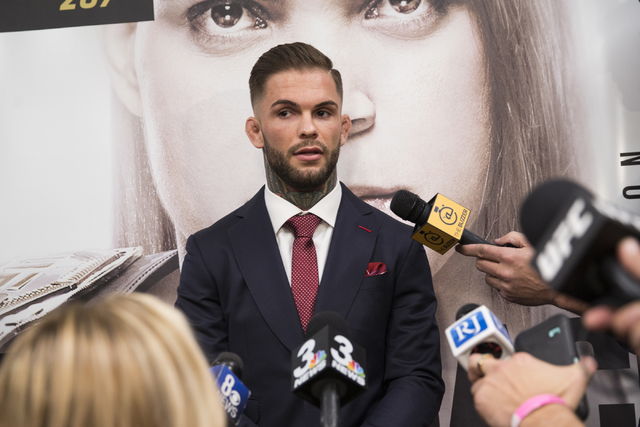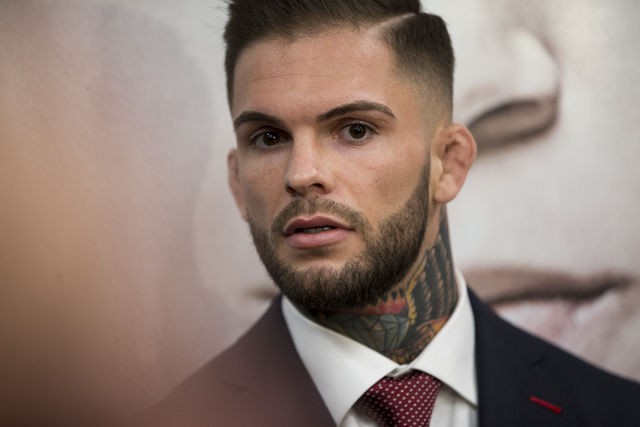 Undefeated UFC bantamweight contender Cody Garbrandt couldn't have scripted 2016 any better than it played out.
Now he's ready to act out the final scene and take a bow with a belt around his waist when he challenges Dominick Cruz for the title on the main card of UFC 207 on Friday at T-Mobile Arena.
"I was born for this," Garbrandt said Wednesday inside the arena. "I feel the bigger the stage, the pressure starts to get to others and they crumble. I feel like this is where I shine the brightest and perform the best."
One year ago, Garbrandt was a raw talent with two UFC wins who was virtually unknown outside the most hardcore fans except for his reputation as a rare knockout artist in the 135-pound class.
But he had a plan to reach the goal of winning a UFC title that he had set the first time he watched an event as a troubled 13-year-old in Ohio.
Garbrandt, 25, figured if he could knock off top contenders John Lineker and Thomas Almeida, he could be in title contention before the end of the year.
He ran into a hitch when Lineker fell ill and pulled out of their fight in February. Undeterred, Garbrandt knocked out replacement Augusto Mendes in the first round, then did the same against the previously undefeated Almeida in May to set up a bout with veteran Takeya Mizugaki in August.
When Garbrandt needed just 48 seconds to knock him out, the stage was set to challenge Cruz for the belt.
It was a rekindling of an old rivalry for Cruz with Garbrandt's Team Alpha Male training camp. Garbrandt is a protege of Cruz's archrival, Urijah Faber, who handed Cruz the only loss of his career in 2007. Cruz won the next two meetings, including a title bout in June.
Cruz also fought TJ Dillashaw once and Joseph Benavidez twice when they were members of the camp.
While Garbrandt said his power and talent combined with a game plan perfected through all the fights against Cruz will culminate in him winning the belt, Cruz said he's ready for the next generation from the Sacramento, California-based gym.
"None of those guys have a clue what to do with me," Cruz said. "He's going to figure that out in the first round when he's in there missing and looking for that big punch that he's landed on everybody else, and he goes to land that punch and I'm gone, and then he goes to land it again and I'm not there again. When he goes and sits on that stool at the end of the first round and looks at them, there's nothing they can tell him. I've fought them for 27 rounds, and I've maybe lost five rounds against his teammates that I've made a living off of, 'Team Alpha Fail.'
"Bring it, let's go."
It's a level of confidence Garbrandt hopes to exploit.
"He really thinks he has this fight won simply with me being from Team Alpha Male," Garbrandt said. "I'm a different beast, and he's going to find out."
While the meetings between Cruz and TAM fighters typically have been contentious, the buildup to this bout has been particularly vitriolic.
Cruz ratcheted it up in August when he referred to himself as Garbrandt's "daddy," which hit hard at Garbrandt's modest upbringing with a single mother and an absentee father who was in and out of prison.
It hasn't got much more civil since, and Garbrandt stormed out of a joint satellite interview Wednesday afternoon in an apparent effort to find Cruz in an adjacent room. It appears to be part of a strategy for Cruz, a cerebral fighter who is in constant motion and difficult to hit, to try to make Garbrandt fight angry Friday.
The 31-year-old Cruz isn't particularly concerned with Garbrandt's power despite nine knockouts in 10 career fights.
"Every single person I've fought had the potential to knock me out," Cruz said. "They haven't."
Garbrandt believes he's different. He said his power is a game-changer that Cruz hasn't encountered during his illustrious career. He'll find out if he's right Friday.
"Every fight for me is personal. It's a man trying to steal a dream from me," Garbrandt said. "I know what I have to do.
"You only get one first title shot. I'm going to enjoy this."
The bout is part of a pay-per-view event headlined by a women's bantamweight title bout between champion Amanda Nunes and former champ Ronda Rousey. The preliminary card begins at 4:30 p.m. and the pay per view at 7.
Contact Adam Hill at ahill@reviewjournal.com or 702-277-8028. Follow @adamhilllvrj on Twitter.
UFC 207 main card
The preliminary card begins at 4:30 p.m. and the pay per view at 7 on Friday at T-Mobile Arena.
• Amanda Nunes (13-4) vs. Ronda Rousey (12-1), for Nunes' women's bantamweight title
• Dominick Cruz (22-1) vs. Cody Garbrandt (10-0), for Cruz's bantamweight title
• TJ Dillashaw (14-3) vs. John Lineker (29-7), bantamweights
• Dong Hyun Kim (21-3-1, 1 No Contest) vs. Tarec Saffiedine (16-5), welterweights
• Louis Smolka (11-2) vs. Ray Borg (9-2), flyweights