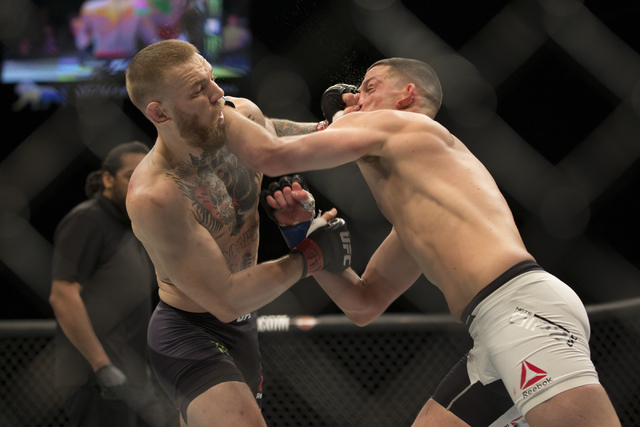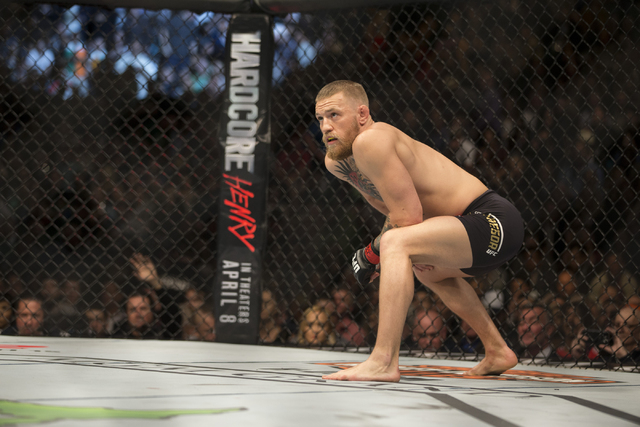 Ultimate Fighting Championship featherweight champion Conor McGregor may or may not be retired from mixed martial arts.
He's definitely not going to fight on the organization's historic UFC 200 card July 9 at T-Mobile Arena.
UFC president Dana White appeared on ESPN's "SportsCenter" on Tuesday evening to announce that McGregor had been pulled from his main event welterweight rematch against Nate Diaz for failing to show up in Las Vegas for a news conference to promote the event.
BREAKING: Conor McGregor will not compete in UFC 200. pic.twitter.com/u7SN5B5ICL

— SportsCenter (@SportsCenter) April 19, 2016
"Obviously we still have, as far as I'm concerned, a good relationship with Conor," White said on the show. "I respect Conor as a fighter, and I like him as a person. But you can't decide not to show up to these things. You have to do it."
McGregor needed only half of Twitter's 140-character allotment to set social media ablaze earlier in the day.
"I have decided to retire young," the 27-year-old posted. "Thanks for the cheese. Catch ya's later."
I have decided to retire young.
Thanks for the cheese.
Catch ya's later.

— Conor McGregor (@TheNotoriousMMA) April 19, 2016
The tweet had garnered more than 100,000 retweets in about three hours, proving McGregor's promotional power.
But his decision to remain in Iceland training with teammates instead of flying to Las Vegas for media obligations has led to his ouster from what was expected to be a gigantic payday.
McGregor has not followed up on his comment, and White refused to speculate on the future of the Irish superstar.
"Is Conor McGregor retiring? Only he can answer that question. I don't know," White said. "But he will not be a part of UFC 200."
White said the decision was made when it was clear McGregor would not board a flight to Las Vegas, where the organization was hoping to use the platform of Saturday's massive UFC 197 event at the MGM Grand as a showcase to kick off the hype for UFC 200.
The rest of the fighters scheduled to appear on the card will be in Las Vegas this week. Along with a news conference, the organization planned to film a commercial in addition to other appearances.
"Conor didn't want to come to Las Vegas and be part of any promotional (activities)," White said. "He's in Iceland training. He felt leaving right now would hurt his training. But every other fighter on the card is coming.
"At the end of the day, I respect Conor. He's a guy who has stepped up on short notice and literally saved the show at times. But it doesn't make you exempt from showing up from press conferences and all the prepromotional stuff you have to do. We spent a lot of money on this stuff. It's mandatory."
Diaz won the first matchup against McGregor by second-round submission March 5 at the MGM Grand Garden. The loss was the first in the UFC for McGregor, who is still the featherweight champion.
White, who did not return a message Tuesday from the Review-Journal, indicated the organization will attempt to find a new opponent for Diaz and is working on at least one other major fight for the card.
The decision to remove McGregor from the card is not unprecedented for the UFC. Coincidentally, Diaz's older brother Nick was pulled from a title fight against Georges St. Pierre in 2011 for missing several flights to Las Vegas to attend a news conference.
Early Tuesday, McGregor's tweet quickly took over the conversation on social media. Several fighters followed up with retirement announcements of their own.
Nate Diaz jokingly tweeted he would step away from the sport.
"I guess my work here is done," Diaz posted. "I'm retiring too."
Even fast-food chain Whataburger took advantage of the attention with a tweet of its own.
"I have decided to never stop eating Whataburgers," the chain's official account posted. "Thanks for the cheese. Catch ya's later."
I have decided to never stop eating Whataburgers.
Thanks for the cheese.
Catch ya's later

— Whataburger® (@Whataburger) April 19, 2016
Contact reporter Adam Hill at ahill@reviewjournal.com or 702-224-5509. Follow him on Twitter: @adamhilllvrj