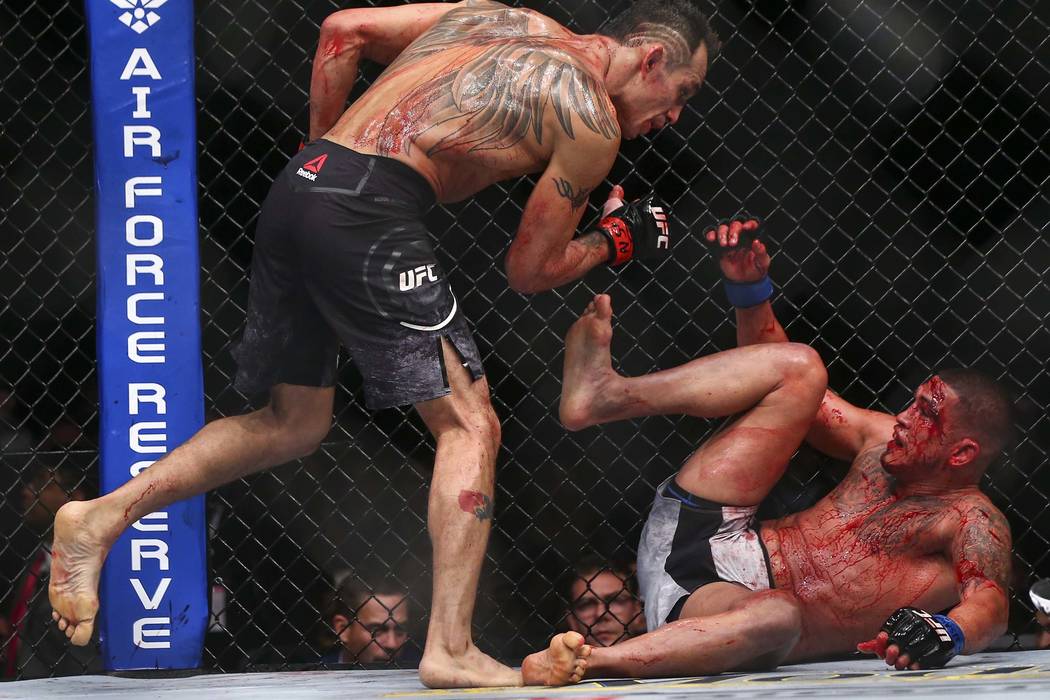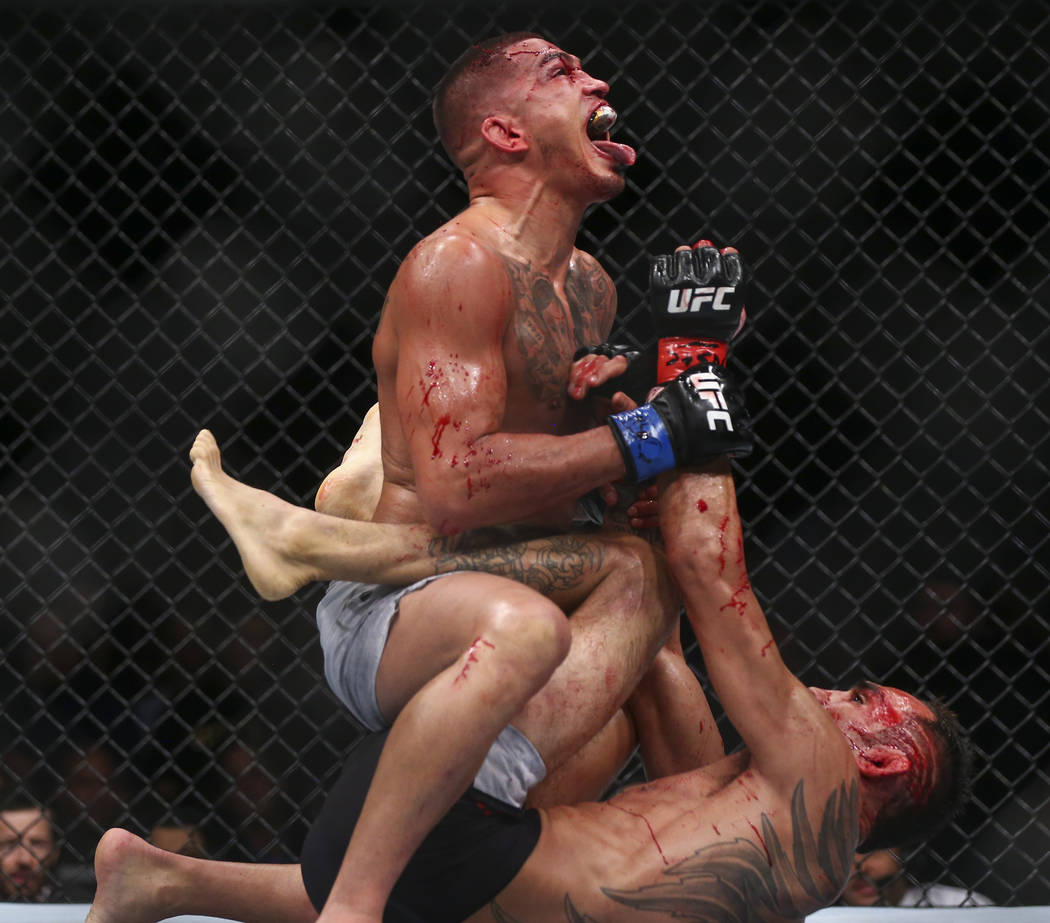 Top lightweight contender Tony Ferguson's phenomenal performance in his return from knee surgery may have been one of the big storylines coming out of Saturday night's UFC 229 card at T-Mobile Arena had it not been for the post-main event brawl.
He wants to make sure his fight-of-the-night win over Anthony Pettis doesn't get lost in the chaos.
"I'm the (expletive) champ, you guys realize that right?" the former interim champion said despite Khabib Nurmagomedov retaining the belt with a submission win over Conor McGregor on Saturday night. "I've been the champ. I am the champ. You have those two knuckleheads over there making this sport look bad."
Ferguson participated in a bizarre question-and-answer session with reporters several days before his fight when he challenged the media to not "feed the (expletive)."
He revisited his comments after his victory.
"I don't need to have a belt up here to be the champ, so if you guys want to feed that go ahead, put that in your pocket and take it with you," said Ferguson, who had his interim belt stripped when he was unable to fight Nurmagomedov in April.
That was actually the fourth time Nurmagomedov and Ferguson have been scheduled to fight, with each being forced out twice.
Ferguson believes the fight needs to finally happen.
"Khabib and I deserve to fight, we need to fight for the fifth time," Ferguson said after recording his 11th straight win. "We need to try this out again. Me as the champ. I was the interim champ. I'm still the (expletive) champ. There's no BS in this. Conor does not want to fight me. I saw him when we were walking out of the weigh-ins. He walked up, he did his strut and I turned around and he (expletive) stopped. He looked like a deer in the headlights.
"Nobody wants to be trapped inside that cage with me. They don't want to be cut by my elbows, they don't want to get hit by any of my kicks and they don't want their conditioning checked by me. I'm a different animal than these guys. They want to be animals inside there, I'm a dogcatcher, guys. Alright? I got a noose for them."
He may have to wait awhile.
Nurmagomedov could face a suspension for his role in setting off the brawl on Saturday night when he jumped out of the cage and tried to attack one of McGregor's cornermen after defeating McGregor.
While Ferguson is dismissive of McGregor, he still has respect for Nurmagomedov.
"He's a game opponent. A real fighter," Ferguson said. "I don't know about that BS that happened afterwards but emotions flare inside there.
"What the UFC is going to do with that is not on me. I'm going to prepare for the next guy in front of me. Straight up."
Ferguson admitted feeling nervous about how his knee would hold up, but insists it's full steam ahead now that he made it through a camp and a fight.
McGregor posts again
It didn't take McGregor long to hit social media in the wee hours of Sunday morning as the Irish superstar conceded defeat and asked for a rematch.
He was at it again Monday, though his comment was a bit more cryptic.
"We lost the match but won the battle," McGregor wrote on Instagram as he drank a glass of his Proper No. 12 whiskey. "The war goes on."
McGregor was sporting a black eye in the photo.
Khabib's manager speaks
Ali Abdelaziz, who manages Nurmagomedov and several other prominent fighters, issued a statement about Saturday night's melee on social media.
"This is not the way we want to celebrate such a dominant performance but when you talk about people's country, family and religion and intentionally try to kill someone like he said and the cornermen running their mouths after, this is the fight game and (expletive) happens," wrote Abdelaziz, who McGregor referred to as a "terrorist rat" on several occasions leading up to the fight. "The fans got an amazing fight and a great show. I want to apologize to the Nevada Athletic Commission, the governor of Nevada and I want to thank the Las Vegas police department and security for doing such an unbelievable job. Now everyone understands who's the amateur here."
More MMA: Follow all of our MMA coverage online at CoveringTheCage.com and @RJ_Sports on Twitter.
Contact Adam Hill at ahill@reviewjournal.com or 702-277-8028. Follow @AdamHillLVRJ on Twitter.
Schedule
■ Friday: Bellator 207 (Paramount), Uncasville, Conn.
■ Saturday: Bellator 208 (Paramount), Uniondale, N.Y.
■ Oct. 27: UFC Fight Night 138 (FS1), Moncton, New Brunswick
■ Nov. 3: UFC 230 (FS1/PPV), New York