Daniel Cormier, Anthony Johnson book UFC title fight through social media
September 16, 2016 - 5:53 pm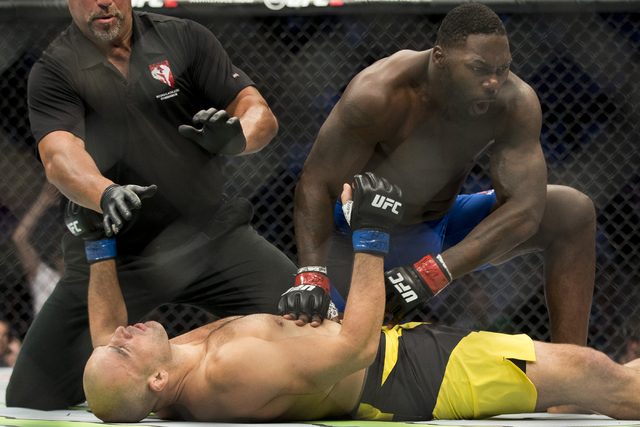 Top UFC light heavyweight contender Anthony Johnson is done playing games.
With the division in flux as former champion Jon Jones, who holds the interim title, awaits word on discipline for a potential doping violation, Johnson is in a holding pattern along with champion Daniel Cormier.
Johnson has a solution.
"DC, I want to fight you in New York City on Nov. 12," Johnson posted Thursday afternoon on Facebook. "It is our time to do battle!"
UFC 205 will be the organization's first event at Madison Square Garden and is expected to be one of the biggest cards of the year. A bout between Johnson and Cormier would certainly bolster that possibility.
Cormier, however, said Johnson is going to have to wait. The champion insinuated the fight would instead be booked for UFC 207 on Dec. 30 at T-Mobile Arena in Las Vegas.
"(You) deserve (the) shot. I'm not waiting!" Cormier responded minutes later on Twitter. "Sorry bud, NYC won't happen. But you can get it again Dec 30th."
u deserve shot. I'm not waiting! Sorry bud NYC won't happen. But you can get it again Dec 30th. #downgoesrumble https://t.co/QdZeOFtiHk

— Daniel Cormier (@dc_mma) September 15, 2016
It would be a rematch of a bout won by Cormier in May 2015 for the vacant light heavyweight belt.
Jones had been stripped of the title after he was arrested and charged for a hit-and-run accident in Albuquerque, New Mexico, just a month before he was scheduled to defend the belt against Johnson.
Cormier stepped in for Jones and submitted Johnson in the third round. He was supposed to defend the title against Jones when he returned from suspension in April, but Cormier was injured and had to pull out of the fight.
Jones instead captured the interim title by defeating late-replacement Ovince Saint Preux. A unification bout was booked for UFC 200 on July 9, but Jones was pulled off the card just three days before the event due to a potential doping violation.
Jones and UFC president Dana White have indicated recently a belief Jones will be exonerated. Johnson doesn't want to wait any longer.
"When Jon got into trouble and was removed from my title fight, I accepted you as an opponent on three weeks notice despite the dramatic change in fight style," Johnson wrote. "You were the better man that night and took the belt. I didn't demand an immediate rematch, it was well within my rights to do so.
"I went to the back of the line and fought my way back to the front. To headline the the event in (Madison) Square Garden is a once in a lifetime opportunity. Let's do it!"
Johnson's post triggered a back-and-forth exchange between the fighters on Twitter.
After Johnson chided Cormier for not wanting to compete on the big stage of Madison Square Garden, Cormier said he wanted Johnson to enjoy Christmas before getting beaten again.
When some of Johnson's fans accused Cormier of trying to avoid the fight, Cormier quickly shut them down.
"He will wait until Vegas like I said! End of discussion!" Cormier wrote. "There u go rumble. You have a title shot. Now be happy!"
He will wait until Vegas like I said! End of discussion! There u go rumble. You have a title shot. Now be happy! https://t.co/u4UdQqvitn

— Daniel Cormier (@dc_mma) September 15, 2016
Contact reporter Adam Hill at ahill@reviewjournal.com or 702-224-5509. Follow on Twitter: @adamhilllvrj