Despite dolly setback, Michael Chiesa set to meet former champ at UFC 226
Updated July 5, 2018 - 10:25 pm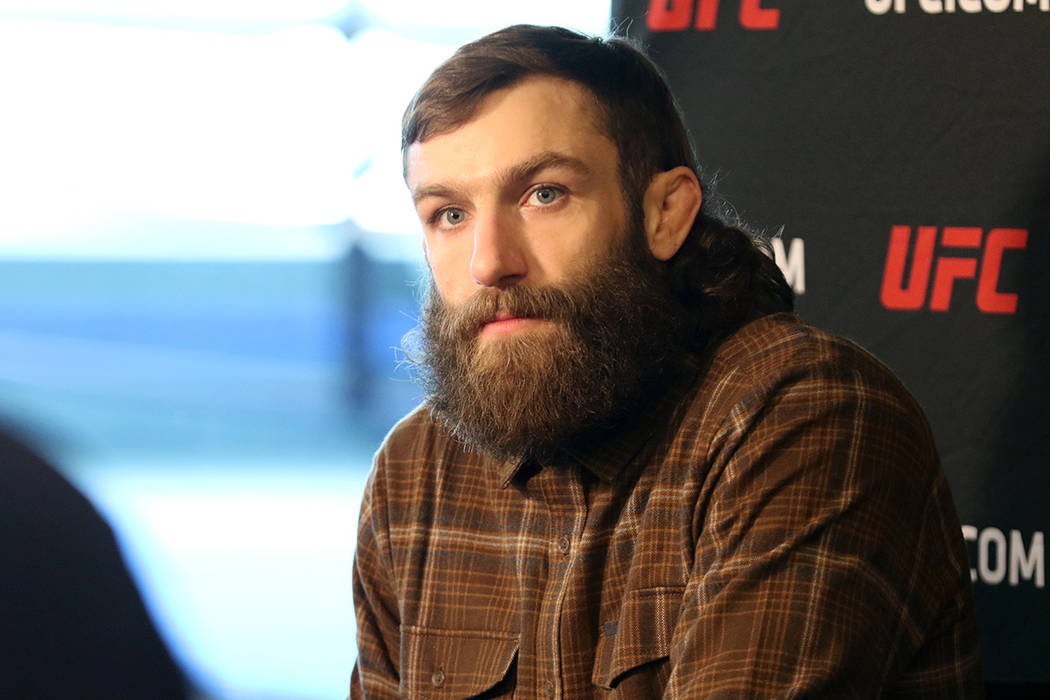 The last few years, UFC lightweight contender Michael Chiesa's career largely has been defined by a series unfortunate events.
That includes Conor McGregor's alleged attack on a bus in Brooklyn in April. McGregor is charged with felony criminal mischief in the attack, when a construction dolly was tossed at a bus window, cutting Chiesa and forcing him out of a scheduled bout against former champ Anthony Pettis.
The rescheduled bout against Pettis is set for Saturday at T-Mobile Arena at UFC 226, part of a pay-per-view card headlined by a heavyweight title bout between champion Stipe Miocic and light heavyweight champ Daniel Cormier.
"Hopefully, there's no hand trucks thrown, … and we can just fight and have the best man win," Chiesa said.
Chiesa, 30, who now spends his training camps in Las Vegas, and avoids specifically addressing McGregor. It's unclear if it is to avoid discussing the same subject repeatedly or if has to do with pending litigation.
Regardless, he has become quite adept at turning the subject back to the task at hand.
"I'm not here to talk about Conor," he said. "I'm fueled by winning the title, and I'm facing a former world champion on Saturday. He's still so dangerous. He's a vaunted striker with a good guard. That's a tough matchup for me, but that's what I want. I like the challenges he presents, but I think I'll be too much for him."
The crazy events of April nearly led to Pettis getting another title shot. Max Holloway was unable to make weight for his late-notice title shot against Khabib Nurmagomedov, so Pettis was briefly tabbed as his replacement the day before the fight. But neither could he make the championship limit on the scales.
"The whole thing was wild," Pettis said. "I was in the opposite bus, but I saw the attack happen. We got back to the hotel, and I heard he got cut and immediately just asked, 'What does that mean for me?'
"I all of a sudden got offered a title shot and it was a crazy little roller coaster right there. We're here now,and I'm focused on this guy. It's been four months thinking about this one dude. I'm excited to get past it."
Chiesa shares the sentiment.
"I'm excited to close this chapter," Chiesa said. "It's frustrating to have to jump back on the horse in such a short period of time and get back to (training camp for the same opponent), but I have to close this chapter.
"I have to get out and fight this guy. The glass is half full because I'm excited to still have the opportunity to fight him after everything that happened in Brooklyn. It's all good."
Chiesa still sees Pettis as a major obstacle despite his 2-5 mark in seven fights since he held the belt.
"He's a former world champ," Chiesa said.
A welterweight bout between Mike Perry and Paul Felder is also part of the main card, replacing Wednesday's canceled title bout between Brian Ortega and featherweight champ Max Holloway.
According to multiple sources close to the organization, Ortega declined an interim title bout against Jeremy Stephens when Holloway was forced off to the card late Wednesday because of concussion-like symptoms.
More MMA: Follow all of our MMA and UFC coverage online at CoveringTheCage.com and @CoveringTheCage on Twitter.
Contact Adam Hill at ahill@reviewjournal.com or 702-277-8028. Follow @AdamHillLVRJ on Twitter.