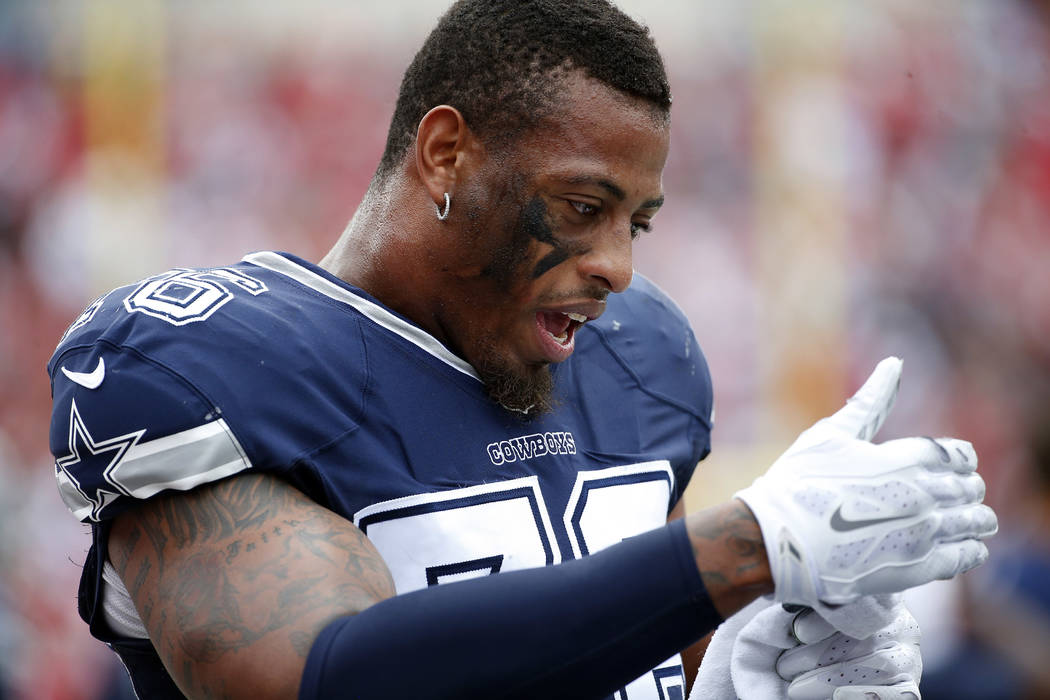 NFL star turned mixed martial arts heavyweight prospect Greg Hardy knows there are people out there who don't want to see him succeed and will never forgive him for his off-field transgressions.
He rarely encounters them in his everyday life.
"Everybody to my face is really nice," he said after improving to 2-0 as a professional with a 17-second knockout of Taboris Gordon on "Dana White's Tuesday Night Contender Series" at "The Ultimate Fighter" Gym in Las Vegas. "Once they meet me, I believe it's really hard to be that way towards me."
It's not terribly difficult to type his name into Google, though.
Hardy will likely be forever-linked to a horrific domestic violence incident for which he was suspended from the NFL and found guilty of assault and communicating threats, though the convictions were later vacated when his ex-girlfriend stopped cooperating.
The 30-year-old never played for the Panthers again and a second-chance with the Cowboys ended after one season in 2015.
He still holds out hope of a return to the NFL, but was awarded a developmental deal with the UFC after scoring a 57-second knockout on a DWTNCS card in June and is focused on his new sport as he tries to gain experience and work his way toward a spot on the organization's official roster.
UFC president Dana White has been pleased with Hardy's progress in and out of the cage.
"We've had zero (negative feedback on Hardy)," White said. "There's always going to be those people out there. The guy completely turned his life around. This is his second chance. He's been excellent to deal with. Everyone who has come in contact with him since he's been with us has said good things about him. The guy made a mistake. You're always going to have the freaks who have nothing better to do who are going to run around and say this and that. What the guy did was horrible. He has a second chance here. He's turned his life around. He got off drugs. He got off alcohol, hit rock bottom and built himself back up. What do they want the guy to do? He should never work again? He should never do anything again? Life doesn't work that way."
Hardy believes he'll always be judged for his past, but it's not something that bothers him. He was struck by the recent attacks on NBA star LeBron James by President Donald Trump even though James has never been in trouble off the court.
"There are guys that go their whole life and get a billion dollars, become president and yet still hate on a person that's never been arrested and is investing in schools for kids," Hardy said. "If that man's got haters, I'm really not worried honestly. I'll be worried when people meet me and then have a problem with me. That's when I need to change something. Right now, God bless them. Keep watching and I'll keep proving them wrong."
He's definitely erasing any questions about his potential in a new sport.
Hardy's speed and power were always going to translate and have been on display in his two pro bouts. He's still got a great deal to prove defensively and probably needs a great deal of polish on his wrestling and ground game, but Hardy insists he's been putting in the work.
White, who says Dallas owner Jerry Jones recently called him and raved about Hardy's toughness, says he just needs to see a bit more from the former defensive lineman before he's ready for the big leagues even though he's further along than White expected.
Hardy says he will continue working as he waits for his next assignment.
"I believe I'm one of the best athletes in the world," he said. "I'll say that every day of the week. But I do have a respect for athletes so I'd say that honestly, this is a different sport and you have to respect in every hood you go to because it's not the same as where you're from.
"I think I'm ready as an athlete, but skill-wise and mentality-wise, I need to keep working at it. I'll keep getting the experience and when the bossman who has the experience says it's time, I'll step up and give it everything I have."
White handed out new UFC contracts to Devonte Smith, Kennedy Nzechukwu and Bobby Moffett after impressive performances on Tuesday's episode, the final show of the second season.
More MMA: Follow all of our MMA and UFC coverage online at CoveringTheCage.com and @CoveringTheCage on Twitter.
Contact Adam Hill at ahill@reviewjournal.com or 702-277-8028. Follow @AdamHillLVRJ on Twitter.