Jon Jones apologizes for drug test result that knocked him out of UFC 200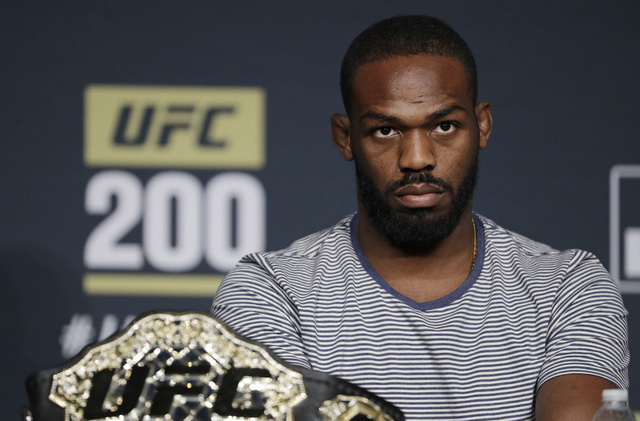 In the same building where Jon Jones once engaged Daniel Cormier in a nasty brawl in the lobby, the former UFC light heavyweight champion publicly delivered a tearful public apology to his bitter rival.
Jones addressed the media Thursday morning at the MGM Grand after a stunning Wednesday night announcement that he had been pulled out of the main event of UFC 200 because of a potential violation of the UFC's anti-doping policy.
Jones was scheduled to face Cormier in a rematch of a 2015 bout won by Jones. Among the many contentious interactions between the fighters was a 2014 brawl in the lobby of the MGM Grand following a news conference.
Jones had difficulty coming up with one quality he liked about Cormier when asked to do so Wednesday morning, but Jones was brought to tears by a question Thursday about what he wanted to tell Cormier after costing his adversary his spot as a headliner on what could have been the biggest card in UFC history.
"I just really want to say I'm sorry to Daniel," Jones said. "I know how much this fight meant to him.
"It meant a lot to me, too, and the fight's not happening. I just want to apologize to everyone sincerely. I'm real sorry about this happening."
Cormier at least got a consolation prize. UFC officials announced Thursday night he would be back on the card to face former middleweight champion Anderson Silva, who agreed to step in on two days' notice despite not having trained since May when he fell ill and pulled out of a fight.
"I think I'm in good shape, and I don't want Daniel or anyone else to think I'm underestimating him," Silva said. "I'm here to challenge myself. I think I haven't trained in a few months, but I think I'm in good condition to fight."
It's far from the first major change to the event.
A welterweight rematch between Conor McGregor and Nate Diaz originally was announced as the main event, but it was scrapped in April when McGregor refused to participate in promotional activities. That fight will now headline UFC 202. McGregor and Diaz appeared at a news conference Thursday to promote their bout at T-Mobile Arena.
"I could sit up here and say, 'Well, well, well,'" McGregor said. "But I am a successful human being, and successful human beings do not celebrate the adversity and misfortune of others."
UFC 200 now will be headlined by a women's bantamweight bout between Amanda Nunes and champion Miesha Tate.
The fight between Mark Hunt and former heavyweight champion Brock Lesnar had been identified as the new main event in the immediate aftermath of Jones' ouster, but UFC president Dana White said it was determined that a championship bout should serve as the main event.
Lesnar is a professional wrestling superstar who is giving MMA fighting one more go after walking away in 2011.
When the bout was added to the card a month ago, it looked like the icing on the cake of the deepest event in UFC history. Now it will be the main course.
"It's unfortunate for DC. I feel real bad about DC," Lesnar said. "Guys work hard going through training camps, and they put lots of time into it. That's the guy that really gets the short end of the stick on this deal."
Under Nevada Athletic Commission rules, any ticket holder wishing to get a refund because of a changed main event may do so at the point of purchase.
A UFC official said customers who had purchased the pay per view should contact their cable or satellite company about their refund policy. Officials for Cox Cable in Las Vegas and DirecTV did not respond to messages from the Review-Journal, but a customer service representative for DirecTV said a significant change in the card is typically considered a valid reason to grant subscribers a refund.
The next fight for Jones won't involve any kicks or punches. He and his agent, Malki Kawa, vowed to challenge the results of the out-of-competition test that was administered by the United States Anti-Doping Agency on June 16.
"The last 24 hours was a whirlwind," Kawa said of the time since notification of the flagged test. "We're here this morning basically to deny that and apologize that this happened and go from there. At this point, we're not going to get into details of the notice we got, simply because obviously we're going to do what we have to do to fight this."
Jones was devastated.
"The whole situation really sucks," he said. "It really sucks, really hurts a lot. They found something in one of my samples that I have no clue what it is. I don't even know how to pronounce it. I've been taking the same supplements the majority of my career.
"I would never take anything that would enhance my game. Being labeled as someone who would ever cheat, it hurts me more than anything I've ever been through in my career."
Kawa said he and Jones have requested a testing of the "B" sample, though he acknowledged it's a long shot it will show a different result. Jones said he will immediately return to Albuquerque, New Mexico, to be with family and then begin the adjudication process.
Jones, who will be 29 on July 19, faces a possible suspension of two years.
"If I do have to sit out two years, I'll definitely be back," Jones said. "I'm just optimistic. At the end of the day, I'm a fighter. I'm just really upset. I've been through a lot to get to this point. I'm not going to let this slow me down.
"I'm broken up about this, but I'm not broken."
Contact reporter Adam Hill at ahill@reviewjournal.com or 702-224-5509. Follow him on Twitter: @adamhilllvrj
RELATED
Jon Jones pulled from UFC 200 after potential doping violation
Ticket refunds available for UFC 200 with Jon Jones off main event