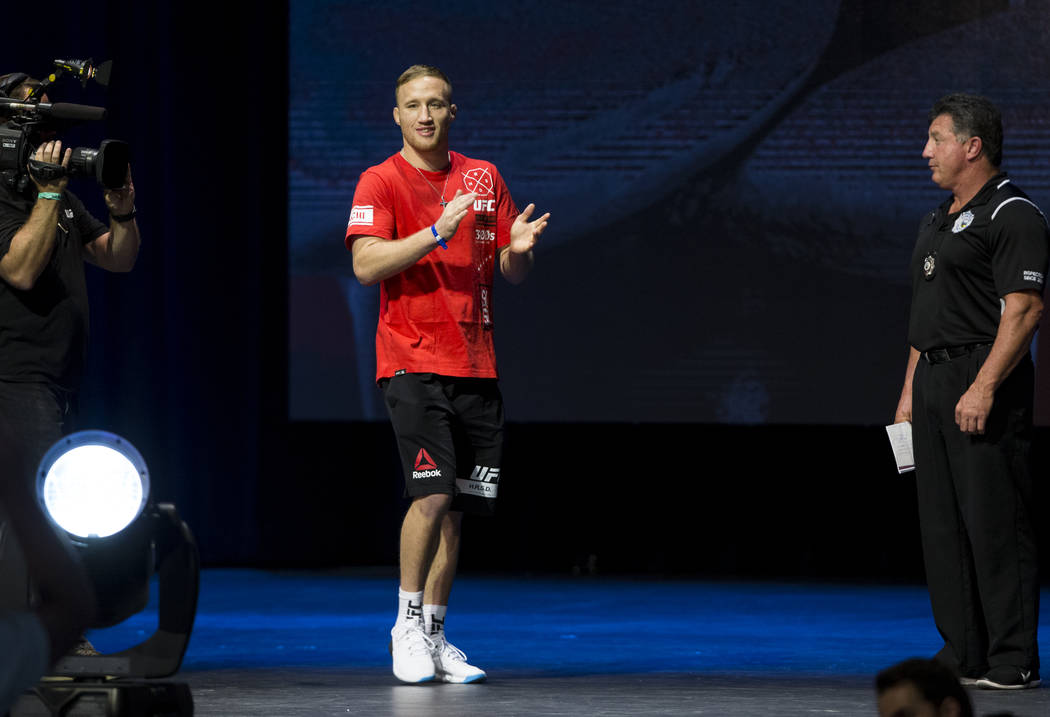 Former World Series of Fighting lightweight champion Justin Gaethje wanted the toughest possible opponent for his UFC debut.
That's why the undefeated 28-year-old says he called out contender Edson Barboza as soon as he signed his free-agent deal to join the organization in May.
"I wanted the scariest dude," Gaethje said during a promotional appearance in Los Angeles last week. "I wanted Edson Barboza. When I showed my mom the Edson Barboza highlight reel, she started crying."
Gaethje said his mom gave her approval when she heard UFC officials instead wanted him to face contender Michael Johnson on Friday's "The Ultimate Fighter" 25 Finale card at T-Mobile Arena.
While Gaethje acknowledges Johnson is an accomplished and dangerous fighter, he sees a much clearer path to victory than he did against Barboza.
"Michael Johnson is not the scariest dude for me," Gaethje said. "When Michael Johnson said he was going to kill me, I asked my mom if she was scared. She said, 'No. I don't believe he's a killer.' He's lost 11 times. He's been submitted seven times. He quits. Once a quitter, always a quitter. Especially as a wrestler, I know that. I'm going to break him minute by minute. He's a killer when he's the hammer. When he's the nail, he doesn't like it. He's going to be the nail on Friday."
Reaching the UFC is the next step in Gaethje's progression.
The 28-year-old former NCAA wrestling All-American at Northern Colorado began competing as an amateur in MMA during his collegiate career, though he strictly relied on his wrestling skills.
He soon realized his potential and decided to take the sport more seriously.
"I had never sparred, never been in a street fight, never hit a pad with a coach, and I was 5-0 as an amateur just strictly wrestling," he said.
Once Gaethje started expanding his game, his career took off. He had won seven straight fights within 14 months of turning pro, with only one going the distance. His victories and aggressive, crowd-pleasing style helped land him a deal with the WSOF and he was a champion less than a year later.
Gaethje managed to remain unbeaten despite a plan of attack that can best be described as reckless. He insists nothing will change now that he has reached the sport's biggest stage.
"People say I get hit too much, but I obviously haven't been hit hard enough," he said. "There's not more to lose for me. I get paid because of effort. That's why I'm getting this opportunity. The UFC wouldn't have signed me if I didn't give that kind of effort every single fight. If they thought I would maybe go out and change my style, they wouldn't give me this fight. There's no changing it now. My pressure breaks people. They think they can take it, but they can not. There's no preparing for it. Once I start controlling your heartbeat and thought process, they're done."
Johnson isn't buying the hype.
"Sure, he's got a lot of success outside of the UFC, but it's not significant to how he'll do because he hasn't faced the level of competition that the UFC offers," Johnson said. "He is undefeated for a reason, he's a tough fighter, but he understands it's a completely different level when you get under these lights and they shine bright."
Johnson relishes the opportunity to welcome Gaethje to the UFC and doesn't think he was chosen as a showcase opponent.
"I don't think I'm overlooked at all," Johnson said. "I'm just the guy that was available for him to fight, I'm the guy at the top of the division, and they want to test a champion in a former promotion, and as far as I'm concerned, they're pretty much releasing the dog off the leash and telling them to go and get this newcomer that's coming on my yard."
That might not be a comforting thought for Gaethje's mom.
The bout headlines a main card that starts at 6 p.m. on Fox Sports 1. Four fights from the preliminary card will air at 4 on FS1.
More MMA: Follow all of our MMA and UFC coverage online at CoveringTheCage.com and @CoveringTheCage on Twitter.
Contact Adam Hill at ahill@reviewjournal.com or 702-277-8028. Follow @adamhilllvrj on Twitter.
'TUF 25' Finale
Main card bouts on Friday at T-Mobile Arena, with the telecast at 6 p.m. on Fox Sports 1.
— Michael Johnson (18-11) vs. Justin Gaethje (17-0), lightweights
— Dhiego Lima (12-5) vs. Jesse Taylor (30-15), for Season 25 welterweight championship
— Marc Diakiese (12-0) vs. Drakkar Klose (6-0-1), lightweights
— Jared Cannonier (9-2) vs. Nick Roehrick (7-0), light heavyweights
— Brad Tavares (14-4) vs. Elias Theodorou (14-1), middleweights
— Jordan Johnson (7-0) vs. Marcel Fortuna (9-1), light heavyweights