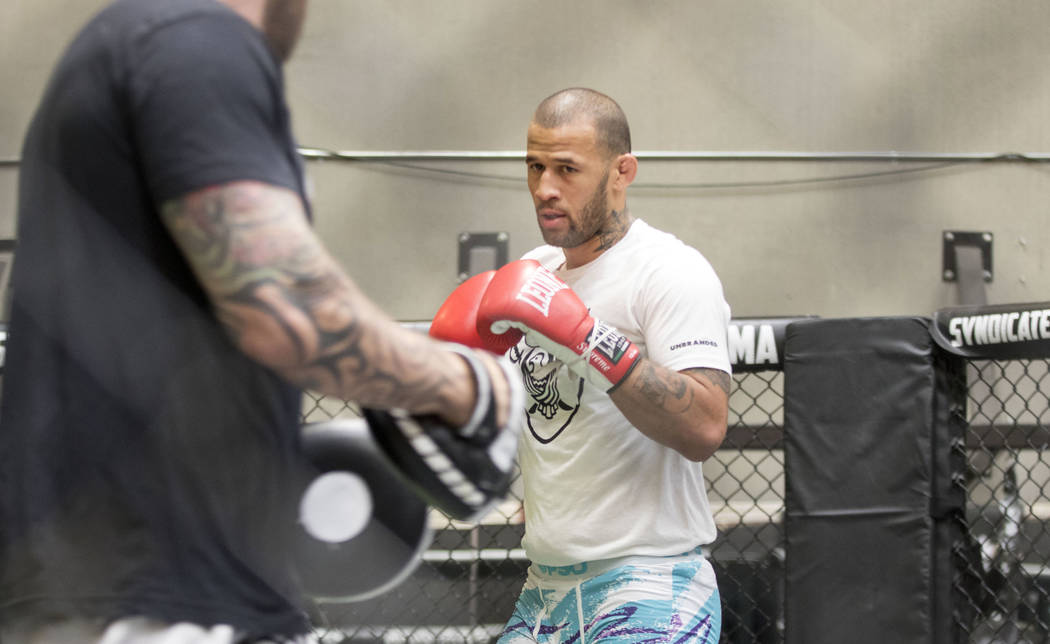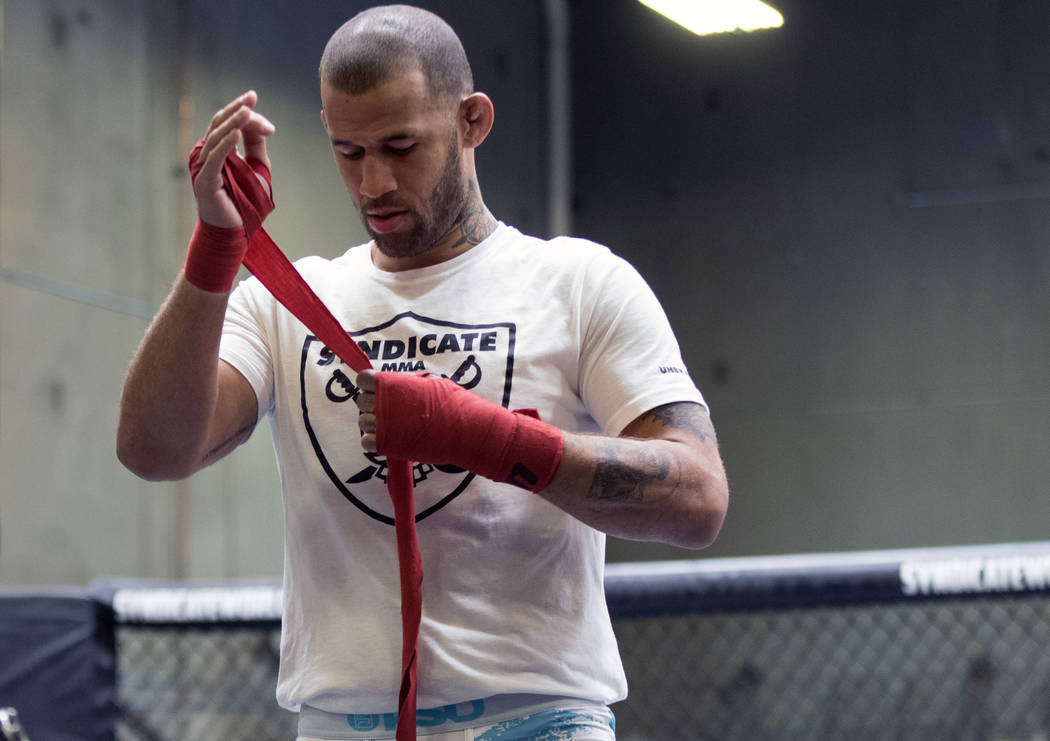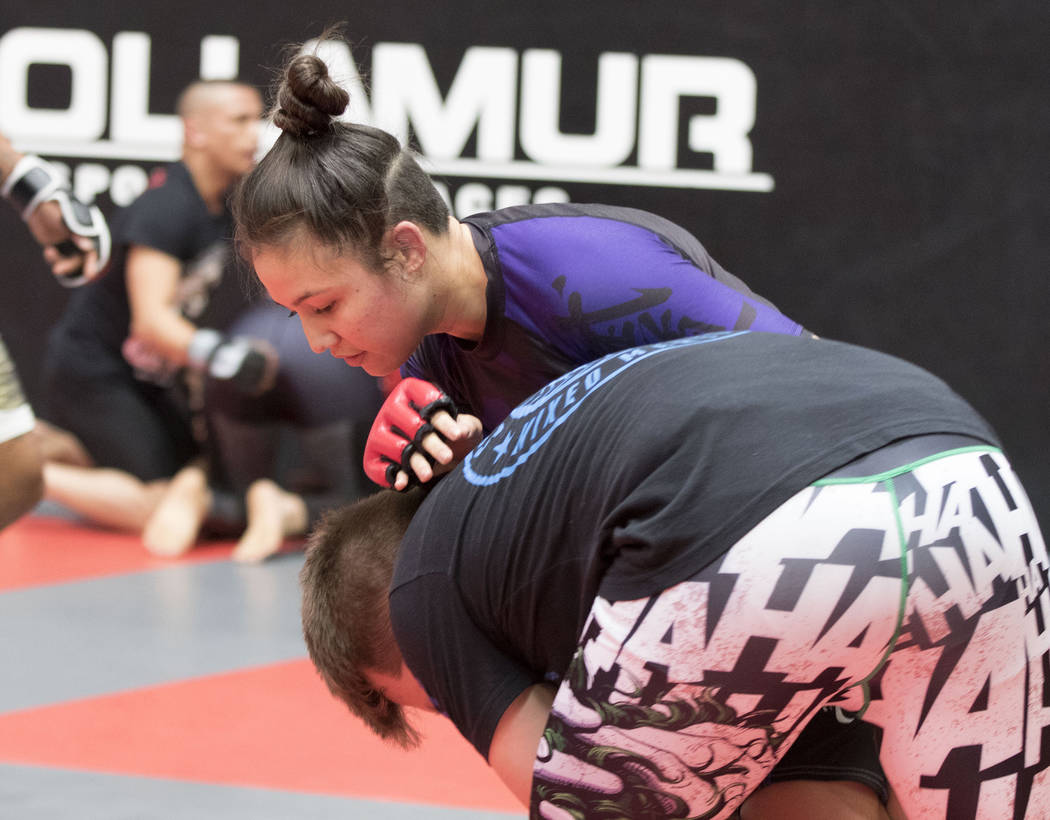 Las Vegan Jamie Moyle is feeling far more comfortable heading into her second UFC fight than she was for her debut in December.
It's amazing what a UFC victory can do for a fighter's confidence.
"I definitely feel like my last fight was my gift and my test," the women's strawweight prospect said after a workout at Syndicate MMA in Las Vegas. "I had to prove to everyone and myself that I could go in there and get a win. There was a lot of pressure on me. This time I feel more relaxed. I feel like I am a UFC fighter and I do belong there."
Moyle appeared on Season 23 of "The Ultimate Fighter" and was disappointed with her early exit from the competition in 2016 when she lost a majority decision to Amanda Bobby Cooper. She told UFC president Dana White how badly she wanted a second chance, and her wish was granted with a fight against Kailin Curran in December.
Moyle, 28, took full advantage of the opportunity with a unanimous-decision victory as an underdog at The Palms.
She will travel much farther from home in search of an encore performance. Moyle is headed to Rio de Janeiro to challenge unbeaten Viviane Pereira at UFC 212 on Saturday.
Moyle said she hopes to fight internationally more so that she can see the world while progressing in her career, even if it means fighting on an opponent's home turf as she will this week.
"I'm just going with the flow and trying to take advantage of a great opportunity," she said. "I'm going to really try to enjoy the experience."
Moyle is equally excited for the opportunity to hand Pereira the first loss of her career.
"She's undefeated and that lights a fire under me," Moyle said. "It makes me feel like she's going to be a tough opponent and I have to bring my 'A' game and I love that challenge. Plus, it will look good for me to beat an undefeated opponent."
The fight is part of the preliminary card that will stream live on Fight Pass. A featherweight unification bout between champion Jose Aldo and interim champ Max Holloway will headline the pay-per-view portion of the card.
Nelson to Bellator
Las Vegan Roy Nelson has signed with Bellator MMA, ending his eight-year run in UFC.
The heavyweight entered the UFC by winning Season 10 of "The Ultimate Fighter" in 2009 and remained until his contract expired following a decision loss to Alexander Volkov in April.
Nelson, 40, is a graduate of Cimarron-Memorial. He went 9-10 in the UFC, but his fighting style and personality have kept him among the most popular heavyweights.
Details of his deal with Bellator were not disclosed, nor was a potential date or opponent for his debut.
St. Pierre reveals eye injury
Former UFC welterweight champion Georges St. Pierre revealed last week that his recovery from an eye injury has been behind the delay in his return to competition.
St. Pierre, who retired in 2013, officially announced a comeback in March. He was expected to fight Michael Bisping for the middleweight title, though no date was set. St. Pierre indicated earlier this month he likely won't be ready until November, which triggered UFC officials to move forward with plans for the middleweight division without St. Pierre.
The 36-year-old Canadian, however, said he's not just sitting around taking his time.
"Trust me, I'm not the kind of guy who thinks, 'Hey, I'm going to make everybody wait for me. I don't want to fight during the summer, I want to take my time," St. Pierre said during C2 Montreal on Friday. "That's not the reason. If it were up to me, I would come back. The reason is I had a problem with my eye. I had an injury.
"My vision has not been back yet. It will be back. It's something very minor. The doctor insisted for me that I don't spar until September."
Bisping is also injured. Yoel Romero will fight Robert Whittaker for the interim title in July with the winner expected to be Bisping's next challenger.
UFC women's featherweight champion Germaine de Randamie has no interest in fighting top contender Cristiane "Cyborg" Justino, according to de Randamie's manager.
"Germaine and her team have talked, and the position is that she will not fight Cyborg because Cyborg is a known and proven cheater," Brian Butler told MMAFighting.com. "Even after so much scrutiny has been put on Cyborg, she still managed to pop for something and will always be a person of suspicion who is trying to beat the system rather than just conforming to the rules.
"For that reason, Germaine and her team don't believe that Cyborg should be allowed to compete in the UFC at all. If that is the only fight the UFC wants, then Germaine is willing to wait and see if the UFC will strip her belt before making her next move."
Justino failed a drug test in 2011 and was flagged for a violation of the anti-doping policy by USADA in December, but was granted a retroactive therapeutic-use exemption after an investigation.
Contact Adam Hill at ahill@reviewjournal.com or 702-277-8028. Follow @adamhilllvrj on Twitter.
Schedule
— Saturday: UFC 212 (FS1/PPV), Rio de Janeiro
— June 10: UFC Fight Night 110 (FS1), Auckland, New Zealand
— June 17: UFC Fight Night 111 (Fight Pass), Singapore
— June 24: Bellator 180 (PPV), New York
— June 25: UFC Fight Night 112 (FS1), Oklahoma City