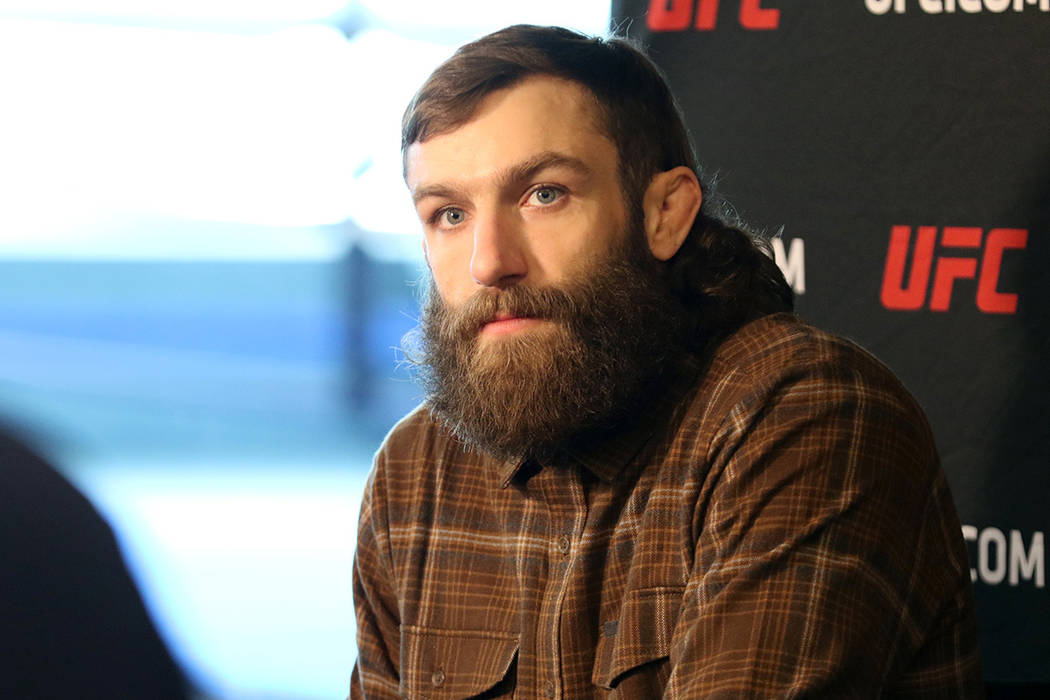 UFC lightweight contender Michael Chiesa is doing his best to move on from a disappointing and emotional loss to Kevin Lee in June.
It's not easy considering how often they cross paths while training under the same roof in Las Vegas.
"I don't try to avoid him," Chiesa said Monday of Lee, who also spends the majority of his time training at the UFC Performance Institute. "There are some hand gestures thrown around, but that's about it. I don't like the guy, but I do respect him as a competitor. We had a locker room talk about a potential rematch in July and we'll see what happens with that. Right now, my focus is completely on Anthony Pettis."
Chiesa, 30, will meet the former champion on the UFC 223 card in Brooklyn, New York, on April 7.
It's a good opportunity to put the loss to Lee in the past.
Chiesa was in trouble almost immediately in that fight only to have the referee step in and call a premature end to the action because he thought Chiesa was in more danger than was actually the case. It was particularly frustrating on the heels of a skirmish between the two at a news conference several months earlier.
Chiesa is ready to move on and knows a win over a fighter of Pettis' caliber can help him do that.
"You've got to have a short-term memory," he said Monday. "I did my boo-hooing and then just put it behind me. I'm back. It feels good and my sole focus is Anthony Pettis. I'm very focused on him right now."
He's also focused on putting together the right training camp for the fight and believes he has done so with his work at the Performance Institute. Chiesa still insists he is committed to his Sik Jitsu team back home in Spokane, Washington, but feels the training staff at the Las Vegas facility provides him a new look at the best methods and techniques to help him get to the next level.
"I want to go undefeated on the year," he said. "I'm in the best place I've been in my career. I've done my whole camp in Las Vegas. My body is healthy and it's the best I've ever felt going into a fight. I'm around a world-class staff that is pushing me to the limit while making sure I don't break myself, which is something I've had a problem with. This is the time and this is my plan to be the No. 1 contender by December."
Chiesa, who had his three-fight winning streak snapped by Lee, has never lost two consecutive fights.
While he has competed just twice since the start of 2016, the 30-year-old is more concerned with who he fights than how often he gets to step in the cage.
"I'm all about quality fights," he said. "People keep reminding me that I've only fought twice in the last two years or whatever, but I'm all about quality right now. I got myself where I am in the UFC and to this point in the rankings fighting three times a year. Now it's all about the quality and I'm fighting a former champion on one of the biggest events of the year. That's quality."
The bout is part of a main card headlined by a lightweight title bout between Khabib Nurmagomedov and interim champ Tony Ferguson.
Barnett avoids punishment
UFC heavyweight Josh Barnett successfully argued his case with USADA to an arbitrator and emerged without a suspension.
He is eligible to return to competition immediately.
The 40-year-old had been facing a maximum ban of four years after an out-of-competition test in December 2016 showed the presence of synthetic testosterone.
Barnett refused proposed settlement offers of 24 and 18 months from USADA and instead opted for arbitration to settle the matter. USADA conceded the positive test stemmed from a supplement he consumed that contained tribulus terrestris, a legal herb.
"I proved my innocence as I stated from the beginning and now I can look towards getting back in the ring in the near future," Barnett posted on social media. "The time I lost though can never be regained. It should not have had to come to all of this."
Barnett's last fight was a third-round submission victory over former champ Andrei Arlovski in September 2016.
"He unknowingly ingested a contaminated product," independent arbiter Richard H. McLaren, chief arbitrator of McLaren Global Sport wrote in his decision. "In so doing, he did commit an (anti-doping policy violation) because he had a prohibited substance in his sample but he did not actively engage in attempting, in any way, to engage in the use of a prohibited substance."
No return date has been set for Barnett now that he is eligible.
More MMA: Follow all of our MMA and UFC coverage online at CoveringTheCage.com and @CoveringTheCage on Twitter.
Contact Adam Hill at ahill@reviewjournal.com or 702-277-8028. Follow @AdamHillLVRJ on Twitter.
Schedule
■ April 6: Bellator 196 (Paramount), Budapest, Hungary
■ April 7: UFC 223 (FS1/PPV), Brooklyn, New York
■ April 13: Bellator 197 (Paramount), St. Charles, Missouri
■ April 14: UFC on Fox 29 (Fox), Glendale, Arizona