NAC extends temporary suspensions for UFC 229 brawlers
Updated October 24, 2018 - 2:46 pm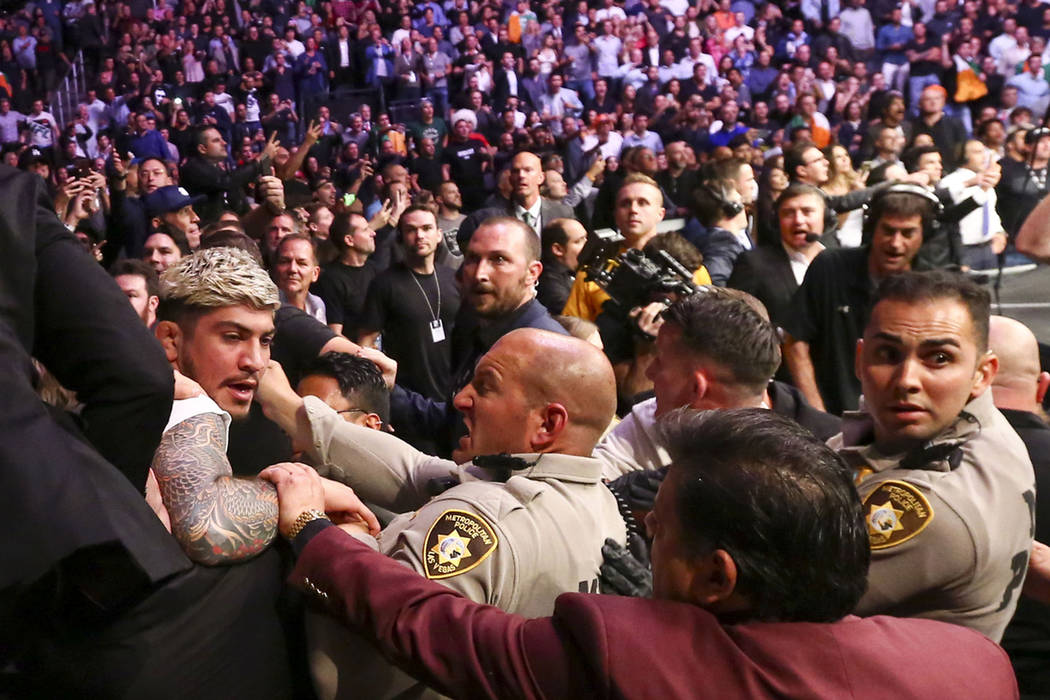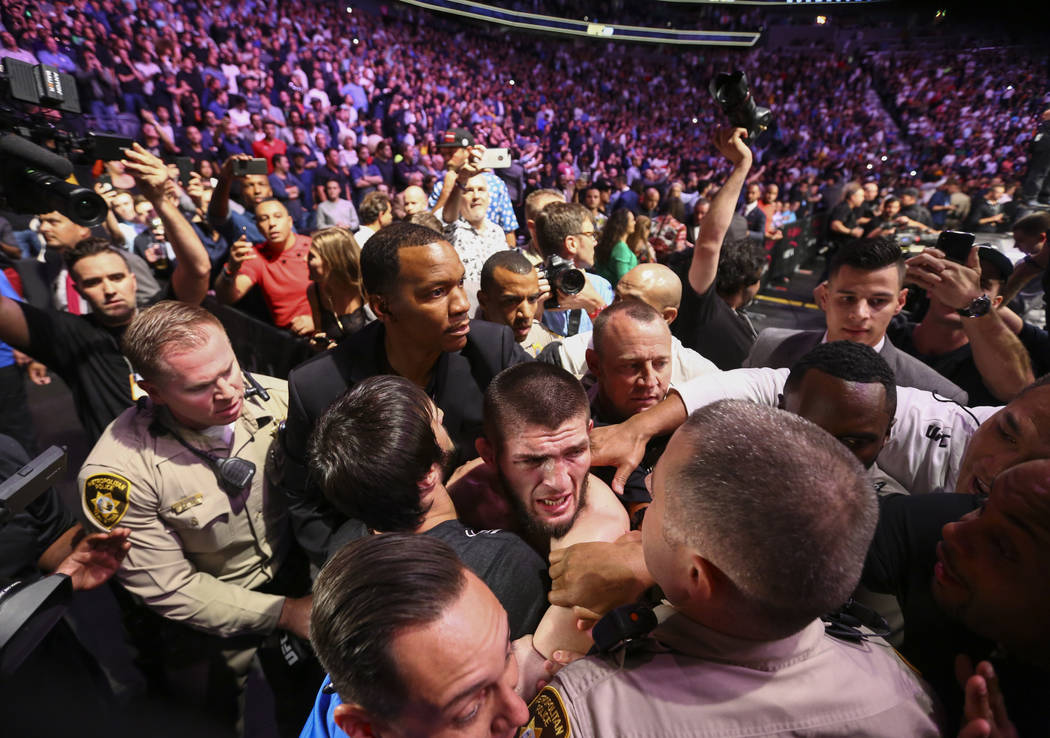 Conor McGregor and Khabib Nurmagomedov will remain suspended pending the outcome of the disciplinary process by the Nevada Athletic Commission.
The commission voted unanimously during a Wednesday meeting at the Grant Sawyer Building to extend the temporary suspensions of both fighters for their roles in a melee at T-Mobile Arena following their UFC 229 main event Oct. 6.
Both fighters had been under 10-day suspensions, the maximum allowed without a formal vote of the commission.
NAC executive director Bob Bennett is currently conducting an investigation which will culminate in a formal complaint being filed against each fighter.
Chairman Anthony Marnell indicated the disciplinary hearing should be held in December and requested both fighters appear before the commission in person at that time.
"I'm not going to do that hearing over the telephone," he said.
The commission also voted to release half of Nurmagomedov's fight-night purse to the fighter. A check for $2 million was withheld from the lightweight champion after the fight, but $1 million will now be paid out with the other $1 million being held back in case hefty fines are levied.
McGregor's $3 million purse check was released in full after a preliminary investigation on fight night, though camera angles released later showed McGregor trying to scale the cage and join the fray. He also exchanged punches with members of Nurmagomedov's team.
Marnell indicated the commission would have withheld McGregor's purse had he seen the additional camera angles at the time.
Nurmagomedov retained the lightweight title with a fourth-round submission of McGregor after months of nasty rhetoric and even actual violence between the fighters and their camps leading up to the fight.
After the victory, Nurmagomedov jumped over the cage and attacked one of McGregor's training partners, igniting a chaotic scene with skirmishes both inside and outside the cage as well as in close proximity to spectators.
Deputy attorney general Caroline Bateman said during the hearing the commission has the authority to issue a lifetime ban and a fine of up to 100 percent of the fighter's compensation, which includes the disclosed purse and all bonuses.
The maximum penalty is unlikely for either fighter.
More MMA: Follow all of our MMA and UFC coverage online at CoveringTheCage.com and @RJ_Sports on Twitter.
Contact Adam Hill at ahill@reviewjournal.com or 702-277-8028. Follow @AdamHillLVRJ on Twitter.