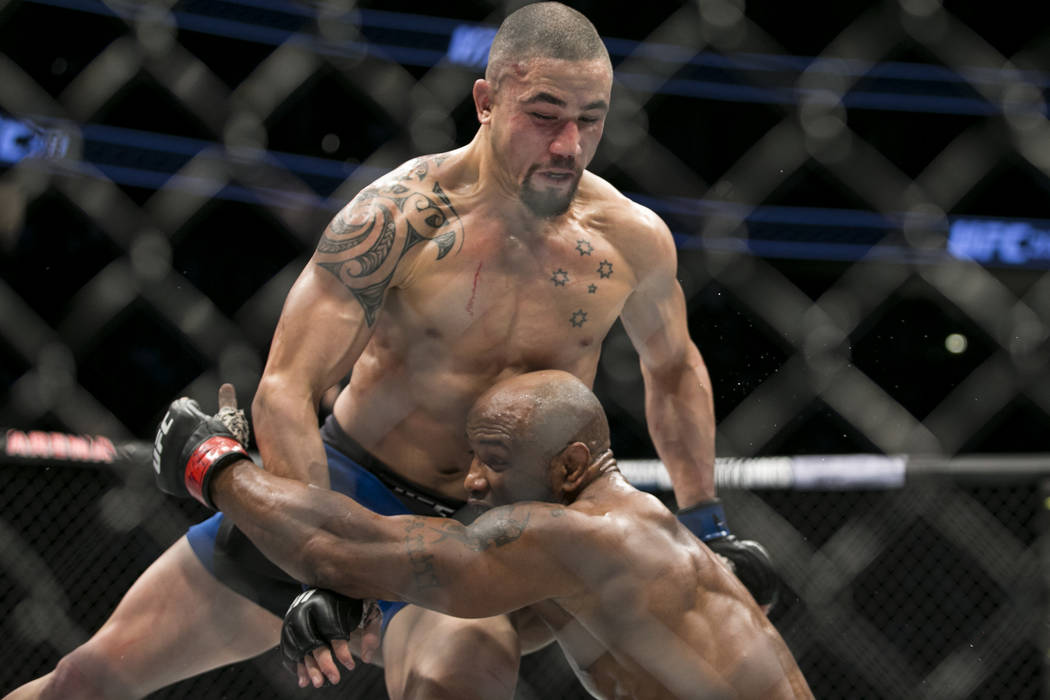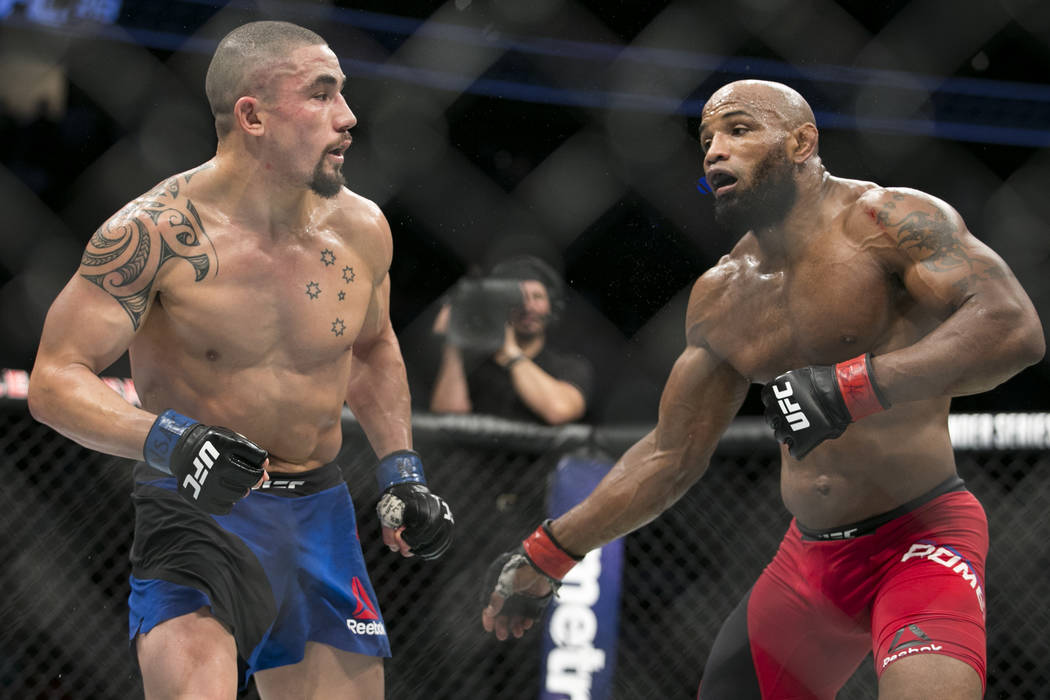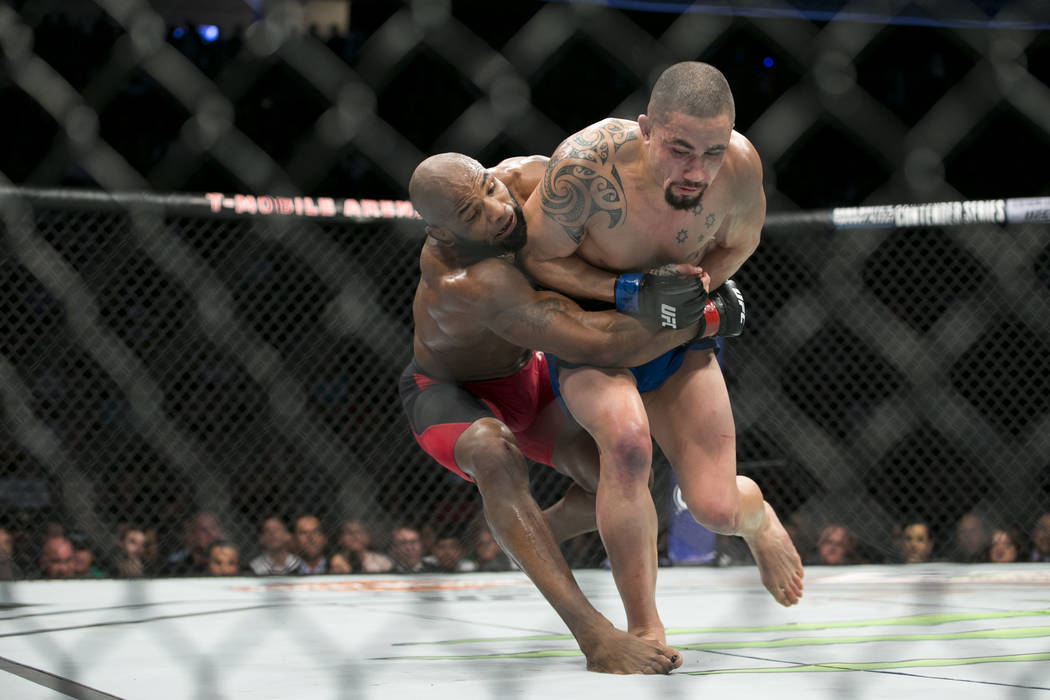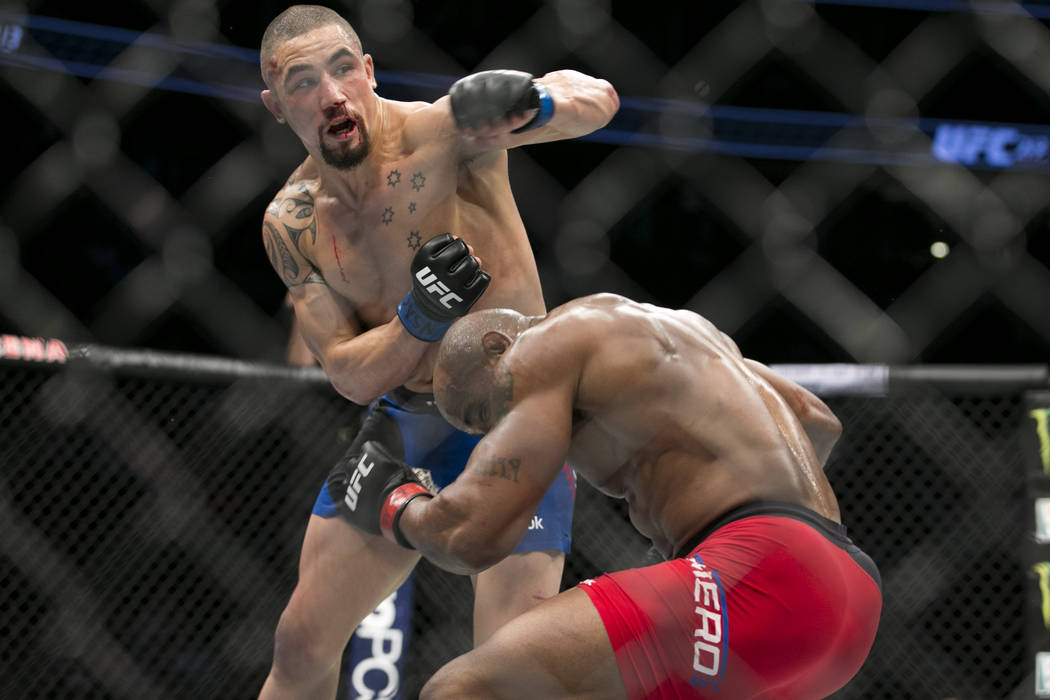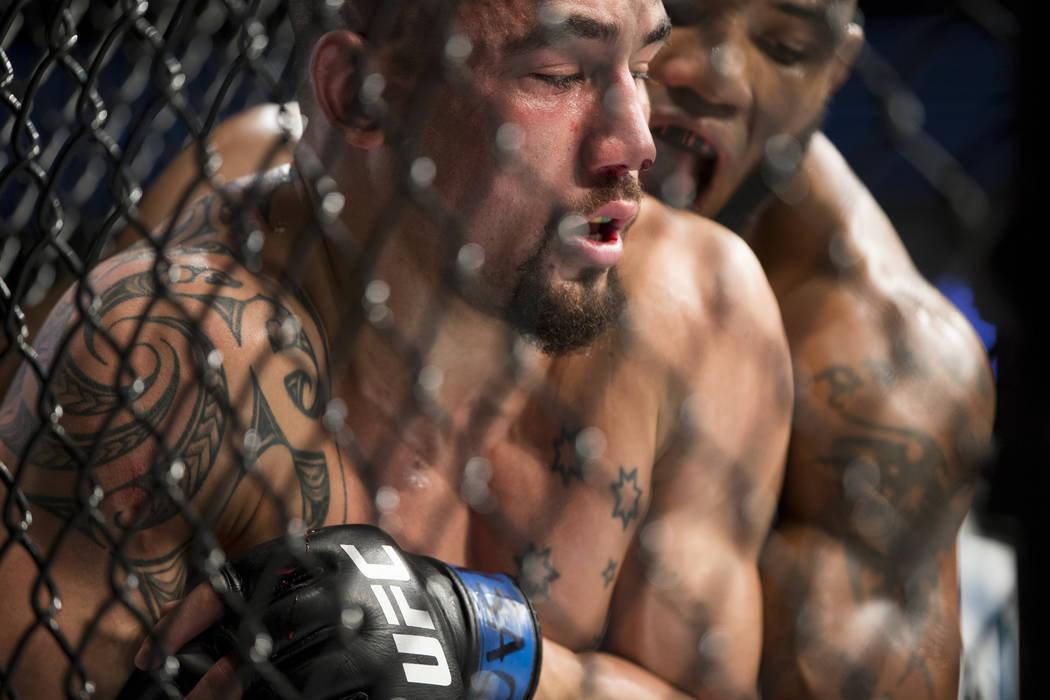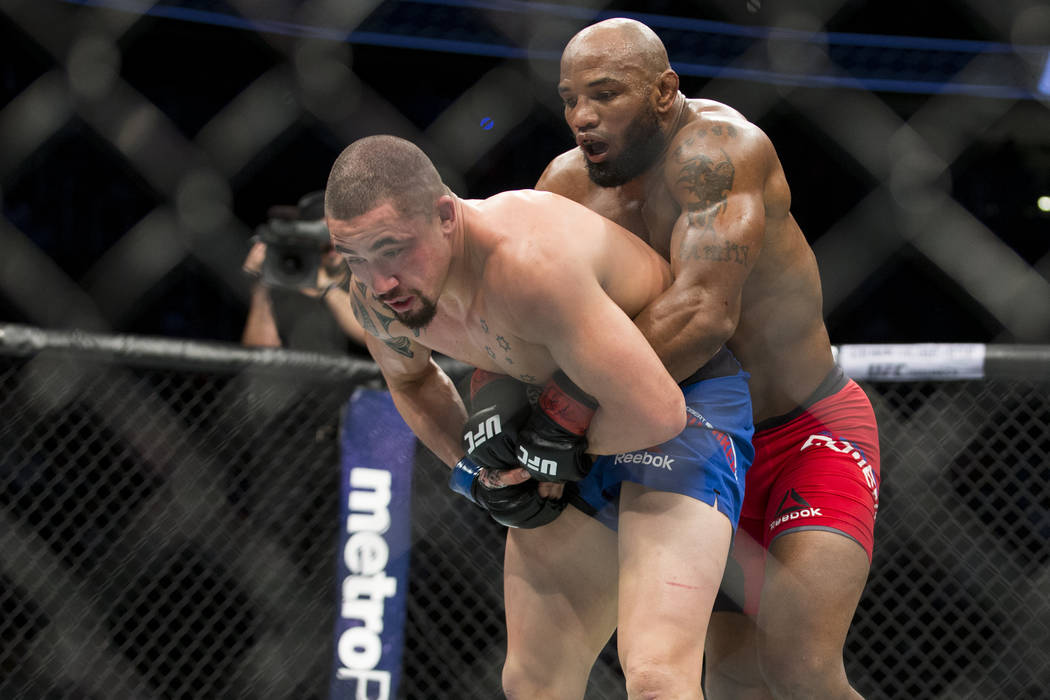 Robert Whittaker's reward for enduring a 25-minute battle with Yoel Romero on a bad knee in the main event of UFC 213 at T-Mobile Arena on Saturday night was an interim middleweight belt.
He knows Michael Bisping is still the UFC's 185-pound champion, but Whittaker is not about to diminish his own accomplishments.
"I had to fight a five-round war with Yoel Romero," Whittaker said after his unanimous-decision victory. "I think if you fight a five-round war with Yoel Romero then you deserve a medal of your own. He's one of the most dangerous dudes on the planet. Nobody wants to fight him and for good reason. I worked hard for that bit of shiny metal and that's what that is a symbol of. I am now the No. 1 contender, and while the current champ is on the bench, I'm filling that seat and I'm taking on the head honchos. I'm taking on those killers and I'm taking on the responsibility of being the champion."
An injured Bisping clearly wasn't impressed as he entered the cage after Whittaker's victory to start the promotion for their eventual fight with a futile attempt to rattle the newly-crowned interim champ.
"The fact that you're standing here with that belt on like you're a champion makes me sick," Bisping said. "You should be ashamed of yourself."
Whittaker has never been one to jump into the fray, and he says that's not going to change just because he's on the verge of a title unification bout and the biggest fight of his life.
"Michael Bisping is Michael Bisping," he said., "He is who he is and he's going to do what he's going to do. I'm just going to be me. I go into the fight with the same amount of respect for every athlete. And I'm going to be me in that fight. I'm going to be me on the media and he can work with that."
Whittaker credits his team and coaches for helping him not only reach this level, but piecing together a plan to navigate the five rounds against Romero after a kick in the first round damaged a left knee that had already been injured during training camp.
He also had to overcome losing the first two rounds on the scorecards, which may have happened because of the injury.
"In the first and second rounds it was hard to ignore, because it was fresh," Whittaker said. "The injury was fresh and it hurt. With the adrenaline running in a fight, for something to hurt, you know it's injured. But like I've said a hundred times, I have the best team in the world. My corners gave me precise answers. They gave me the cool, calm and collected focus that I needed and I drew from that to really get over that hill in this fight."
'Fated to fight' Bisping
Now, he finally gets his shot against Bisping. They were scheduled to fight at November 2015 in Australia before Bisping was champion, but Bisping had to pull out due to an injury.
It will finally happen with much bigger stakes.
"I'm pretty sure me and Bisping are fated to fight," Whittaker said.
He said he may not be ready in time to fight in November at Madison Square Garden or in Whittaker's hometown of Sydney, but the end of the year card in Las Vegas is a possibility, depending on what an exam of his injury reveals.
When the fight does get booked, it will be another marquee spot for Whittaker, who was thrust into the main event on Saturday when women's bantamweight champion Amanda Nunes withdrew from her title defense against Valentina Shevchenko just a few hours before the fight.
A frustrated Dana White said Nunes was cleared by doctors and decided to pull out anyway. The UFC president said he is unlikely to put Nunes in another main event, but is targeting the UFC 215 card in Edmonton on Sept. 9 to rebook the title bout.
Contact Adam Hill at ahill@reviewjournal.com or 702-277-8028. Follow @adamhilllvrj on Twitter.
UFC 213
T-Mobile Arena
Final Numbers and UFC Bonuses
Gate: $2.4 million
Attendance: 12,834
Fight of the night: Romero vs. Whittaker
Performances of the Night: Chad Laprise, Rob Font
Statement from Amanda Nunes
"Everyone is wanting to hear my side so here it is: I have chronic sinusitis. I have fought with it before but this time it didn't work out. During the weight cut I was unable to breathe and felt off-balance from the pressure in my sinuses. I was not feeling well enough to risk getting punched in the head with such pressure. I was taken to the hospital after weigh-ins and they only checked my blood and dehydration so they cleared me based on that. The next day I went back and they did a CT scan and found a buildup and they prescribed antibiotics and referred me to a specialist. I have never pulled out of a fight before. I am sorry to all my fans that came out to see me. I'll make it up to you the next time I step in the cage. The fight is being rescheduled. I still want this fight. I still want this opponent. Thank you."