Ovince Saint Preux no 'warmup' opponent for Jon Jones in UFC 197 — VIDEO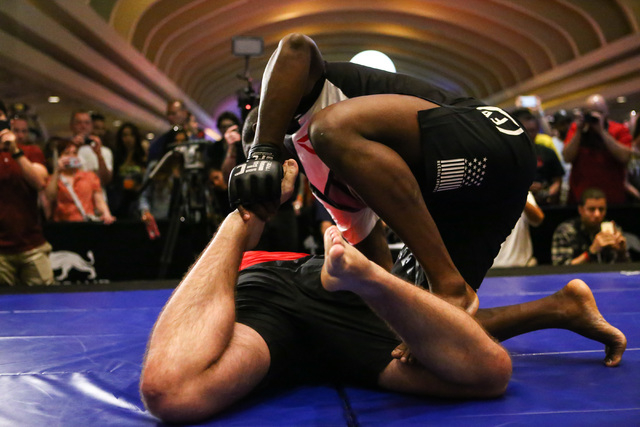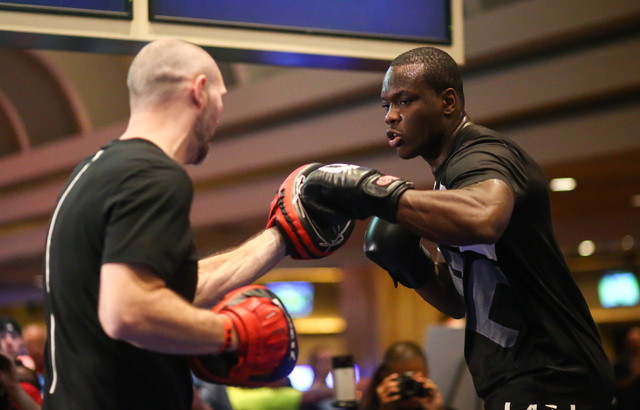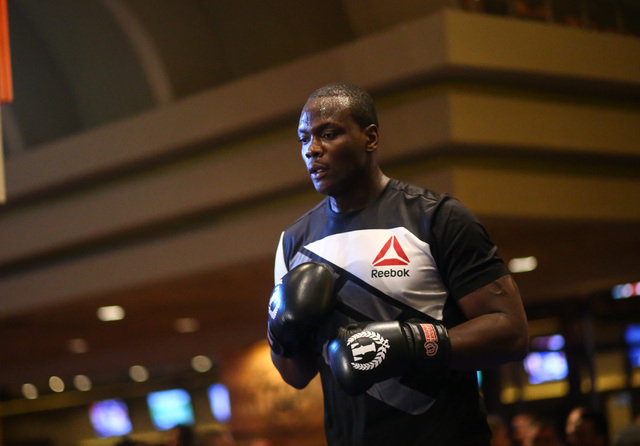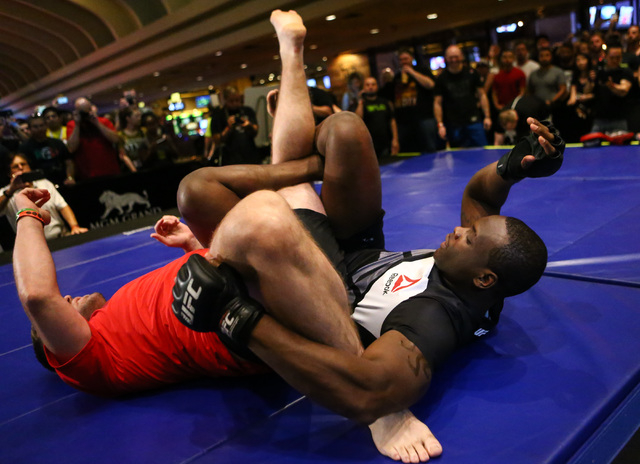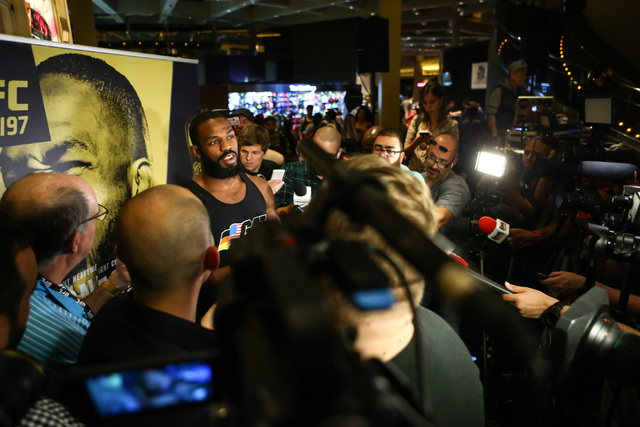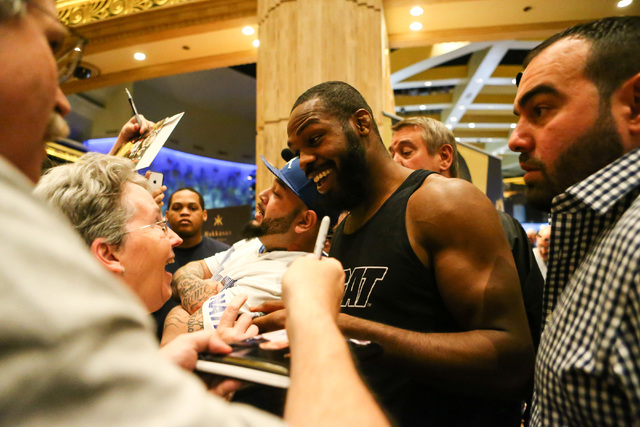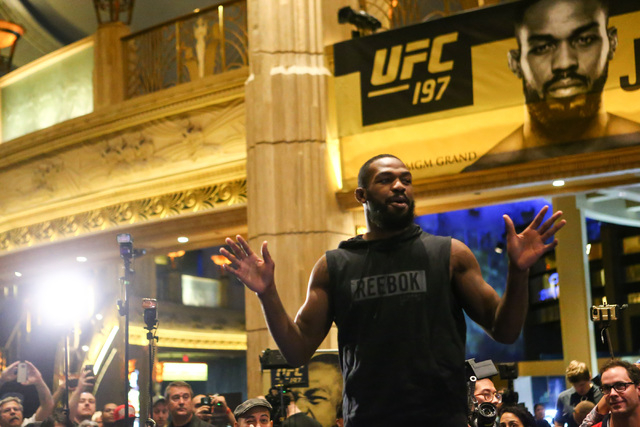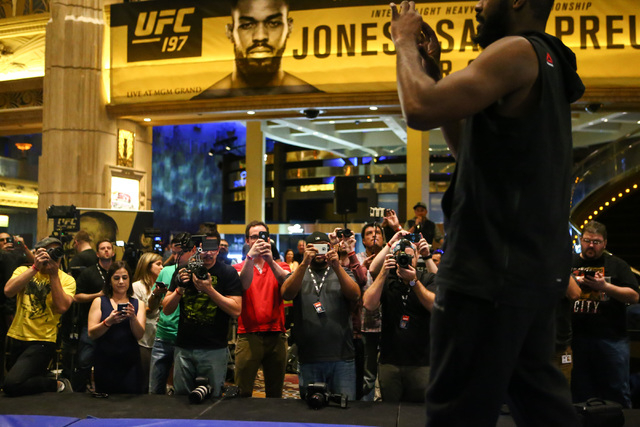 Former Tennessee football player Ovince Saint Preux doesn't look like a huge underdog tasked with fighting the best mixed martial artist in the world on short notice Saturday as he walks around the MGM Grand.
Saint Preux was beaming as he talked to reporters after an open workout on the casino floor Wednesday in advance of his Ultimate Fighting Championship interim light heavyweight title bout against Jon Jones in the main event of UFC 197 at the Grand Garden.
"I'm just out here walking around happy and smiling," Saint Preux said. "As long as I can keep this positive vibe going, I'll be good. I'm just happy to be here."
Saint Preux, 33, was offered the fight less than three weeks ago after light heavyweight champ Daniel Cormier was forced to pull out because of a leg injury. Saint Preux is a 5-1 underdog at Las Vegas sports books.
But he quickly accepted the fight and has a chance to play the role of spoiler, as a victory over Jones at least temporarily would spoil a planned mega-rematch between Jones and Cormier this summer.
"This is a great opportunity," Saint Preux said. "The door was cracked a bit, and I'm just going to bust it open."
Perhaps some of the reason Saint Preux maintains such a pleasant disposition is because it's a fight for which he has prepared for years — even if he took it on short notice.
"So we've been studying his (Jones') game for a long time trying to come up with the perfect game plan against the perfect fighter for years," said Eric Turner, Saint Preux's head coach at Knoxville Martial Arts Academy. "It's kind of like having an opponent you know you're going to fight five or six years out trying to come up with a game plan. So when they called and asked if we wanted to fight him, we said, 'Yeah.'
"We've been wanting to do this for a while to see if our theory works."
Not much has worked against Jones, who is 21-1 — 15-1 in the UFC — in his MMA career. His only loss was a controversial disqualification against Matt Hamill in 2009.
Jones had won eight straight title defenses, including a unanimous decision over Cormier in January 2015, before being stripped of the belt and suspended indefinitely after he was charged in a hit-and-run incident last year in Albuquerque, New Mexico.
UFC 197 will mark Jones' return to competition. Instead of a massive rematch against Cormier, he will fight the division's No. 6-ranked contender.
"Initially I was a little upset, because I felt that the time to get my belt back was going to be a few days from now," Jones said. "But I'm the type of guy who tries to find the good in situations, and I thought, 'Maybe I needed to fight someone else. Maybe I needed to fight Ovince beforehand.'
"But I definitely am not looking at him as a warmup fight. That would be flat out foolish to call a guy with Ovince's ability a warmup fight. This guy has got some really tremendous highlights throughout his career, so I know what he's capable of."
Saint Preux, whose brother Renan played wide receiver at UNLV, expects to see Jones at his best despite the fact he hasn't fought since his victory over Cormier.
"(I expect to see) the version I've always seen," Saint Preux said. "That's the guy I want to fight anyway. That's what's going to make it epic."
While Saint Preux might have been better served with a full training camp to prepare for the biggest fight of his life, he thinks there's advantages to the abbreviated run-up.
Saint Preux concedes a three-month camp can get tedious, especially eating bland foods for an extended period to cut weight. Plus, there's not as much time to think about the enormity of the situation and to do countless media appearances.
He said he was in good shape when he got the call to face Jones, even though he wasn't training for a fight. And he's confident, having won three of his past four fights, including two by knockout.
Turner said it also has helped diminish expectations of how much of a threat Saint Preux can be to Jones.
"It is very helpful because nobody expects him to win, nobody expects him to anything," Turner said. "Everyone expects Jon to just win and go fight DC. We're just plugging along doing our thing, and we don't care what anyone else says. We have a saying in our gym, KMA versus everybody. He only worries about what we think, and we all love and support him, so he's good."
The bout headlines a pay-per-view card that includes a flyweight title bout between champion Demetrious Johnson and Olympic wrestling gold medalist Henry Cejudo.
Contact reporter Adam Hill at ahill@reviewjournal.com or 702-224-5509. Follow him on Twitter: @adamhilllvrj