Pearl Gonzalez cleared for UFC debut despite very real fiasco over breast implants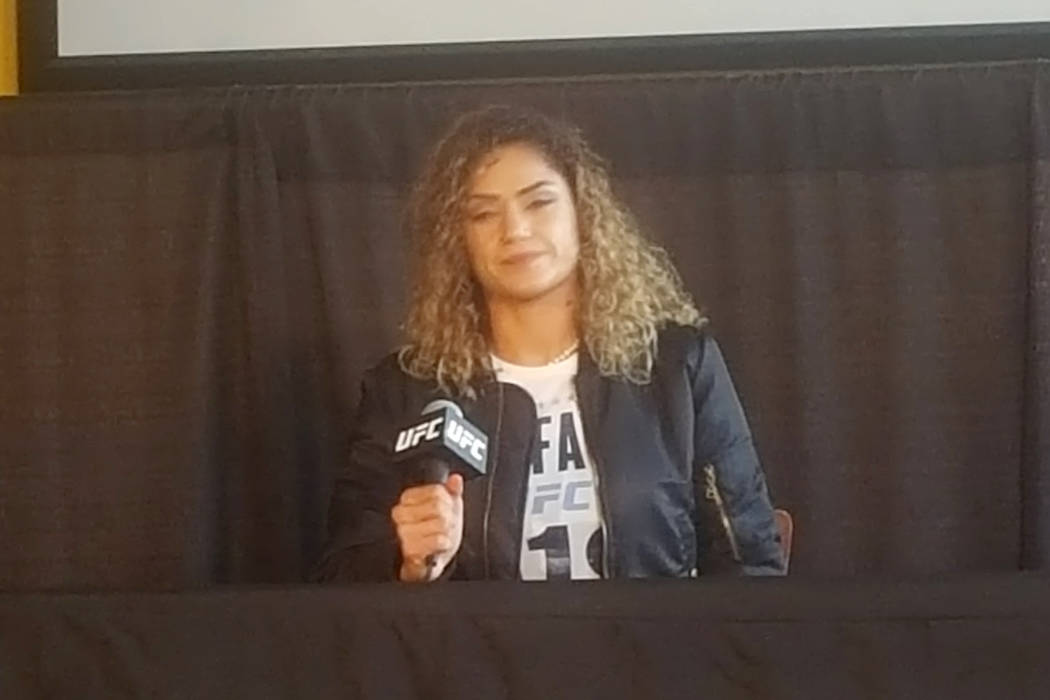 BUFFALO, N.Y. — Women's strawweight prospect Pearl Gonzalez has spent years in the gym doing everything she could possibly do to prepare herself to reach the highest levels of her sport.
But it was some work she had done on her body that nearly prevented her from making her UFC debut.
Moments after hitting the scales at Friday's weigh-ins, Gonzalez was informed by a New York State Athletic Commission official that she would not be able to compete against Cynthia Calvillo on the main card of UFC 210 at KeyBank Center on Saturday.
"They just said breast implants weren't allowed (for combat sports participants) in this state," she said. "I was a little appalled and just asked if I could talk to my team."
Gonzalez spent several hours unsure of whether she would be able to fight on Saturday, but insisted to her team continue to prepare as if she would fight because she believed the issue could be resolved.
Shortly before 4 p.m., Gonzalez received good news.
UFC officials had put athletic commission officials in touch with her doctor and the original decision was overruled.
"After careful consideration and review, including a conversation with Pearl Gonzalez's treating physician, the Commission has determined that Ms. Gonzalez is medically cleared to participate in the UFC 210 event," the commission stated in an e-mail.
The state's boxing regulations explicitly prohibit fighters with breast implants from competing in New York. Professional MMA was not legal in the state until last year, however, and there doesn't appear to be a specific rule governing the matter in the state's new mixed martial arts rules. The Nevada Athletic Commission has no official rules about breast implants.
According to a source close to the organization, the UFC's lawyers were involved in discussions with the NYSAC on Friday.
Gonzalez, who indicated she has always been honest on her medical forms and informed the commission of her breast enhancement when she was asked if she ever had surgery, was ecstatic at the news she would remain on the card. She realizes the social media hysteria over her plight could be advantageous in the long run even if it's an uncomfortable issue.
"At the end of the day, it's out there," she said. "There's nothing I can do about it. I'm not going to dwell on it. I'm going to stay focused on getting my win tomorrow night and that's it.
"I don't think I wanted the world to know about my surgery and to be talked about like this. I have worked very hard to show how talented I am. I have a lot to bring to this division, and that's what I would like to be known for."
The 30-year-old fighter is 6-1 and has a rare opportunity to make a big splash in her UFC debut as part of a pay-per-view main card.
Not surprisingly, she saw a surge in followers on Twitter and Instagram. Regardless of how people found out about her, Gonzalez is now in charge of how she's remembered.
"All media is good media, so I'm going to ride this wave, and if this makes my fight bigger and gets my name out there, I'm going to ride it," she said. "I'm going to win tomorrow night, and I'm going to show the world that not only do I have breast implants, but I am a talented fighter."
That plan is both real and spectacular.
Contact Adam Hill at ahill@reviewjournal.com or 702-277-8028. Follow @adamhilllvrj on Twitter.