Ponzinibbio makes quick work of Nelson at UFC Fight Night 113
Updated July 16, 2017 - 11:05 pm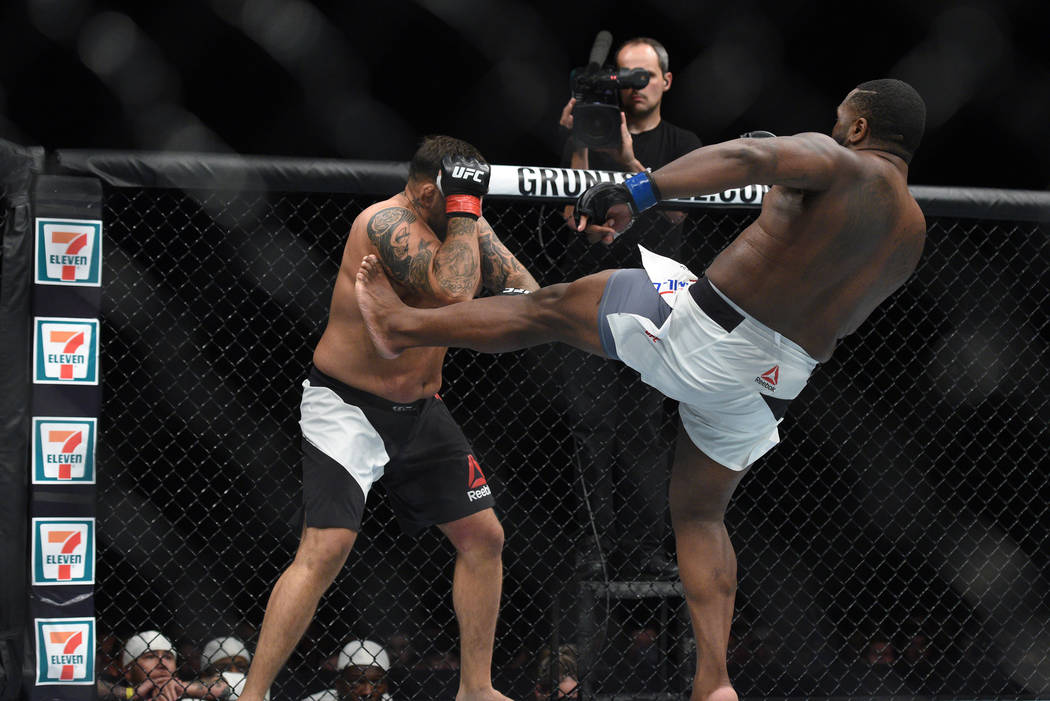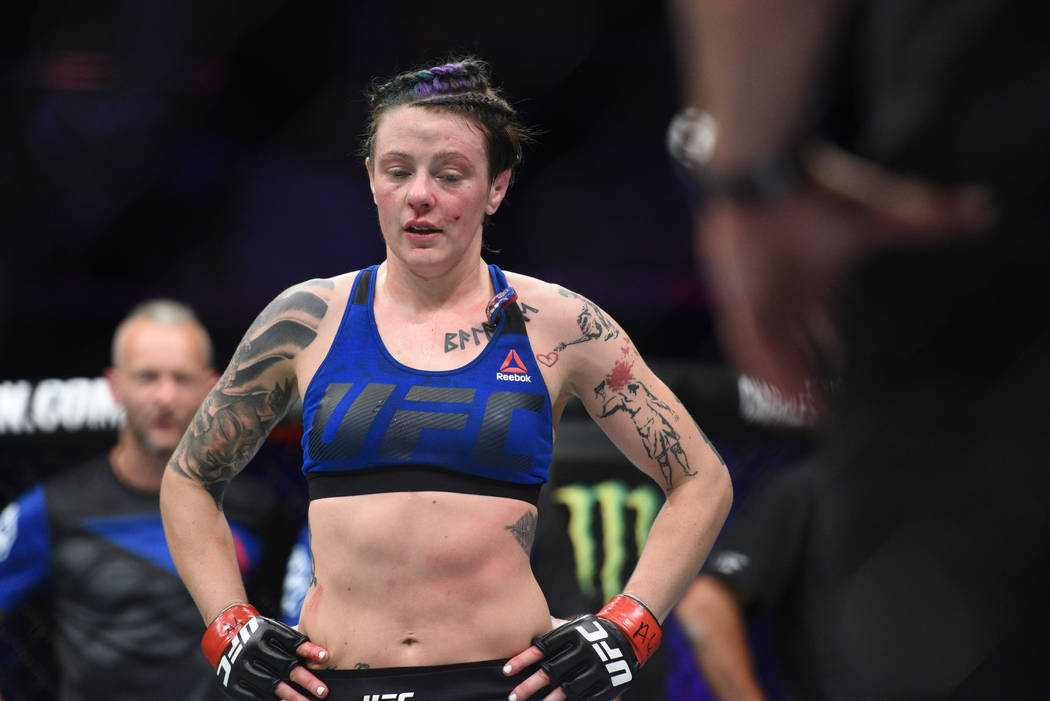 When Gunnar Nelson gets an opponent to the mat, he typically finds a way to win his fights.
Santiago Ponzinibbio avoided that fate by ending the main event of UFC Fight Night 113 on Sunday before Nelson could even try a takedown.
Ponzinibbio staggered Nelson with a right hand and then finished him with a crushing left hand against the cage at 1:22 of the first round in Glasgow, Scotland.
"I trained very hard for a long time and I knew that the positive results would come," Ponzinibbio said. "I respect Gunnar a lot and knew he would come ready for a war. Beating a tough opponent like him in the first round, in less than two minutes, was really surprising. For those who did not believe in me, here is the result. If a jab of mine did this, imagine my right hand.
It was the fifth straight win for the welterweight, including three by knockout.
Nelson, a close friend and training partner of Conor McGregor, had success early, uncoiling from his karate stance to catch Ponzinibbio with several punches before catching the big right hand.
"I thought I was doing really well in the beginning," Nelson said. "In the first exchange I caught him with an uppercut and he poked me in the eye and I really should have said something because I was seeing double for the rest of the fight. He caught me with a shot that I didn't really see. The eye is still sore now but it's just one of those things, I really should have said something and I don't know why I didn't. Maybe I would have seen that shot that caught me but it is what it is."
Nelson had won his last two fights by submission and was hoping to break into the top five. Instead, it's Ponzinibbio who will likely make a big leap in the rankings.
Cynthia Calvillo is also poised for a major step forward in the women's strawweight division after winning a unanimous decision over Joanne Calderwood in the co-main event.
The striking exchanges were fairly even, but Calvillo was able to secure takedowns at the end of the first and third rounds. She nearly secured a rear-naked choke only to have the bell sound to end the fight at the end of the third.
"I wish I could have got the finish, but I got the win so ultimately that's what matters," Calvillo said. "Two times I had that choke in though. If I'd had 10 more seconds she would have been done, she would have been tapped out. That choke was in deep. Literally as soon I heard the bell ring all I heard was her breathing, like she felt so much relief. She was done for."
It was the third win for Calvillo since making her UFC debut in March.
"I'd like to get another fight before the end of the year," the rising star said. "I want to keep on climbing up those rankings, keep getting better, keep evolving and pretty much just close up all the holes in my game and become the best fighter I can be so that I can be world champion. I want to fight the very best because I don't want there to be any question that I'm the best in the world, and that's what I want to become."
Also on the main card, Las Vegan Khalil Rountree knocked out light heavyweight Paul Craig in the closing seconds of the first round for his second straight win.
"It couldn't have ended any better," Rountree said "I think that anybody who knows who I am, knows that I possess knockout power but they think that's all that I possess. I've just got to keep showing what I can do and keep getting better. They'd better get me now while I'm young."
Lightweight Paul Felder also knocked out Stevie Ray in the first round. Middleweight Jack Marshman won a unanimous decision over Ryan Janes and heavyweight Justin Willis made a successful UFC debut by winning all three rounds of a unanimous decision over James Mulheron in the opener of the main card.
On the preliminary card, Alexandre Pantoja spoiled the retirement bout of Neil Seery by choking him out midway through the third round.
"Back when I started, no one ever gave me a chance," the 37-year old Irish flyweight said of a career that began 1-4 and included seven fights in the UFC. "So just to think that I was able to move forward to this level, (is amazing). My coaches always believed in me and they made me believe in myself. When nobody gave me a chance, they did. It has just been a fantastic journey. I'm glad it's ended now, though. The athletes who are in this sport now are just unbelievable so it's the right time. I'll live to fight another day, just not inside the octagon."
Welterweight Danny Roberts knocked out Bobby Nash and Galore Bofando made an impact in his UFC debut by knocking out welterweight Charlie Ward when he threw him to the ground.
Danny Henry earned a unanimous-decision victory over lightweight Daniel Teymur and Brett Johns won all three rounds in a decision victory over Albert Morales.
Women's bantamweight veteran Leslie Smith opened the preliminary card with a second-round knockout of Amanda Lemos.
Contact Adam Hill at ahill@reviewjournal.com or 702-277-8028. Follow @adamhilllvrj on Twitter.