Preview and picks for UFC 226
Updated July 6, 2018 - 7:04 pm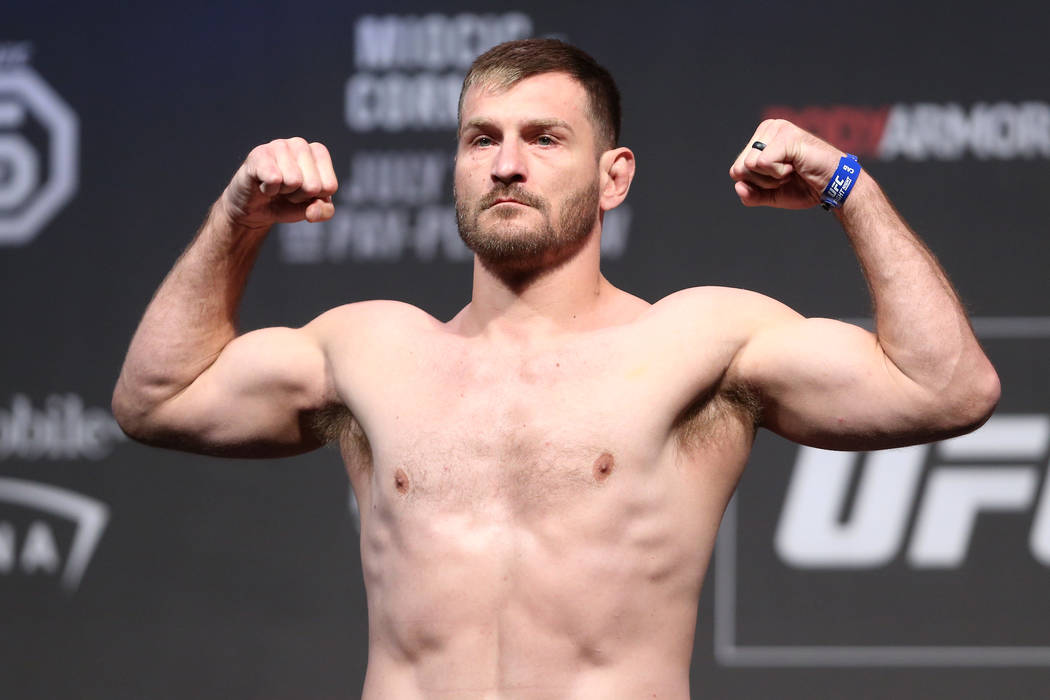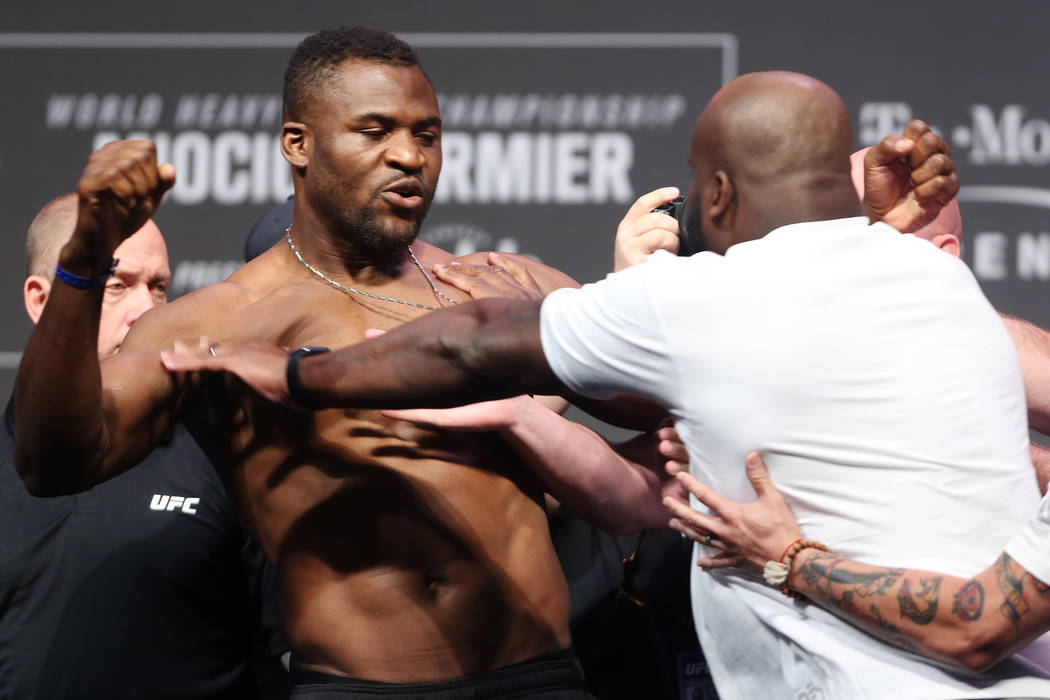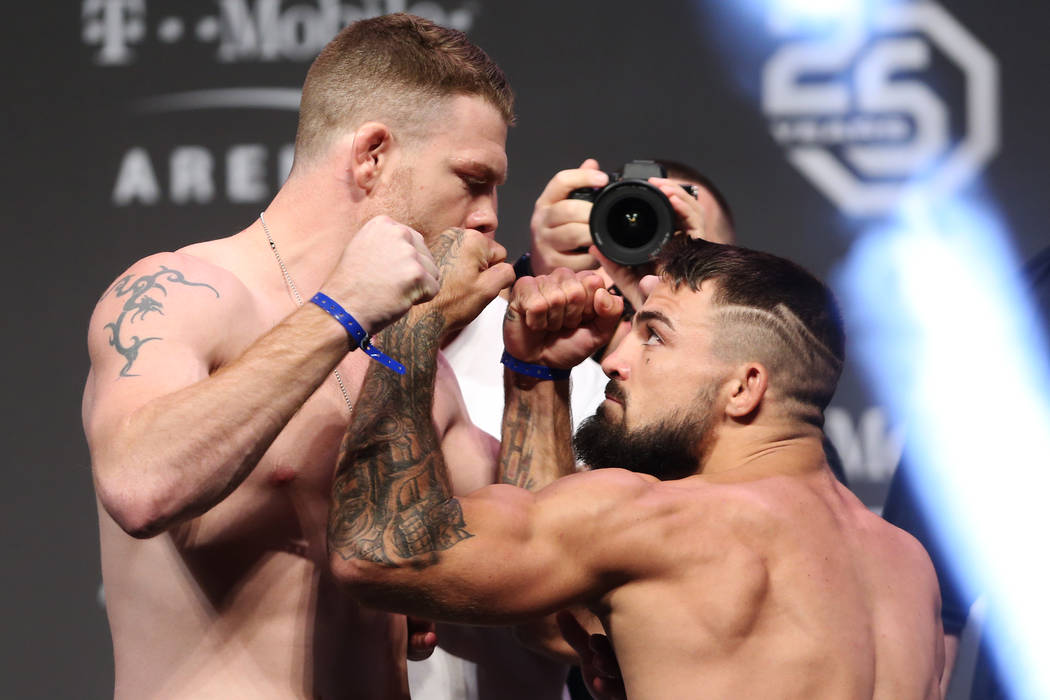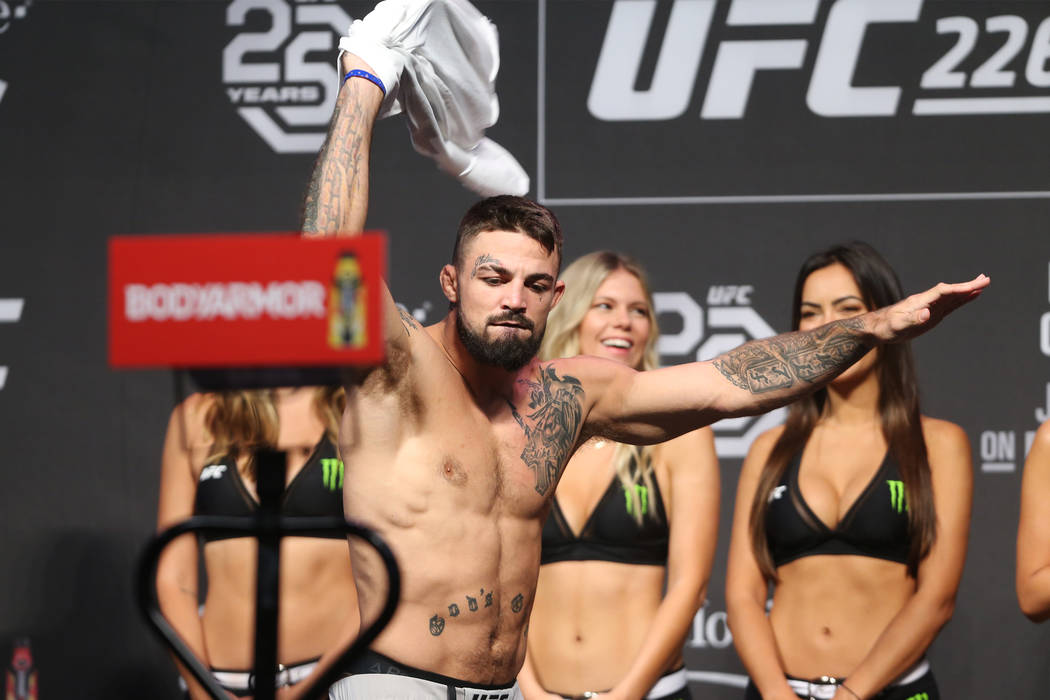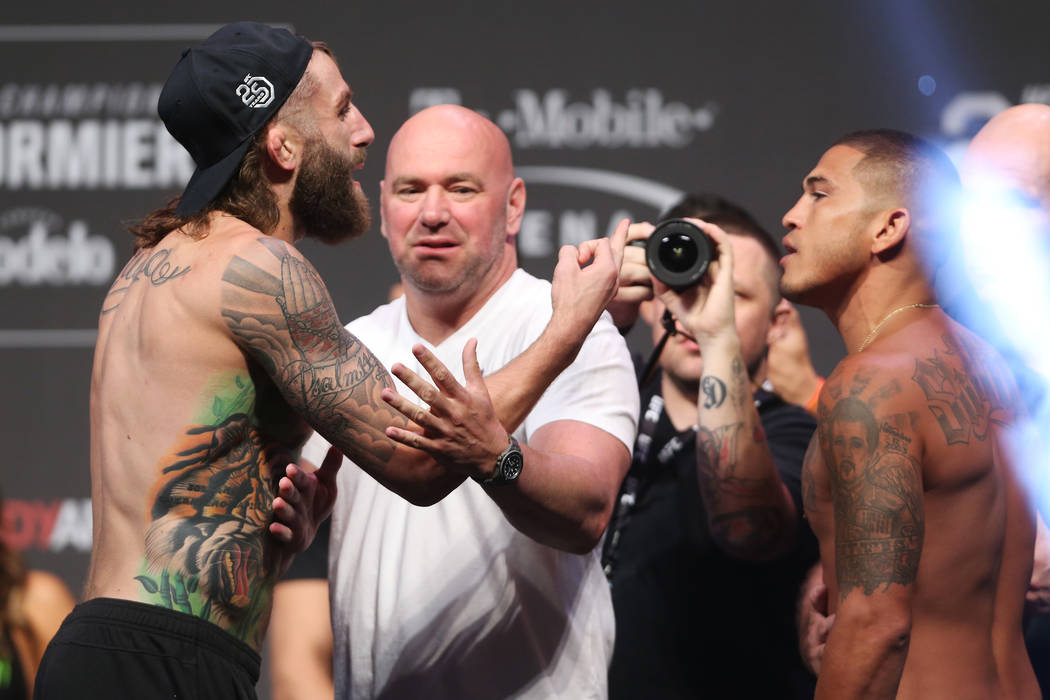 A breakdown of the fights on the main card of Saturday's UFC 226 card at T-Mobile Arena, with picks from the Review-Journal's Adam Hill and Heidi Fang:
Stipe Miocic (18-2) vs. Daniel Cormier (20-1, 1 No Contest)
Class: For Miocic's heavyweight title
Line: Miocic -240
Storyline: This is not a typical case of a light heavyweight trying to move up to challenge a much bigger opponent. Cormier, the light heavyweight champ, spent the early part of his career dominating the heavyweight division. He won't be intimidated by moving up. In fact, Cormier actually weighed in more than three pounds heavier than Miocic. Cormier also has a more diverse attack with his elite wrestling background. Miocic relies on his knockout power and so far he hasn't needed much more. He is the first heavyweight champion in UFC history to defend the belt three straight times and even showed off his ground game by controlling Francis Ngannou with the clinch and takedowns in his last fight. He won't be able to do the same against Cormier, which is why the betting line is probably a bit high. Cormier never so much as lost a round as a heavyweight and Miocic does his best striking at close range so he will have to come inside to Cormier's comfort zone. Nobody has fared well there except for Jon Jones.
Hill's Pick: Cormier by third-round submission
Fang's Pick: Miocic by fourth-round knockout
Francis Ngannou (11-2) vs. Derrick Lewis (19-5, 1 No Contest)
Class: Heavyweight
Line: Ngannou -365
Storyline: There probably wasn't a whole lot of time spent on gameplanning in these respective camps. Both fighters are very reliant on power punches and will be looking for the early finish. Ngannou had been laying waste to the division before he was worn down and out-grappled by Miocic in a title fight in January. He's likely to find an opponent far more willing to play his game in Lewis. Ngannou, however, believes even Lewis will deviate from his normal style and try for takedowns as soon as he feels his power. This is far too high a price to pay on a favorite in a fight where one punch is likely to change the course of the entire fight, but Ngannou will have a massive speed advantage and should find a way to get back on track, possibly even earning himself another title shot.
Hill's Pick: Ngannou by second-round knockout
Fang's Pick: Lewis by decision
Paul Felder (15-3) vs. Mike Perry (11-3)
Class: Welterweight
Line: Felder -155
Storyline: Felder, a lightweight, accepted this fight on short notice when Felder lost his opponent less than two weeks ago. He was already training for a fight later this month, however, so he shouldn't be affected by the short-notice call particularly because he didn't really have to endure a weight cut. Perry is one of the more polarizing personalities in the sport. He is a trash-talking power puncher who has no filter either in interviews or on social media. Perry was on the verge of contention before suffering back-to-back losses. He will look to land a big shot to get back on track, but Felder is very technically sound and could frustrate Perry if he's able to get comfortable early in the fight.
Hill's Pick: Felder by decision
Fang's Pick: Felder by decision
Michael Chiesa (14-3) vs. Anthony Pettis (20-7)
Class: Lightweight
Line: Chiesa -160
Storyline: They were scheduled to fight in April until Chiesa was bloodied by a hand truck thrown by Conor McGregor in the incident for which McGregor is now facing charges. It's a huge opportunity for Chiesa to get a big-name win against a former champion in Pettis, who has struggled to regain the form that carried him to the top of the division. Pettis is a fantastic athlete with explosive ability both in the standup and in his submission game. He just hasn't been able to find consistency and may once again be in for a difficult task against Chiesa, who is relentless with his aggression and pressure. He will limit the space in which Pettis has to work, which is the best way to slow him down. Pettis insists he has discovered a better training formula that has him training less wrestling and returning to what made him so good early in his career. Chiesa will test that, though he missed weight on Friday.
Hill's Pick: Chiesa by decision
Fang's Pick: Pettis by third-round knockout
Gokhan Saki (1-1) vs. Khalil Rountree (7-3)
Class: Light heavyweight
Line: Saki -140
Storyline: Saki is an elite force in the kickboxing world that essentially made his pro MMA debut when he knocked out Henrique da Silva on a UFC card in September. His only previous fight was essentially as a volunteer at a fight card in England back in 2004. He is a brilliant technical striker who has plenty of power, but does most of his damage through volume and precision. Rountree, who trains in Las Vegas, had his two-fight winning streak snapped in December only to have the loss vacated when Michał Oleksiejczuk tested positive for performance-enhancing drugs. Rountree had knocked out his two previous opponents in the first round and has really showcased his power. He won't want to get in a straight kickboxing match with Saki, though.
Hill's Pick: Saki by second-round knockout
Fang's Pick: Saki by decision
More MMA: Follow all of our MMA and UFC coverage online at CoveringTheCage.com and @CoveringTheCage on Twitter.
— Adam Hill/Las Vegas Review-Journal