RJ's Adam Hill, Heidi Fang preview UFC 210 matchups — VIDEO
Updated April 7, 2017 - 6:22 pm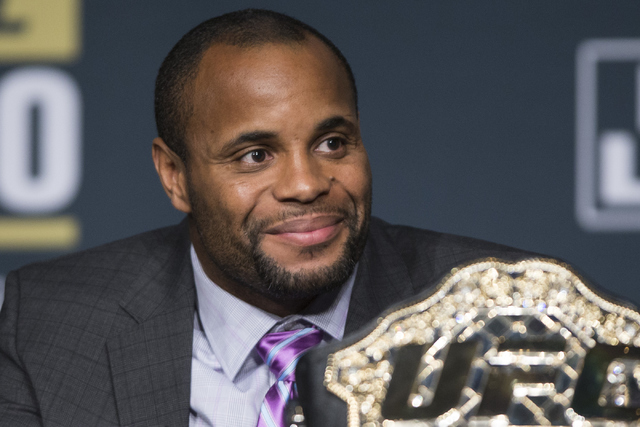 Daniel Cormier (18-1) vs. Anthony Johnson (22-5)
Class: For Cormier's light heavyweight title
Line: Johnson minus-120
Storyline: Cormier somehow made weight. After putting the title fight in jeopardy by weighing in at 206.2 pounds Friday morning, Cormier disappeared for more than two minutes and returned right on the mark at 205. How exactly that happened, or whether he pushed down on a towel to trick the scale, doesn't matter once the bell rings. Cormier looked drained and has to fight one of the UFC's most feared strikers. Cormier felt Johnson's power in the first fight and managed to stay conscious long enough to wear down Johnson and win the title. That's the plan again, but Johnson is at another level and has been more active since their first meeting. Cormier is still fixated on Jon Jones. It might be Johnson who gets a crack at the returning former champ in July.
Hill's pick: Johnson by first-round knockout.
Fang's pick: Johnson by third-round knockout.
Chris Weidman (13-2) vs. Gegard Mousasi (41-6-2)
Class: Middleweight
Line: Pick 'em
Storyline: Two fighters heading in opposite directions meet in a pivotal middleweight bout. Weidman, the former champion, has lost his past two fights. Mousasi has surged up the rankings with four straight wins and is looking for his biggest victory in the UFC. Mousasi is well rounded, but would be best served to try to keep the fight standing. Weidman is outstanding on the ground and probably will try to embrace his roots and grind Mousasi out on the mat. Mousasi insists he has drilled takedown defense so well he guaranteed Weidman can't get him down. If he's right, he will have a great chance to win. It's far easier said than done.
Hill's pick: Weidman by second-round submission.
Fang's pick: Weidman by third-round knockout.
Cynthia Calvillo (4-0) vs. Pearl Gonzalez (6-1)
Class: Women's Strawweight
Line: Calvillo minus-260
Storyline: The bout featuring two grapplers with one combined UFC appearance became the most talked about fight Friday. Gonzalez was told early in the day she could not fight because of a state rule prohibiting fighters with breast implants from competing. After more than four hours in limbo, time filled mostly by people making social media jokes, the New York commission cleared Gonzalez to fight. She will make her UFC debut against Calvillo, who won her organizational debut at UFC 209 in Las Vegas. Both fighters are aggressive on the mat. Calvillo might be slightly more skilled and gets a further boost from the oddsmakers for having already made her UFC debut. Gonzalez probably has value as an underdog, but Calvillo is a legitimate prospect.
Hill's pick: Calvillo by second-round submission.
Fang's pick: Calvillo by second-round knockout.
Thiago Alves (26-12) vs. Patrick Cote (24-10)
Class: Welterweight
Line: Cote minus-160
Storyline: Alves was once a feared striker on the fast track to stardom. The years have not been kind, but he is still dangerous when he's allowed to settle into his range. Cote is a veteran who has evolved from mostly a striker to someone who is comfortable just about everywhere. He still packs quite a punch, but ran into trouble in his last bout against Donald Cerrone. Alves is capable of executing the same type of game plan that allowed Cerrone to have success against Cote. His leg kicks can be devastating, which sets up his power shots. That formula could help Alves snap a two-fight losing streak.
Hill's pick: Alves by second-round knockout.
Fang's pick: Cote by decision.
Will Brooks (18-2) vs. Charles Oliveira (21-7, 1 No Contest)
Class: Lightweight
Line: Brooks minus-240
Storyline: Former Bellator champion Will Brooks hoped to make a splash when he finally made his UFC debut last year, but it hasn't happened. He has looked average in splitting his first two fights, but has an opportunity to score a big win over a flashy opponent. Brooks probably hopes to avoid too much excitement in this one. He should be able to use his strength and wrestling advantages to wear down Oliveira. The Brazilian is at his best when he can scramble and find his way to top position on the mat, where he has a devastating submission game. He's also more comfortable as a striker in a brawl than a technical battle. Brooks wants to keep the fight against the cage and on the mat, where he can frustrate Oliveira and grind out a win.
Hill's pick: Brooks by decision.
Fang's pick: Brooks by decision.
Follow all of our MMA and UFC coverage online at CoveringTheCage.com and @CoveringTheCage on Twitter.