Show will go on for 'TUF,' but iconic Las Vegas gym not so lucky
"The Ultimate Fighter" may go on after all.
The iconic Las Vegas gym that has played a starring role on the reality show's first 28 seasons and other prominent moments in UFC history, isn't as fortunate.
UFC president Dana White told the Review-Journal this past weekend's taping of the Brazilian version of "Contender Series" was the last event that will take place in the facility located in the office park just south of the Palms.
"That's the end of the 'TUF' building," he said. "We bought the building next door to (our headquarters in southwest Las Vegas), which is like 130,000 square feet now to add on to what we already have. We're building a state-of-the-art facility for fights. Next season, we'll be in the new gym and it's going to be awesome."
The facility will host Contender Series bouts and serve as a production set for other programs and projects. That could include future seasons of "The Ultimate Fighter," despite previous reports the new season, which was filmed over the summer and begins airing this month on Fox Sports 1, would be the last as UFC's new TV deal moves to ESPN.
'The Ultimate Fighter' will continue," White said, indicating it may be housed on ESPN-Plus and switch to one season per year instead of two. "There's still a huge market for 'The Ultimate Fighter.' It still does well."
White said most of the memorabilia from the walls will be moved to the new gym.
"There's a lot of history in this building," White said. "It's a very nostalgic place. It's going to be a little weird leaving. It's been a hell of a ride.
"I actually do get sentimental about these things."
White did promise the new building would have fully-functioning air conditioning, something that was not always the case in the warehouse.
Usman staying ready
Top UFC welterweight contender Kamaru Usman is preparing to fight on the UFC 228 card scheduled for Sept. 8 in Dallas.
He doesn't have an opponent.
Usman, who is on a 12-fight winning streak, has been tabbed as a potential replacement for the main event should either challenger Darren Till or champion Tyron Woodley not be able to compete.
UFC officials are clearly concerned with Woodley's health as he works his way back from injury and Till's weight after he failed to make it twice in his last four fights.
"Just a deep feeling in my soul, September 8th I will be the new welterweight champion of the world!!!" Usman posted on Twitter.
Usman will submit medicals and weigh-in just as if he were on the card.
St. Pierre OK with celebrity fights
Former UFC welterweight and middleweight champion Georges St. Pierre is one of the greatest fighters to compete in mixed martial arts.
But he's no purist.
The Canadian superstar said during a media appearance in Australia last week that he's not opposed to the UFC putting on some sideshow type fights as long as its clear which fighters are legitimate athletes.
"Now, you can be the elite, but it's like a reality show, too," he said. "The world has changed, and I think we need to evolve with it.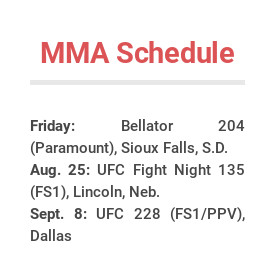 "(UFC) became more mainstream, and to attract more mainstream people, you need to have more mainstream athletes. I think it's a good thing. But let's not confuse who's who."
Some of the possible matchups mentioned pitting Jean-Claude Van Damme against Steven Seagal or a low-level fighter against a rugged hockey goon.
St. Pierre, who said he was just fine with Phil "CM Punk" Brooks getting two shots in the UFC, is interested in fighting the winner of the Oct. 6 bout between Conor McGregor and lightweight champ Khabib Nurmagomedov.
White said that was unlikely.
More MMA: Follow all of our MMA and UFC coverage online at CoveringTheCage.com and @CoveringTheCage on Twitter.
Contact Adam Hill at ahill@reviewjournal.com or 702-277-8028. Follow @AdamHillLVRJ on Twitter.