Tim Elliott hopes to brawl his way to a world title
December 2, 2016 - 12:31 pm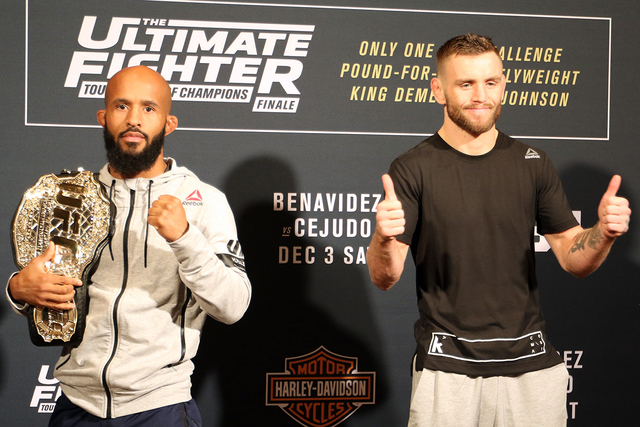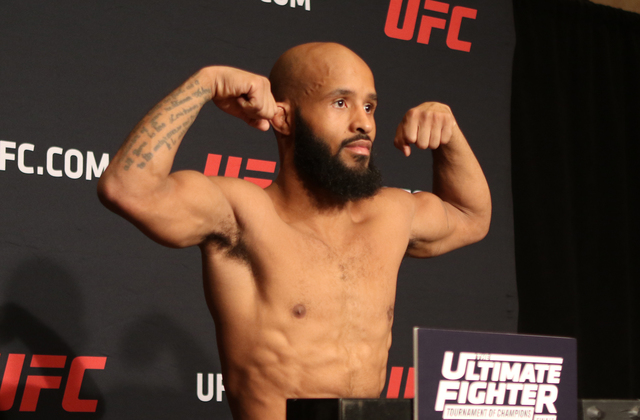 Tim Elliott is fully aware of the enormous odds he faces when he steps in the cage on Saturday night to challenge Demetrious Johnson for the UFC flyweight title.
"I think hands down, pound-for-pound, Demetrious Johnson is the best fighter in the world right now," Elliott said Thursday of his opponent in the main event of "The Ultimate Fighter 24" Finale card at the Palms.
The bout headlines a main card that airs at 7 p.m on Fox Sports 1. Top flyweight contenders Joseph Benavidez and Henry Cejudo, who served as coaches on the show, will also meet with a likely title shot on the line. Four fights from the preliminary card will also air on the network, beginning at 5.
That doesn't mean Elliott, who earned the title shot by winning four times in a six-week span while filming the reality show in Las Vegas over the summer, believes he can't win.
"Technically, he's the best," Elliott said. "I am the exact opposite. I'm going to take the technique and throw it out the window. I'm not a martial artist like he is. I'm a fighter. I'm going to make it an ugly fist fight and I think that's the only way to beat this guy."
Many plans have been formulated in an effort to dethrone Johnson since he won the belt in 2012, but none have been particularly successful.
He has defended the title nine consecutive times and will look to extend the streak Saturday.
Johnson picked Elliott as one of the favorites to come out of the field of 16 and wasn't surprised when he emerged as the one to challenge him for the belt.
The champion was very matter-of-fact about his next opponent.
"Tim Elliott's a great guy and a good opponent," Johnson said. "I look forward to seeing what happens. He's unorthodox. That's how he likes to move."
Elliott agreed with that assessment of his movement in the cage. He likes to stay in perpetual motion and attack from random angles, which is something he picked up during his brief time training with bantamweight champ Dominick Cruz.
Fortunately for Elliott, the style has proven effective both for himself and against Johnson. Cruz is actually the last fighter to defeat Johnson back in 2011, before he dropped to flyweight.
Elliott's adaptation of Cruz's style happened while he was in Cruz's camp, preparing him for a fight with Scott Jorgensen in 2010.
"(Cruz) was kicking my (expletive) every day and the last week, I was like, '… I'm going to try to mimic him,'" Elliott recalls. "I noticed that I was doing better, I was getting hit less and landing more. I was having more fun. When I first got started, people told me to be more traditional. But everybody's good at the traditional stuff. The stuff me and Dominick Cruz are good at, nobody else is good at. That's why we keep winning fights."
Elliott hasn't always found himself on the right side of the ledger. He was released from the UFC in early 2015 after losing three fights in a row, though all were against top competition.
His release came just after the birth of his daughter, Sterling, and gave the 30-year-old native of Wichita, Kansas, a new perspective on his career.
"I wasn't bitter," he said. "I got to go home and spend some time with my kid. I was able to become more than a fighter. For so long, that's what I was. I was just a fighter. Now I had a baby and I became a father and fighting is way down the list. It's just a hobby for me now.
"I thought that would hurt me as a fighter, but it actually took me to the next level. My training changed. I quit training old-school where I would grind, grind, grind every day and I started training smart. I was getting better again and I got my passion back."
He won three fights on the regional circuit as champion of Titan Fighting Championships and then got the call for Season 24 of 'TUF,' which featured 16 champions from organizations around the world competing for the right to challenge Johnson.
"I feel like I already made it," he said. "This makes me a dangerous man. All I have to do is go out and perform and if I do that, I can beat anybody."
He hopes that even applies to perhaps the best pound-for-pound fighter in the world.
Contact Adam Hill at ahill@reviewjournal.com or 702-277-8028. Follow @adamhilllvrj on Twitter.
'TUF 24' FINALE
What: "The Ultimate Fighter 24" Finale
When: Saturday
Time: First bout, 4 p.m.; main card, 7 p.m.
Where: The Pearl at the Palms
TV: Fox Sports 1
Tickets: $105, $205, $355
MAIN CARD BOUTS
— Demetrious Johnson (24-2-1) vs. Tim Elliott (10-6-1), for Johnson's UFC flyweight title.
— Joseph Benavidez (24-4) vs. Henry Cejudo (10-1), flyweights.
— Jake Ellenberger (31-11) vs. Jorge Masvidal (30-11), welterweights.
— Ion Cutelaba (12-2, 1 No Contest) vs. Jared Cannonier (8-1), light heavyweights.
— Sara McMann (9-3) vs. Alexis Davis (16-6), women's bantamweights.
— Brandon Moreno (12-3) vs. Ryan Benoit (9-4), flyweights.