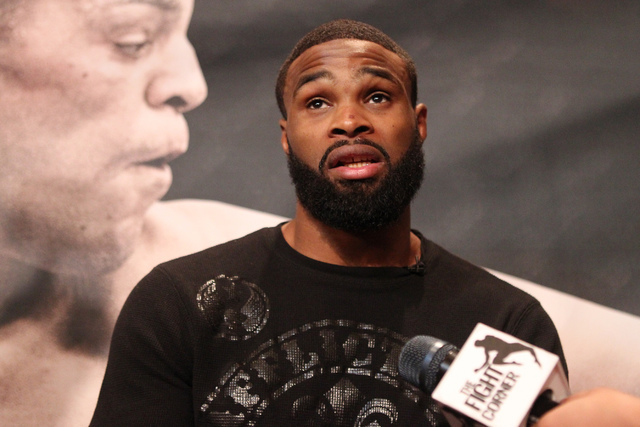 Tyron Woodley waited more than 18 months for his UFC title shot and took full advantage with a first-round knockout of Robbie Lawler in the main event of UFC 201 on Saturday night in Atlanta.
Now he's looking to cash in.
Woodley expressed little interest in taking on top contender Stephen "Wonderboy" Thompson, a very dangerous striker who is still building his profile in the sport.
"Goal No. 1 was to be the welterweight champion of the world," Woodley said during the post-fight news conference. "But I put in too much time and I'm away from my family way too often. This is a sport where we can make cash now so instead of just saying this person deserves it or this person has worked his way through the ranks, (why not take the most lucrative fight)?"
"I don't feel any obligation to go by the rankings. We all know how those rankings are produced anyway. I want to go out there and I want to fight the money fights."
Woodley specifically mentioned possible matchups with retired former champion Georges St. Pierre or Nick Diaz, who became eligible to return from an 18-month marijuana suspension on Monday.
The new champ said he would be willing to put the belt on the line just three weeks after winning it in order to fight Diaz as the co-main event of the UFC 202 card at T-Mobile Arena on Aug. 20 where Nick's brother Nate Diaz will fight Conor McGregor.
That's not very realistic for several reasons, not the least of which is that part of Diaz's conditions for getting a new license include submitting a clean urine sample 30 days before a potential fight in Nevada.
That could leave a matchup with St. Pierre as the next most logical bout for Woodley. While St. Pierre hasn't competed since vacating his title and retiring in November 2013 on a 12-fight winning streak, he has hinted at a comeback on several occasions.
St. Pierre indicated to MMAFighting.com he would have an interest in fighting Woodley. The new champion proposed a main event bout for the UFC's first event in New York at Madison Square Garden on Nov. 12.
Lawler doesn't want to be left out of the conversation, either. After losing his belt as a result of a big right hand from Woodley midway through the first round, he said he wants to take some time to sit back with his family and think about his next step.
The former champ said he would let the organization decide whether his title reign merits a rematch, but did concede it is something he would welcome.
"Obviously, I think that if I went back in there, I would get a win," he said. "Deserve and getting are two different things, but yeah, I feel I deserve something. We'll see if I get it."
'BABY SLICE' TO DEBUT
The son of the late fighter known as "Kimbo" Slice will make his professional debut on the Bellator 160 card at Honda Center in Anaheim, California, on Aug. 26.
Kevin Ferguson Jr. won his only amateur fight by knockout.
Ferguson Sr. died in June, just more than three months after competing on a Bellator card in Houston. He originally won the fight over Dhafir "Dada 5000" Harris, but it was declared a no-contest after he tested positive for steroids.
Bellator 160 is headlined by a fight between Patricio Freire and former UFC lightweight champion Benson Henderson.
ABREU SUSPENDED TWO YEARS
UFC middleweight Ricardo Abreu was issued a two-year suspension by the United States Anti-Doping Agency on Thursday. The penalty was the result of an out-of-competition test administered June 3 that came back positive for two steroids.
Abreu, who has not competed since June 2015, will be eligible to fight again on July 1, 2018.
It was the eighth sanction handed down by USADA, which has independently administered the UFC's anti-doping policy since July 2015.
WSOF IN NEW YORK
Las Vegas-based World Series of Fighting will follow the UFC to New York.
WSOF 36 has been scheduled for Dec. 31 at the Theater at Madison Square Garden. The event will be the second for the company to air on NBC.
New York became the last state to sanction professional MMA earlier this year.
Contact reporter Adam Hill at ahill@reviewjournal.com or 702-224-5509. Follow @adamhilllvrj on Twitter
UPCOMING EVENTS
UFC Fight Night 92 (FS1)
Aug. 6, Salt Lake City
UFC 202 (FS1/PPV)
Aug. 20, T-Mobile Arena
Bellator 160 (Spike)
Aug. 26, Anaheim, Calif.
UFC on Fox 21 (Fox)
Aug. 27, Vancouver, B.C.