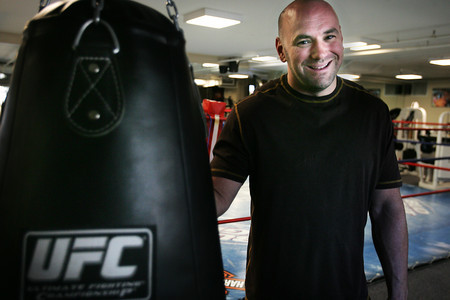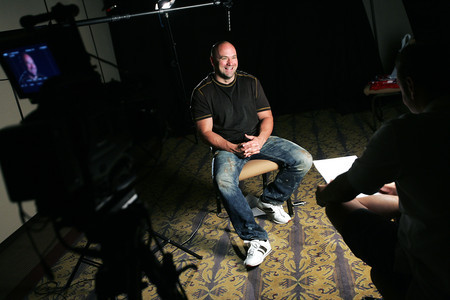 It's not about the money, Dana White is saying, and he means it. The reason he plays blackjack is simple, and he attacks the game with the same relentless purpose he does everything else.
"I just like to win," he says with a grin. "Do I need to play cards? I'm not gambling to win money. It's just such a weird mental psyche thing. I like to (expletive) win."
1:30 a.m.
White is in the middle of a four-hour blackjack session at the Palace Station casino. His average hand ranges from $10,000 to $20,000. "I make it exciting," he says.
As president of the Ultimate Fighting Championship, White, 39, is worth more than $200 million, so whatever he wins or loses in the casino on a given night is relatively insignificant. It's about the challenge and the thrill he gets from winning, but he's losing now, so he's not quitting.
He finally plays his last hand at 3:15 and heads for home, calling it a draw. "I was taking a beating," he says, "and then I came back."
A day in Dana White's life is charged with the adrenaline rush of a drag race. He's going full speed for about 20 hours. If he's not working or playing cards, his brain is spinning over work ideas and what more he can do to help his surging mixed martial arts business win more fans all over the globe.
He refers to the UFC as a "monster," and some critics use that word to describe him, but he's more than a bald bully who drops F-bombs with reckless abandon. He's a husband, father of three and, of course, the fearless leader of the world's fastest-growing sport.
4:05 a.m.
White's also an insomniac, by choice. On this Friday morning in late June, he arrives at his 7,500-square-foot, six-bedroom home in Summerlin and shuts his eyes to recharge, but only briefly. He's awake by 8 a.m.
"I sleep probably three to six hours a night. The great thing about me is I don't require a lot of sleep," he says. "I don't like sleeping. It actually bothers me. I wake up a lot. I'm always thinking about what needs to be done.
"The only thing that's holding this business back right now, the reason we're not growing faster than we already are, is because there's not enough time in the day, and other people have to sleep. That's really our biggest enemy right now is time.
"I love this business. I love what I do. It's not work to me; it's fun. I literally could do anything that I want to do. I've obviously made enough money. There isn't anything I would rather do than the UFC, go to work or talk about work. It's actually pretty (expletive) pathetic, to be honest."
White's wife of 13 years, Anne, does get plenty of his undivided attention. It's not all UFC all the time.
8:28 a.m.
Serving breakfast to his kids — sons Dana III, 8, and Aidan, 7, and daughter Savanna, 2 — is part of White's daily routine.
"I don't care if I get home at 5 in the morning, I wake up two hours later and get the kids ready for school, eat breakfast and I drive them to school every day," he says.
"If it's not a weekend that we have a fight, the weekends are absolutely 100 percent devoted to my kids. Starting on Friday night when I get home until Monday morning when I leave, I'm with them the entire weekend.
"My kids are my greatest accomplishment. People who don't have kids don't understand. There isn't anything you could ever buy or anything you could ever earn or anything you could ever do that's better than hanging out with your kids."
School is out for the summer, so White's routine has changed. He says goodbye to his kids, jumps in his Range Rover and speeds for the UFC offices on West Sahara Avenue near Palace Station.
He almost always works out at 8:30, but he's tied up on his cell phone today and skips the workout. His schedule is airtight.
10:42 a.m.
Editing video with Craig Borsari, UFC's senior vice-president of production and operations, consumes most of White's morning. He and Borsari examine every aspect of various commercials and shows produced by the UFC.
Next up is a Saturday night card at the Palms for "The Ultimate Fighter" Season 9 finale. But the shooting for Season 10 already is under way, and White and Borsari are working on a teaser for it that highlights Kimbo Slice.
They also critique a video feature for UFC 100, to be staged Saturday at Mandalay Bay, and White laughs when heavyweight Frank Mir refers to opponent Brock Lesnar as a "big gorilla," wondering whether the description should be edited out because it might offend Lesnar.
"This is all we do all day. It's 24 hours a day," White says. "Leading up to the fights, we go through so many different revisions of the video footage. I'm kind of a psycho about little details.
"We're doing 34 fights a year, so this thing never stops. Our production facility next door is 24 hours. This thing is crazy. My staff works through Christmas."
11:07 a.m.
White sits on a leather couch in his office, which includes a shower. The office could pass for an expensive condominium. On a table is a saber-tooth tiger skull, which White recently purchased for six figures in an auction from a Dallas museum.
In January 2001, White persuaded longtime friends Frank and Lorenzo Fertitta, the Station Casinos bosses, to buy the UFC for $2 million and give him 10 percent ownership.
"When we bought this company, the UFC was the red-headed stepchild of the Fertitta businesses. I was in a broom closet across the hall," White says. "There have been so many great things that have happened in just nine years."
How the UFC was purchased, and how it barely survived some lean years, is a story White relishes telling.
"An old friend I went to school with, Adam Corrigan, invited me to his wedding in the fall of 1995 or '96, and Lorenzo and I bumped into each other at the wedding. We hadn't seen each other since high school. We started talking, we started working out and we became close."
The Fertittas always were fans of the fight game. White was teaching boxing classes and managing two fighters, Chuck Liddell and Tito Ortiz, in 2000 when he discovered the former UFC owner could be going out of business.
"Frank and Lorenzo were in Miami, and I called them and said, 'The UFC might be for sale.' A month later, we bought it for $2 million," White says.
"Everybody hated it. 'There's no upside to this thing. It's never going to make money.' All these smart guys that worked for them were telling these guys this thing is never, ever going to turn around, and you're going to lose all your money.
"We were headed that way. We were $44 million in the hole. But Frank and Lorenzo were passionate about this thing, and they believed in it, too. We liked the idea of building a sport."
11:50 a.m.
Lorenzo Fertitta pokes his head into the office; he needs a few minutes with White.
The Fertittas resisted pulling the plug when financial losses mounted, and the UFC turned around in a big way. Two years ago, White says, "We were offered $1.2 billion for it. We turned it down."
Lorenzo Fertitta stepped down as Station Casinos president in June 2008 and took over as chairman and chief executive officer of the UFC's parent company, Zuffa.
"I don't think anybody could have accomplished what Dana has. It took somebody like Dana who's got street smarts, who doesn't pull punches, who speaks his mind, who never bull(expletive), to do this," Fertitta said in a January 2008 interview with Yahoo! Sports. "If we had taken a Harvard MBA and hired him in 2001 to run this company, we'd probably be bankrupt. … I'm not going to start telling him now how to do his job."
1:45 p.m.
In the basement gym at UFC headquarters, White runs into Bobby Moore, a close friend for 20 years, since their days in south Boston. About a year ago, White invited Moore and his wife to move to Las Vegas and stay in White's old house in Southern Highlands until they were back on their feet.
"He's still got the heart of gold. He's generous, it's unbelievable," Moore says. "He saved my life. I was 305 pounds and in the car business, which was struggling, and now I've got a clean bill of health."
Moore is down to 224 pounds and working as a personal trainer. He was a nightclub bouncer when he met White, who Moore says is unchanged by money and success.
"He has the same drive as he had back then," Moore says. "Here's a guy who rode around on a mountain bike with an 80-pound hockey bag full of boxing equipment on his back from gym to gym to gym. I've never seen anyone with the drive and desire he has."
Moore, a tough Irishman, was in trouble when White offered a hand.
"I like having people around me who I can trust … the friends who were your friends when you were broke," White says.
There was a time when White was down. He was in search of happiness, not money, when he made a decision that changed his life.
White was a troublemaker as a teen. He twice was kicked out of Bishop Gorman High School, and spent a semester each at Las Vegas High and Clark. The summer after his junior year, he got a crash course in reality after a night at an under-21 club.
"I got wasted and crashed my girlfriend's car," White says. The girl in the car was not his girlfriend. White was ejected from the car in the crash near The Strip and barely escaped death. He spent most of the summer in the hospital.
"I was so lucky to live through that," he says.
His mother, June, sent him to live with his grandmother in Maine, where he graduated from high school.
White attended the University of Massachusetts, but said he "hated it, didn't last one semester," and then had a brief run at a community college. "I don't think I lasted two days there," he says.
At 19, he was a bellman at a hotel in Boston, earning about $60,000 a year.
"I hated that job," he says. "One day I was standing in the lobby in the monkey suit, waiting for people to come down and take their bags, and I was thinking, 'Is this my life? What the (expletive) am I doing here?'"
He walked outside and informed a friend he was quitting and getting into the fight business.
"I said, 'I don't care about money. I don't care if I never make a dime. If I can just make enough to eat and live, I'll be happy.' "
He started a program to get kids off the street by teaching inner-city youths how to box. He trained boxers to pay the bills. He moved back to Las Vegas in 1995 and started a similar business.
"I made a decent living, but I worked my ass off," he says. "I would work from 5:30 in the morning until 10 at night every day. I worked like a machine. I was just like everybody else. It was tough paying the bills, trying to make your car payment and your house payment."
White has made it bigger than he ever expected, especially for "a guy who barely graduated high school and didn't go to college," he says.
"If you hate your job and you're miserable getting up and going to work every day, what are you waiting for? Do it right now. Don't wait for tomorrow. Half the battle is knowing exactly what you want to do."
He married Anne in 1996, bringing stability to his personal life. His chance meeting with Lorenzo Fertitta eventually would launch his success in business.
2:33 p.m.
White steers his Range Rover toward the Palms, slowed only by bumper-to-bumper traffic on I-15. He receives a text message from Guy Ritchie, Madonna's ex-husband, and asks his assistant to reply while he drives.
He recalls the late night/early morning blackjack game, and boasts about winning $1.1 million over two months last year. "I like blackjack," he says. "I don't even know how to play poker."
2:47 p.m.
After pulling into the valet lane at the Palms, White is escorted through the casino. A man and his wife stop White and ask for a picture. White laughs and talks while posing for three photos. He heads for an upstairs room to tape an interview with a UFC production crew.
3:08 p.m.
White discusses in detail several fighters, and gets excited when the subject turns to the Keith Jardine-Wanderlei Silva brawl in May 2008. Silva won by first-round knockout, and it will be featured on "UFC's Ultimate 100: Greatest Fights" show.
"People were blown away by that fight," White says. "It was fast and it was vicious. When the fight was over, David Spade ran up and said something to me. I can't remember what it was, but it was funny. I couldn't stop laughing."
3:32 p.m.
A group follows White out a back door of the Palms to a trailer serving as an edit bay. Another production team is waiting. White does four reads of a radio tag to advertise StubHub tickets, nailing every one, and then he listens to and approves 20 songs chosen by each fighter for their walk-in music the next night.
"I didn't change one, which is very, very rare. Usually there's some stupid (expletive) on there," White says, laughing.
He admits to being a micromanager. "I used to be a lot worse. I've let go of some things," he says. "Three years ago, you didn't sharpen a pencil in that place without asking me first."
3:46 p.m.
White walks to the weigh-in inside the Palms, where several hundred fans are gathered and the hype is building for "The Ultimate Fighter" card on Saturday. Joe Rogan announces the fighters, they pose and every one slaps hands and hugs White on the way off the stage.
4:18 p.m.
At a quick backstage meeting with the fighters, White delivers a motivational message.
"It's a big (expletive) night for you tomorrow. Fight your (expletive) asses off," he says, and he offers incentives — $25,000 each for the night's best fight, $25,000 for the best knockout and $25,000 for the best submission.
Disappearing behind a curtain, White sits to do the ticket map for the show in the Pearl theater. "Tickets are the worst part of the job," he says. "It doesn't matter where you put people, they hate their (expletive) seats."
4:44 p.m.
In front of the hotel's main entrance, White greets more fans and poses for more pictures. He genuinely loves it.
"One of the great mysteries to me is how athletes and actors hide from fans," he says. "Why would you not want to talk to people who love what you do as much as you do?"
5:05 p.m.
White goes through more production meetings before he and Lorenzo Fertitta sit down with Spike TV executives at the Palms.
A few hours later White, who has eaten only two bites of chicken and some ice cream since breakfast, joins Fertitta for dinner. The two talk several times a day and seem to be inseparable. Fertitta admires what White describes as his "openly aggressive" style.
"I can't make everybody happy. Not everybody is going to love me," White says, when the topic turns to business relationships. "You get to pick with me. You want to be my friend, I'm the best friend you could ever have. You want to go the other way? I'm for sure the worst enemy you could ever have."
Midnight
It's back to Palace Station for White's favorite diversion, another round at the blackjack table.
Family is his priority, even if running the UFC often requires more of his time. His parents divorced when he was a child, leaving a lasting impression.
"My dad was actually a great influence on my life because he wasn't much of a dad," White says. "He liked to party and he didn't like hanging out with his kids. I know how I felt growing up, things that I missed out on.
"My mom is the reason that I am where I am today. She kicked me out of house when I was 17. She was a tough lady, a great mom. We all choose our path in life."
Dana and Anne went to school together and have been friends since eighth grade. When he left Boston in 1995, she picked him up at the airport. "And we literally have been together ever since," he says.
In many ways, White personifies the two faces of Las Vegas. He's a colorful character and a reflection of the Strip, operating around the clock. But he's also a family man who resides in a quiet neighborhood.
"I don't really have hours. I work 24 hours a day. There's not a time during the day that I'm not working," he says. "If it's a Sunday, and I'm not coming into the office that day, I'll be at home with my kids. But I'm on the phone 50,000 times with Lorenzo or fighters … there's always something.
"My family and my wife have become very used to it. They get it, they know. I get to do and they get to do a lot of great things because of what goes on at the UFC.
"Is it a negative that I'm not home all the time? Sure it is. But I could be a guy who's out working three jobs trying to make ends meet. You've got to look at positives, man, not the negatives."
He talks at length about his sons. He calls Aidan a "sports maniac" who likes to skateboard. Dana III plays football and is a quarterback.
"Obviously, I've accomplished a lot of things with the UFC and mixed martial arts," he says. "But at the end of the day when it's all said and done and you're laying in that box, what's more important to me?
"It's not what I accomplished in the UFC. It's about my kids getting up there and saying I was a great dad."
2:30 a.m.
A winner at blackjack, White drives home, one crazy day in the rearview mirror and another one ahead. Maybe he'll get a few hours' sleep.
COUNTDOWN TO UFC 100
Dana White video
WHITE'S TAKE
UFC president Dana White's thoughts on:
Competing mixed martial arts organizations, and Mark Cuban and Donald Trump
"We had some seriously smart people and guys who have been very successful in business and guys who had a lot of money behind them coming after us. To be honest with you, though, that's fun. That's the (expletive) that gets you out of bed in the morning."
The failures of boxing
"I've literally used boxing as the blueprint of what not to do. I looked at all the things that I thought they had done wrong and things that they could have done better, and I used it to build this business."
His relationships with UFC fighters
"I treat everybody fair, and if you're fair with me, I'll be loyal to you back. There were guys who were great partners to me and helped me build this business, and they're going to be with us forever. And there are guys who are complete jackasses like Tito Ortiz who will never be with us ever again."
Shaquille O'Neal in the UFC
"Shaq is the only guy in the NBA who can actually fight. Most NBA guys fight like girls. He wants to fight Brock Lesnar."
Turning 40 on July 28
"I'm actually excited for 40. You hear people talking about turning 30, turning 40 … actually my 30s have been the best years of my life and I think the 40s are going to be even better. The 20s sucked. When you're 20 you're broke, you've got nothing going on, you're jealous."
Money and success
"I measure success by how happy you are. I know a lot of people with a lot of money who are miserable."