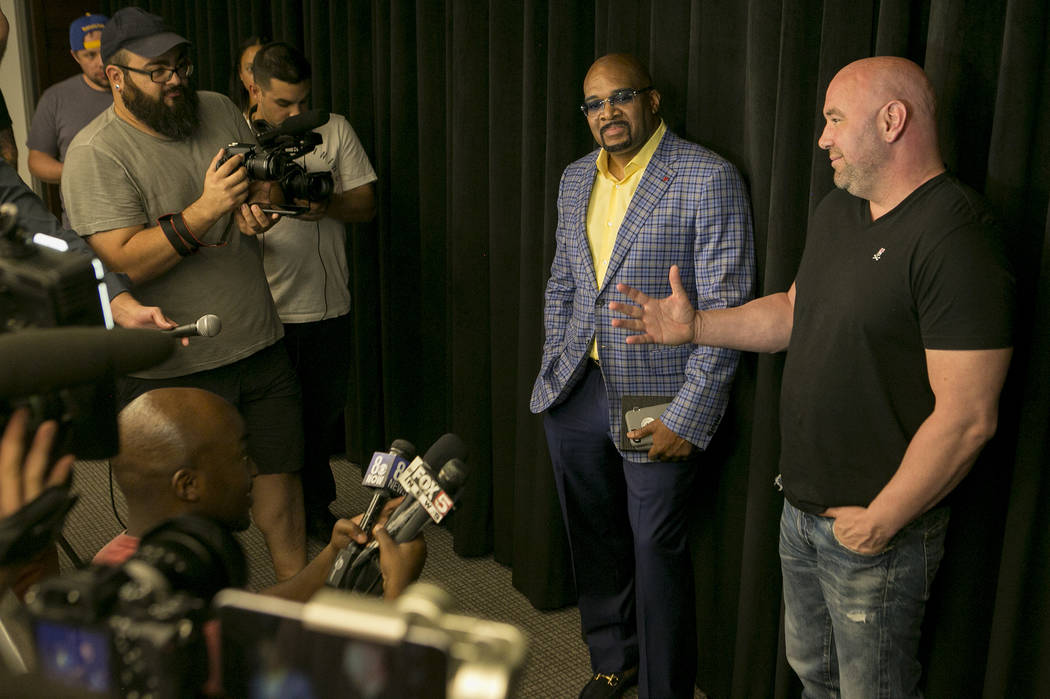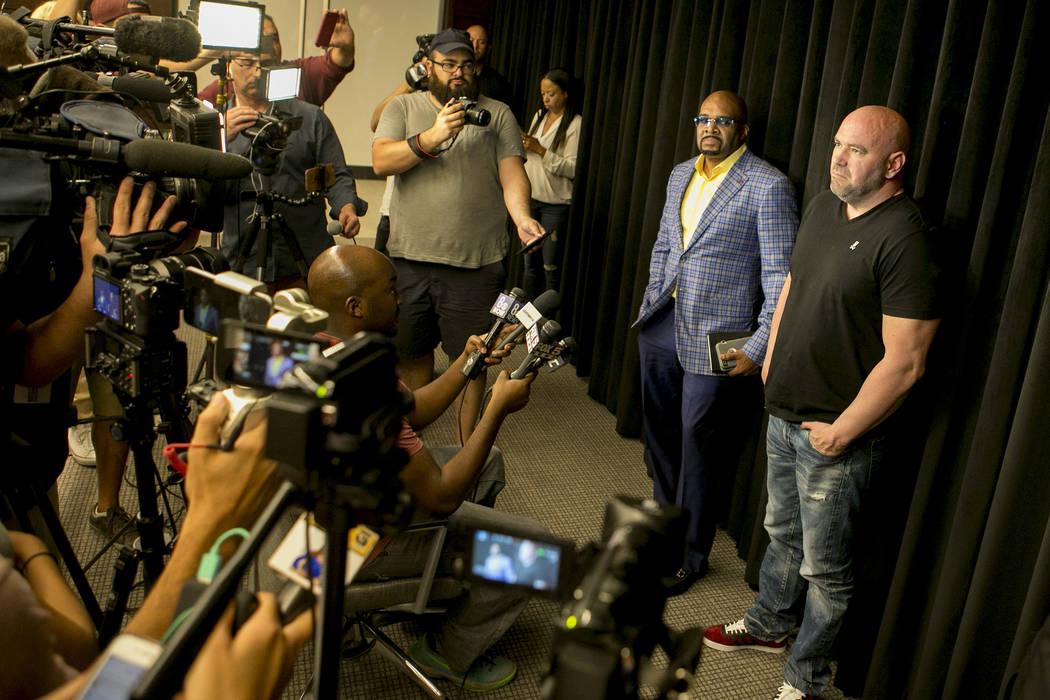 UFC president Dana White said in January that he had a better chance of suiting up as the backup quarterback for the New England Patriots in the Super Bowl than watching a boxing match between Floyd Mayweather Jr. and Conor McGregor.
He might want to start brushing up on the playbook.
White was all smiles as he stood alongside Mayweather Promotions CEO Leonard Ellerbe on Wednesday night at UFC headquarters to announce that the historic boxing match will take place Aug. 26 at T-Mobile Arena.
"Everybody is thrilled with the way this deal went," White said of the negotiations that wrapped up Wednesday morning. "It was very fair, very smooth. One of the easiest deals I've ever done, and it was a deal I thought would be impossible.
"I said this would never get done."
Ellerbe felt the same way for most of the past year as McGregor, the UFC superstar, traded barbs with Mayweather, the undefeated boxer, through social media and other outlets.
But the clash of the dynamic personalities immediately intrigued the public, and Ellerbe said he and Mayweather could sense how much fans wanted to see the fight come to fruition.
Once McGregor reached a deal with the UFC to allow him to participate in a boxing match outside his contract and White began negotiating with Ellerbe, Mayweather and his adviser, Al Haymon, everything fell into place quickly.
"I was one of the first to say it would never happen," Ellerbe said. "I'll eat my words all day, though. At the end of the day, the financial terms of the deal are confidential. All that matters is we got the impossible deal done and everybody is happy."
Nobody would discuss compensation other than to say there is plenty of money to go around.
Most likely, a record amount. White and Ellerbe said they expect the fight to surpass the record of 4.6 million estimated buys in the United States generated by the 2015 bout between Mayweather and Manny Pacquiao.
"I think it will not only break the pay-per-view records in the United States, I think it will break the record in the United Kingdom, Australia, Canada and everywhere else where there's pay per view," White said.
"The difference between this fight and the Mayweather-Pacquiao fight is that Conor's reach globally is massive. It's always about two guys. You've got Floyd Mayweather, arguably the greatest of all time. Undefeated. 49-0. And you've got Conor McGregor, who, like Leonard said, is by far the biggest star in mixed martial arts. This is a fight the world will be watching."
Ellerbe went through almost six years of negotiations that eventually culminated in the fight between Mayweather and Pacquiao. He said this deal feels bigger.
"I know what big events feel like," Ellerbe said. "We've done the biggest fights in boxing history. (I've never felt anything like) the amount of attention this fight has gotten already, without even being made. It's all people talk about. Anywhere I've gone or anywhere Floyd's gone, it's all people are talking about."
Ellerbe said he and Mayweather finally realized the fight's potential one day last year while doing interviews at ESPN. He remembers after yet another question about McGregor that Mayweather asked Ellerbe what he thought about the matchup.
"I told him, 'He's got some nice hands,'" Ellerbe said. "He was like, 'He's trying to steal my steelo.' But listen, I like his style. I'm a fan. I like to see guys who are very confident. He will talk (expletive), but he backs it up. I've been in this game forever, and that's how you earn my respect."
It's also the blueprint for making a lot of money. White said McGregor still plans on defending his UFC lightweight title this year but admitted that plan might change once the check for the Mayweather fight is deposited.
White said his focus now is back to booking UFC fights, as Mayweather Promotions will handle most of the publicity for the fight.
But he won't be serving as Tom Brady's backup.
Contact Adam Hill at ahill@reviewjournal.com or 702-277-8028. Follow @adamhilllvrj on Twitter.
Related
Floyd Mayweather, Conor McGregor agree to fight Aug. 26 in Las Vegas